Digitally disrupting beauty with e.l.f. Cosmetics
Ekta Chopra reveals the strategy behind the brand's success, in conversation with poq for Apprising Fall 2021. For a company that was founded nearly two decades ago, e.l.f. Cosmetics is challenging both traditional and up-and-coming competitors for the prized youth market. Ranking top among average income teens according to Piper Sandler research, the beauty brand's […]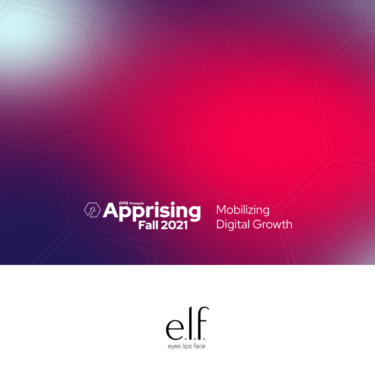 Ekta Chopra reveals the strategy behind the brand's success, in conversation with poq for Apprising Fall 2021.
For a company that was founded nearly two decades ago, e.l.f. Cosmetics is challenging both traditional and up-and-coming competitors for the prized youth market.
Ranking top among average income teens according to Piper Sandler research, the beauty brand's products achieve viral status. So, poq found out how digital is key to its success.
During a recent Apprising Fall 2021 event session entitled, 'Digitally disrupting beauty,' poq's Global Content Strategist, Miya Knights, discussed the brand's digital strategy with Ekta Chopra, Chief Digital Officer, e.l.f. Cosmetics.
Moving at the pace of the e.l.f. consumer
"Our consumer is mainly Gen Z," explained Chopra. "They are also very engaged. They call us out when we're not serving them or meeting their expectations. They love makeup, and they love value. We're also always collaborating with like-minded brands to bring a unique meeting of two worlds that can delight our consumers."
Representing 'every eye, lip and face,' Chopra describes e.l.f. Cosmetics as, "a young, fun brand that's always moving at the pace of our consumer, and continuously wants to surprise and delight them".
In her role, managing the brand's digital commerce channels, as well as their supporting infrastructure and customer service, Chopra has a unique view on the role digital plays in engaging its consumers.
New frontiers of digital engagement
"There's a new digital channel every day," she commented. But she outlined the brand's five main routes to market: its indirect, retailer digital channels; physical, offline channels; owned channels, such as its website and app; social media; and, emerging channels.
"Gaming is another frontier that has a lot of potential, as well as live streaming," Chopra continued. "And, TikTok has changed the social media world forever.
"So I would say that, across all of them, we figure out how to make sure that our roots are solid and we are serving our consumers in the traditional channels. But then we're always testing and learning and leaning in on the new frontiers."
Engaging most loyal customers through app
When it comes to winning with customers through owned, emerging and social media channels, Chopra said she was looking forward to the relaunch of its mobile app on poq's native mobile app platform to, "help us unlock a new way to engage with our consumer".
She cited the brand's 2.5m loyalty members as an example: "If you think about it, these are our most engaged consumers. 60% of purchases on our app are actually from loyalty members. So, what am I doing for these consumers? What unique experience is this community that I'm building for them?
"I think that's where I see our new app really playing a big role. That is, to really connect with this consumer. As they use their mobile device, you know what and how they shop, and can use that data to improve how we serve them better, to then also inform our broader strategy, because this is the consumer that's actually most engaged with us."
More exclusive app owner and expert content
Listen to the complete interview with Ekta Chopra, check out the rest of the Apprising Fall 2021: Mobilizing Digital Growth agenda and register here to access all of the exclusive content on demand from poq and friends, including e.l.f. Cosmetics, as they share the latest insights on appcommerce technology, best practices, data and future-facing trends.
Digitally disrupting beauty
Poq in conversation with Ekta Chopra, Chief Digital Officer, e.l.f. Cosmetics
Watch On Demand
Get in touch
Start your appcommerce journey today
Contact Us