3 virtual changing room apps for fashion retailers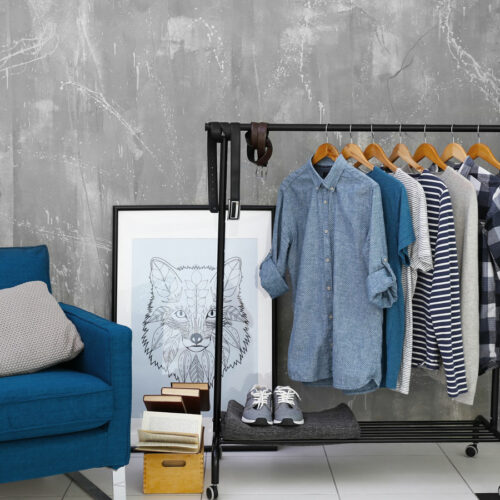 We've just written an update to this post, looking at 5 retailers who are using virtual room app technology online and in-store! 3d model or a virtual fitting room for e commerce.
Let's talk about a touchy subject for fashion retailers – returns. Ever been online to buy a beautiful dress, or the perfect casual t-shirt, only to find when the postman pops it through your door that it's too tight, too short, too long, too shiny? So what do you do? Send it back, obviously, and that's what hits clothing brands right where it hurts. Last year returns cost UK fashion retailers £90.76 million.
The biggest problem is fit, and it's a bit of a tricky one to solve. Retailers can and do provide detailed measurements, and sometimes even tell you the size and height of the model so you get an idea of proportion (ASOS do this amongst others). But with sizing varying wildly between different brands, ultimately it's all a bit of a gamble.
So no wonder that several companies have come up with innovative solutions to this issue.
Fitiquette is one such company. Their model works by guiding you through the creation of a customised virtual mannequin that exactly resembles your own measurements basically for virtual room app. They can then suggest clothes that would fit, showing you a 360 view of how the garment would move and drape in real life. There are a few interesting things about their idea:
They don't suggest sizing. They just let you 'try 'the garment on (like in a real changing room) and you can decide.
There's no attempt to put clothing on a real photo of the customer. It's all totally virtual.
Most importantly, there have been no returns from sales made so far through Fitiquette. That's zero. Pretty impressive.
Fits.me are another company with a similar model, which you can try out on their website which uses 3d virtual fitting room or for e commerce. They can reproduce up to 2,000 different body sizes, and the service is already being used by companies including Barbour – have a go here if you like. So far, they seem very focused on menswear, which seems to make sense. Guys who hate shopping are probably also going to hate having to return ill-fitting clothes on a regular basis. The only question is whether they can be bothered to take their own measurements (and whether those measurements will be accurate, which is a whole different issue).

Zugara is another company with a totally different approach. They've created the Webcam Social Shopper to let consumers 'hold' different items of clothing up against themselves, using augmented reality technology. They want to replicate that moment in a shop where you pick up a dress on a hanger, hold it up against yourself, and holler over to your shopping companion 'hey, what do you think of this one?'. It doesn't aim to help with fitting information but instead lets you visualise what the item will look like on (similar to something like the Boden Outfit Maker, but with your own image instead of a slightly creepy mannequin). There's an enthusiastic review from a Danish fashion blogger here.
It'll be interesting to see which approach gains the most popular amongst fashion consumers, who after all are the deciding market here. Sometimes innovations that appeal to a tech fan base don't translate all that well to the real world. But whoever cracks this problem will definitely be on to a winner.
Want to read more about Virtual Fitting Rooms – a gimmick or essential tool for fashion e-commerce?
Get in touch
Start your appcommerce journey today
Contact Us