Virtual Fitting Rooms – gimmick or essential tool for fashion e-commerce?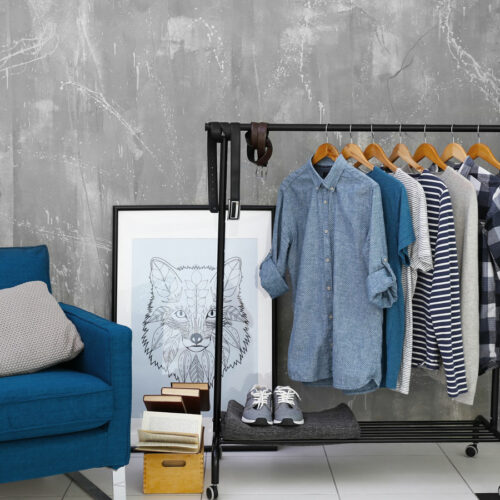 In-store fitting rooms
Virtual fitting rooms feature the latest functionality in body-scanning and complex 3D imagery and have popped up in several retail outlets over the world over the last couple of years. They provide shoppers with a digital replica of how they would look in an outfit, without the arduous fuss of physically trying it on – offering customers a progressive and experimental in-store experience.
Topshop was one of the first superstore giants to trail-blaze this unique concept for the first time, when they teamed up with AR Door to create a virtual fitting room for their Dress Up collection back in May last year at a branch in Moscow, Russia. AR Door's virtual fitting room boasts impressive high tech features. 
Augmented reality allows the customers access to selecting an outfit without the unnecessary fuss of trying it on physically while seeing themselves on-screen in 3D. Microsoft Kinect enables the user to have full control of the program by simply 'pressing' virtual buttons right in the air.
The program is activated by a built-in camera as it tracks a person's body and superimposes a 3D hologram of the dress over the individual's figure- pretty clever eh?
Meanwhile, über hip FaceCake-creator of the Swivel virtual fitting room hooked up with the iconic Bloomingdales in NYC during New York Fashion Week in 2012, to use Microsoft's Kinect sensor and camera attached to a TV, projecting several different garments from the digital library in front of the screen. Then you simply indicate towards your item of preference to put one over your figure on the screen. You can even move around to see how it would look on you at different angles.
These in-store approaches are interesting, but it's what's happening online that really has the potential to shake up the fashion industry. Returns are a huge issue for online retailers, with rates of between 15 – 30%. Anything that can lower those numbers is welcome.
So how are retailers using the technologies available?
Online fitting rooms
The team here at Poq are a little bit smitten with H&M's virtual dressing room. It's engaging and playful, letting browsers choose one of the featured models to "try on" clothes from H&M. It increases the potential for up-selling products by engaging consumers, with activities such as matching and accessorising clothes, discovering hot new looks and sharing these with their online social networks through this app (much funnier then queueing in a sweaty changing room during commuter rush hour).
This is purely a styling tool though – an up-to-date version of the classic paper doll. At the moment there's no way to put in your measurements and get an idea of fit, but equally, consumers don't need to register or give any personal details, which may help to increase engagement.
The warehouse has gone for a system provided by Metail, which claim to be the only company 'who allow you to build accurate 3D versions of yourself from basic information and a photo'. They take detailed photos of products, then digitise them, to provide a more real experience.
On the Warehouse website, selected dresses have a little symbol next to them which indicate they can be 'tried on'. You then enter your height, weight, bra size, and create an account, before being able to see your chosen dress on a virtual doppelganger.
It's great to be able to see just how long or tight a dress will be, depending on your height and weight, and the system also gives you a suggested size to order, which should help cut returns.
Expectations are that the virtual fitting room will boost conversion rates and reduce returns as a result of a highly detailed functionality of a richer sensory online shopping experience. Fiona Harrison, head of eCommerce at Warehouse, said: "At Warehouse, we strive to stand out and provide the best service to help make shopping as convenient as possible for our customers. Being in a position to pioneer new initiatives such as Metail and innovate with the rapidly changing online world is what sets us apart from the competition."
This system requires a lot of input from consumers, including uploading a photo of your own face, creating an account, and inputting personal measurements, which may raise security fears. Also, at the moment it's limited to dresses, so it's not very useful as a styling tool (although this is set to change in future). Time will tell whether it decreases returns and increases orders for Warehouse.
Pretty Green is using technology from Fits. me, a company that uses a 'sophisticated robotic mannequin with artificial muscles able to mimic the shape and size of anybody type'. Robots trying on clothes for you? Now that's futuristic.
The mannequin is dressed in the selected clothing, and then each different combination of measurements is photographed at high speed and in high resolution.
The results are very impressive. You can 'try on different sizes, and see exactly how they would fit and hang on your body shape.
One issue with this technology is that it requires users to take very detailedly, accurate measurements. This can be trickier than you might think. However once you've filled in your details, the system does save them for next time
Virtual fitting – the solution to the problems of the return?
Countless fashion retailers are currently gushing over this latest ultra-hip technology, which has the potential to massively decrease the financial losses from minimizing returns as well as boost tech credo, however, the proof this invention is also equalled by the con of the costs involved in trying to keep it up to date as fashion retailers have such a high turnover of product.
Retailers considering this technology should carefully weigh up what they want to get out of it – is it lower return rates? An increase in up-selling and cross-selling? Or bringing in new customers?
Tesco might have been one of the trailblazers in this area, but they seem to have now reconsidered. On the Facebook page which originally hosted the fitting room, they say that 'it's been so successful, it's now a part of our main website!'. They then link to a skirt on their website which doesn't seem to use the virtual fitting room at all. In fact, the technology is nowhere to be seen on the site. Has it been quietly dropped?
Only time will tell what the future holds for e-commerce, but one thing is for sure, the online fitting industry is evolving at a rapid rate. But it remains to be seen whether it will be a short-lived gimmick or a universal tool.
Get in touch
Start your appcommerce journey today
Contact Us