Missguided is one of the UK's largest online fast-fashion retailers, catering to millennials. Missguided is a bold, straight talking and forward-thinking fashion brand inspired by real life. Everything it creates is informed by its customer along with global influences like social media, street style, and popular culture to empower millennial women.
The need for an app
When Missguided launched a responsive site in June 2015, 60% of traffic was already coming from mobile. In March 2016, Missguided launched a fully transactional and fully branded iOS shopping app.
The app is hooked up to Google Analytics and App Figures, meaning the Missguided team has clear insights into the shopping behaviour of its app users.
Missguided launched the app mainly in response to customer demand. "Our customer has been asking for a shopping app for a while and we wanted to ensure we delivered something that offered more than our mobile site. The app is being treated as its own channel that we are growing as part of our multichannel strategy," states Nitin Passi, Founder and CEO of Missguided.
The objective was to ensure that the app offered a bespoke shopping experience that is consistent with Missguided's overall brand, while also including functionality not available on the other online channels. It was therefore important that Missguided's team would be able to make changes to the app content and merchandising in-house using a Content Management System, and that the app included more than just the standard shopping features. Due to the high levels of traffic that the Missguided website sees daily and especially during peak trading, it was also important that the app is highly scalable to support times during which many shoppers are using it. For these reasons, Missguided chose to launch the app using the Poq app commerce platform.
Bespoke shopping experience
Native check-out
The Missguided app uses native check-out which allows the user to check-out via one single screen, decreasing the chances of basket abandonment.
To smooth-line the check-out process further, the app was the first app on the Poq platform to offer Apple Pay. Retailers using Apple Pay see customers completing orders 58% faster when they use it. By allowing customers to pay with their fingerprint, it takes only three seconds to check out. The Apple Pay button only appears for those iOS users that have their Apple Pay account set up. Otherwise, shoppers are only able to check out using card.
Fully branded
The app adheres to Missguided's brand guidelines and iOS design guidelines, to offer an intuitive shopping experience that is adapted to iOS.
Product integration
All products available on the website are available on the app, because it is fully integrated with Missguided's ecommerce platform.
My Account
The app features a login that allows users to view and change their personal information, including previous orders and addresses.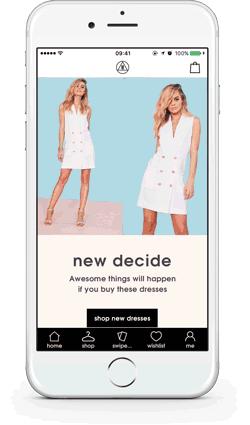 App-only functionality
The 'Swipe-to-Hype' feature was added to the app by adding bespoke code on top of the Poq platform. This works like a "Tinder for Fashion," allowing users to swipe right if they like an item (which adds the item to the wishlist), and left if they dislike an item.
Scalablity
Because the app is supported by Poq's cloud platform, it is always up to date: new code is added every week, new releases performed every quarter. All apps on the Poq platform are compatible with newest operating systems, and the platform scales up when traffic levels are high.
Analytics
It takes a team: Klarna, Poq and Stripe deliver payments makeover for Missguided
Three of the biggest names in digital payments and app commerce partnered to enhance Missguided's UK app, by reforming the way shoppers can pay for their clothes with Klarna's Pay Later product. The fast growth fashion retailer enlisted Klarna, Poq and Stripe to team up and share expertise and experience to create a tailored and seamless journey for app shoppers.
Results
The app's revenue run-rate went from zero to £30m within four months of the app launch.
30% higher conversion rate than the mobile website.
App Store reviews

Missguided boasts a 4.8 average star rating.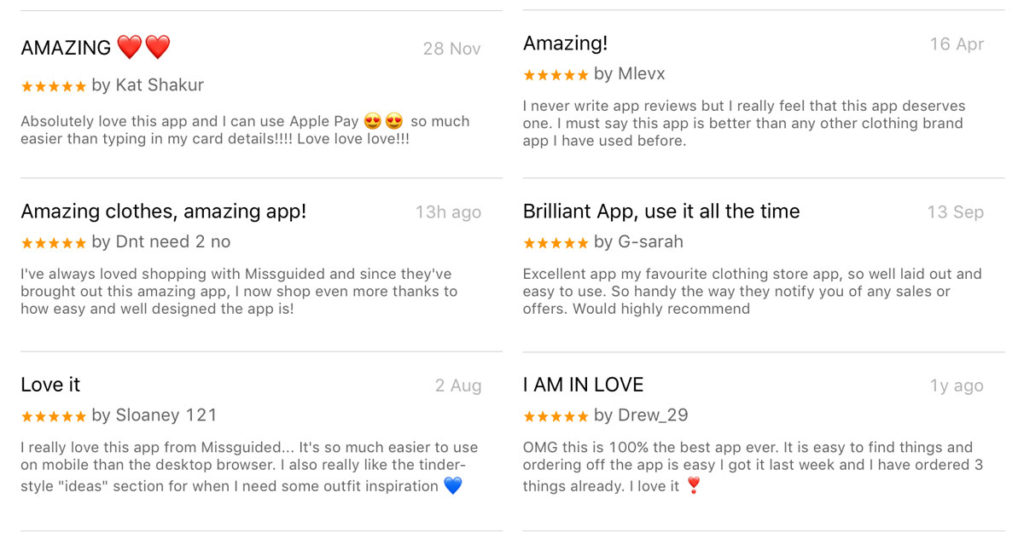 Get in touch
Start your appcommerce journey today
Contact Us