Digital transformation leader KPS and app commerce company poq announce new global partnership
KPS, in partnership with poq, has launched a new native app services practice that offers retailers the ability to launch mobile apps as part of their digital transformation and continuous improvement strategies. The practice is built upon the poq MACH certified native app platform supported by strong business services offered by KPS. Utilising poq's unique […]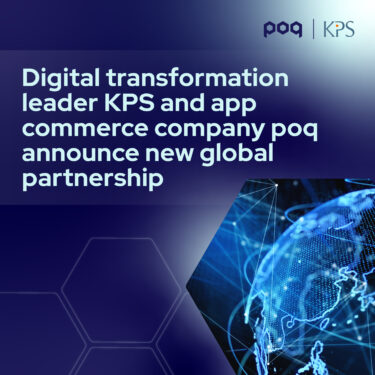 KPS, in partnership with poq, has launched a new native app services practice that offers retailers the ability to launch mobile apps as part of their digital transformation and continuous improvement strategies. The practice is built upon the poq MACH certified native app platform supported by strong business services offered by KPS.
Utilising poq's unique platform, KPS is now certified to build, launch and provide continuous improvement and expansion services for retailers' apps. The practice will sit alongside its other eCommerce and marketplace partnerships and will offer services to existing and new customers. The partnership will see a high level of collaboration and joint working between KPS and poq.
Branwell Moffat, Director of CX Consulting at KPS said: "At KPS, we are constantly looking at ways we can help our clients enhance their digital offering and, partnering with poq, who are trusted by the likes of Kurt Geiger and Hotel Chocolat, provides us with the ability to quickly deliver quality native apps that are seamlessly integrated with their CX platform. In an ever-evolving CX landscape, this exciting new partnership allows us to stay at the forefront and to help our clients deliver an exceptional and joined up experience across multiple channels."
Jay Johnston, Chief Executive Officer, poq added: "The poq native mobile app platform is unique in its ability to provide retailers with cutting edge mobile app functionality, a proven and scalable platform and the ability to extend and customise with huge flexibility. We have channelled ten years of native app experience into our composable commerce platform, offering rapid app launches and sophisticated out-of-the-box experiential features with continuous improvement, new partnerships, and additional features launched on a regular basis. We are very excited about our new services partnership with KPS and look forward to seeing many of their customers embracing the poq app platform as part of their digital commerce and engagement strategies.
The KPS and poq partnership is launched with immediate effect. To find out more about how KPS delivers digital solutions for connected customer experiences visit www.kps.com/uk
About KPS
KPS are leaders in delivering digital solutions for the connected customer experience.
With over two decades of experience deliver exceptional eCommerce experiences, KPS are known for implementing best-of-breed, agile technology using rapid methodology that increases conversion, customer loyalty and revenue per client. KPS has built premium digital marketing, CRM, commerce and single view of customer solutions for household names in the B2B, retail and pharmaceutical sectors.
At the forefront of modern composable architecture, KPS are experts in headless and cloud-based commerce implementations; developing first-class customer experiences, building innovative omni-channel solutions and offering consultancy to propel digital growth, setting clients apart from the competition.
KPS UK: https://kps.com/uk/en.html
KPS UK LinkedIn: https://www.linkedin.com/company/kpsuk
Get in touch
Start your appcommerce journey today
Contact Us