How to off-set your creeping digital costs and boost CLV
Picture the scene. One of your loyal customers wants exactly what you sell. Great! So they Google your brand. Great! Then, to get to your website they click on one of your paid ads. Hmmm. While thousands of brands would kill to be in this position, it's still not ideal. Every time your loyal customers […]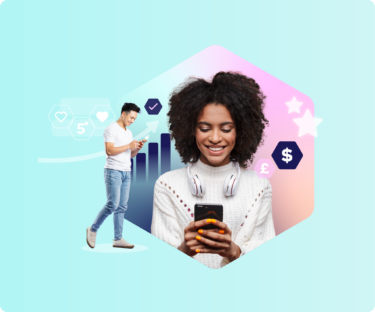 Picture the scene. One of your loyal customers wants exactly what you sell. Great! So they Google your brand. Great! Then, to get to your website they click on one of your paid ads. Hmmm.
While thousands of brands would kill to be in this position, it's still not ideal. Every time your loyal customers return to your website is on the face of it, positive. But if they keep arriving through paid ad links it can quickly become an issue as it eats into your digital spend and marketing ROI. It's brilliant that you have a shopper's awareness, attention and intent to purchase, but you don't want to be in a situation where you're penalised for having a loyal customer base! Thankfully, there are more cost-effective ways of serving (and re-serving) your customer, to avoid repeat customers from rinsing through your digital budget.
Conversion rates have been declining significantly for years, and as the below Mediapost graphic demonstrates, Conversion rates have decreased 10% while Cost per Click rates have increased by 5% since 2022. In other words, your paid ads are getting more expensive and they're probably getting clicked on more frequently. So how can you arrest these creeping digital costs, while keeping your loyal customers coming back for more , on a channel that you completely own? The answer is mobile app.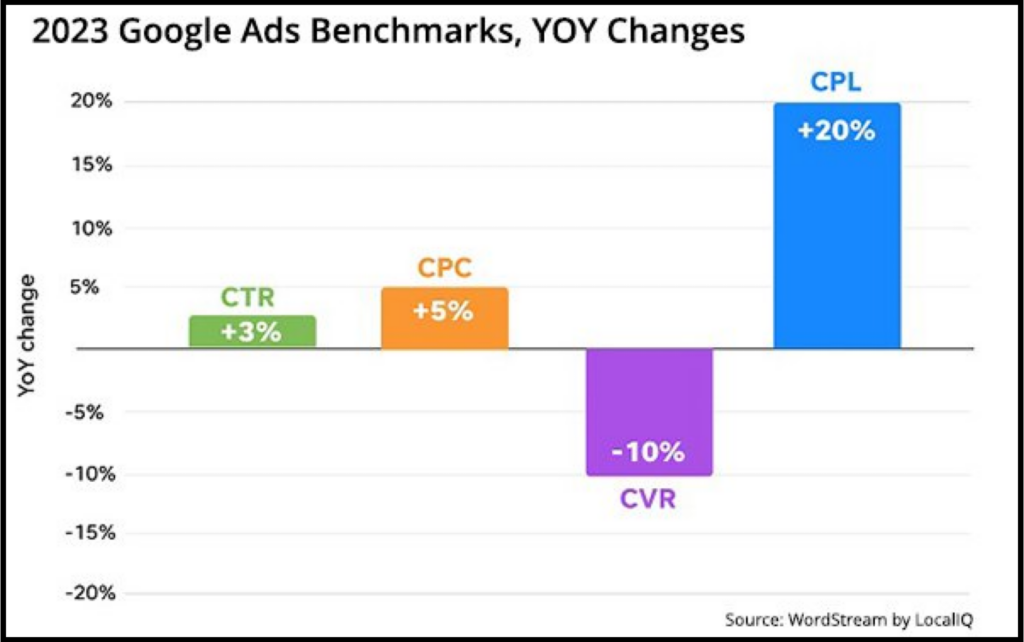 Serving customers in the most cost effective way
When existing customers visit you through an app, you avoid paying over and over again (at increasing prices) to reacquire what you already have. Not only does an app keep your repeat customers away from your paid ads, it keeps them away from your competitors ads too. This enables retailers to build their own 'walled garden', to own their entire customer relationship, to nurture it effectively and to keep their competitors out of sight and out of mind.
And apps aren't just a great way for engaging your existing customer base, they're a great tool for acquiring new customers too.
Sally Minto, ex Digital Director at Revolution Beauty proudly stated, "I was really surprised to see that actually, 63% of the people on our app shopping are actually new customers.. So that's great, you've got a great opportunity to engage those people. But the other 40%, are our most loyal, so you've got your best of your best in there. And it's about 50%, greater frequency and revenue".
You've won the battle of acquiring a new customer, so your next step is to plan how you can shift them to app. But, to get your customers to keep coming back to your app, you need to give them a good reason.
Ensuring loyal customers stay that way
According to Paul Mears, Head of Commerce Apps at Google, app users buy 34% more items, buy 33% more frequently and spend 37% more. As you can see, apps and customer loyalty go hand in hand. However, it's important to note that it's not an app specifically that keeps customers coming back (on a channel that doesn't eat into your digital budget!), it's how you use your app as a vehicle to actually deliver an excellent customer experience. Which, if you drill down, is ultimately what customers are loyal to. Here are some of the ways apps can deliver an excellent CX:
Convenience: A typically overlooked feature of apps is that it's a channel that most shoppers already use every day e.g. opening a Chrome/Safari app on their phone to access a mobile website. In fact, 90% of time on mobile is spent in app! With apps, our details, preferences and wishlists are all saved in one place (where the customer is persistently logged in) and can be integrated with a payment provider for a seamless checkout experience. As a result, shoppers keep coming back (without clicking on paid ads!) and keep spending more. A recent survey highlighted that 60% of consumers prefer mobile shopping apps over mobile websites due to improved user experience, which makes sense given how an app cuts out a lot of noise and helps shoppers get from A (login) to B (completed purchase) in the fastest way possible. Naturally, this has a hugely positive impact for retailers who often notice a significant reduction in abandoned basket rates.
Apps also offer shoppers great convenience with regard to loyalty programs. Nobody wants to carry around 10 paper loyalty cards in their wallet and apps are the perfect place to replace them with a digital loyalty card. This has proven very effective for brands like Hotel Chocolat, and Bain Consulting suggest that 81% of customers who participate in loyalty programs feel more engaged with the brand.
Personalization: It doesn't make sense to treat your best customers the same as customers that have just discovered you, and apps give retailers the chance to offer a differentiated offering for their most loyal customers. They are a great vehicle to deliver exclusive content and features such as live shopping experiences in app and personalized push notifications that are connected to in store visits. You can also leverage various data and insights from your customers' behaviour (e.g. geolocation) to deliver highly personalized offers at the perfect time.
Engagement: 3D technology fitting services, AR functionality, exclusive content and easy wishlist curation are just some of the features that can provide your customers with unique and engaging brand experiences, ultimately delivering higher engagement for an unrivalled customer retention strategy. Retailers can also leverage shoppers' familiarity with social apps like Instagram and Facebook by replicating popular features such as 'stories', content carousels and personalized feeds to keep your customers coming back for more. It's also important to note that native app is optimised for the technology of the smartphone, therefore unrivalled in performance.
Instead of reacquiring mobile customers every time they visit online, follow the native mobile app CX trends to maximize sales and your marketing ROI.
Get in touch
Start your appcommerce journey today
Contact Us