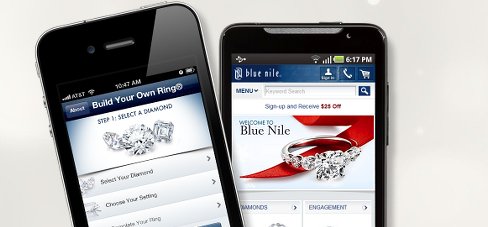 Here's a good question for you – how much will people spend online via websites or mobiles? Is mobile just for impulse buys, the cheaper end of retail, or can it work for luxury goods?
There's currently no universally accessible data for this, especially when it comes to apps. And mobile adoption is moving so fast that information can be out of date just a few months after release.
But the web's chock-full of stats and theories, and if you sift through them you can get a useful picture of what consumers will actually buy on their mobile phones.
But first, how's this for an interesting anecdote – Blue Nile, the big diamond retailer, recently had an $85,000 purchase through their app. And that's not even the biggest sale they've had on mobile. Someone bought a $300,000 diamond via their phone. Another customer ordered $40,000 worth of product from a ski lift.
Of course anecdotes don't mean much without data, so we've gathered together some info to get a picture of what people are spending.
Average order values
Most data on how much do people actually spend online via mobile comes from the U.S.
For example, Monetate released figures showing that the average order on an iPhone is $97.49, or £61. This compares to an average order on Mac desktops of £64, (but just £55 for Windows desktop users), and £60.40 on iPads.
Shopify, an ecommerce software supplier, surveyed their 35,000 stores and came up with a lower average order value: $39 per order for smartphones, $47 per order for tablets (most of which were iPads). This may reflect Shopify's clients, who tend to be smaller independent retailers.
What about fashion?
According to a U.S. ComScore study, 37% of smartphone owners have bought clothing or accessories on their phones.
In the UK, Draper's found that 21% of consumers had either bought fashion on their phone in the past, or plan to in future (and this is more than doubled for 25-34 year olds, at 43%).
In terms of how much people spend online via mobile, it seems to vary significantly by brand. For fashion brands with bricks-and-mortar retail, a strong mobile offering can increase sales in store.
Brands that have put effort into their mobile offering are seeing it pay off with sales. At etailer Very.co.uk, mobile sales account for 18% – and their head of marketing attributes this to having the right technology.
"The way the [mobile] site operates is our number one priority. In the end you get a lot of flow to mobile without making any effort and therefore what is key is that once a consumer goes there, they have a simple experience and it just works."
Spending limits – how high can you go?
Again, this is an under-researched area. Poq have been conducting some long-form interviews with consumers, and we've found out that consumers who are comfortable shopping on mobile would spend the same amount there as online – they don't see a difference. Shoppers who are newer to mobile are more hesistant, and want to test the waters with smaller purchases first.
According to Sarah Watson, the Mobile Manager at Net-a-Porter, sales through their app have now reached the same average order value as their web sales. This has taken a while – at first the orders via the app were lower, but as consumers got more comfortable on mobile the two channels became equal.
Data from a survey by the Luxury Institute, three-quarters of affluent consumers said there is no monetary limit to their spending on a mobile app.
This chimes in with U.S. research which divides mobile shoppers into two categories – heavy and light. The heavy users shop from their mobiles more than once a week, and at the moment are driving the majority of mcommerce. There is potential to convert more of the light users into shopping more on their phones, but awareness is crucial. As the linked report states, "Many people are not aware that a large number of their favorite retailers already provide mobile shopping apps that can extend their online experience to their mobile devices."
Retailers really need to hammer the message home to your regular customers that they can shop from you on their mobile. Treat it as an essential key message to increase future sales.
The success of the Amazon and Ebay apps have made people more comfortable with spending money via their phones, although it's essential that the checkout process is as smooth and hassle-free as possible.
Sales mean people spend more
Sales and order values on mobile spike at sale time. If you're offering a time-limited discount, of course customers will prefer to shop on their phones – they don't want to miss out!
Imagine releasing your January sale prices on your mobile app – you can let your customers know with a simple push notification (which pops up like a text message on their screen). Now think of that one customer who's been waiting all winter to buy that one special dress – she'll jump at the chance to grab it on the bus on the way to work rather than having to wait to sit down to her desktop when it could have sold out.
The U.S. is seeing the forefront of this phenomenon, with Mobile Commerce Daily reporting that PayPal saw a 193 percent increase in mobile payments on Black Friday (the U.S. post-Thanksgiving sales day) compared to 2011. Additionally, eBay saw a 153 percent increase in mobile payments on Black Friday compared to 2011.
Summing it up
Mobile commerce is here to stay, and it's growing at an amazing rate. IMRG released figures showing that between the first quarter in 2010 and 2011's third quarter, visits to websites via mobiles grew 585% while sales via mobiles grew a staggering 975%.
As a percentage of retail as a whole, mobile is still small – just 3.9% (although obviously this varies for different businesses). But at the current rate of growth, smart retail brands would do well to look to improving their mobile offering. Consumers are no longer chained to their desktops or laptops, and companies need to meet them wherever they are. Read more reports on how much people spend online on our resources section.
Contact us to find out how we can help your ecommerce business to increase your conversion rate.
Get in touch
Start your appcommerce journey today
Contact Us