Hotter Shoes digitizes sales from boomers to zoomers
Victoria Betts outlines the retailer's journey with digital and mobile, in conversation with poq for Apprising Fall 2021. As the UK's biggest shoe manufacturer, Hotter Shoes is a digitally-led omnichannel specialty footwear brand with a clearly defined, large, and growing target audience. Having recently introduced the concept of Technology Centres to offer customers bespoke 3D […]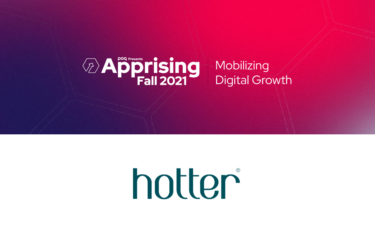 Victoria Betts outlines the retailer's journey with digital and mobile, in conversation with poq for Apprising Fall 2021.
As the UK's biggest shoe manufacturer, Hotter Shoes is a digitally-led omnichannel specialty footwear brand with a clearly defined, large, and growing target audience.
Having recently introduced the concept of Technology Centres to offer customers bespoke 3D fitting services instore, poq was able to explore how this digital strategy translates online.
During a recent Apprising Fall 2021 event session entitled, 'From boomers to zoomers – How the pandemic has opened up digital shopping for a new generation,' Victoria Betts, Chief Commercial Officer, Hotter Shoes chatted to poq's Global Marketing Director, Melissa Law.
Brand proposition and routes to market
Betts explained that, as a direct-to-consumer (DTC) business founded in 1959 to develop the very best comfort technology to design its shoes, the typical Hotter customer is digitally savvy. "Our brand has transformed its proposition and channels to market," she said.
"We're now much more of a digital pioneer, which some of you guys might find a little bit unexpected given our core target audience is 55-plus. But 75% of all of our transactions are now conducted digitally," Betts revealed.
On her role as Chief Commercial Officer, Betts said: "I'm the person on the block for sales and margin. But I actually prefer to refer to my role as being the custodian of the customer, and the representative of the brand. So, it's end-to-end in terms of the customer experience."
Knowing the customer for growth
Hotter has expanded internationally in recent years, but still generates over 85% of its sales domestically. Betts added: "We actually penetrate the UK population of 55-plus females by 29%. So we've got a high reach within that core audience."
Outlining Hotter's customer strategy, she observed: "We prefer to be true to her needs and we find that works, not just through her transactional behaviour, but also from an attitudinal perspective and in utilizing feedback and push to the customer."
But Hotter has recently had to increase its ability to keep pace with the changing needs and habits of its core customers. According to Betts: "The onset of pandemic in 2020 saw that more people were penetrating internet shopping channels within our core age group."
Doubling down on digital with app
In response, Hotter has expanded its strategic digital partnerships with the likes of Amazon, Next, Very and recently, Zalando, with John Lewis to come. It has also doubled down on mobile within its own digital strategy by relaunching its app on the poq native app platform.
"You can shop through the app with the very same frictionless, perfect customer experience that you would get on our website. But we've added new features," said Betts, referring to the augmented reality (AR) shoe sizing and try-on service integrated into the app using the native features of mobile hardware and software, like cameras and spatial recognition.
"Engagement with that tool is really, really high and those that engage are more inclined to shop," she added. "Yes, we want the commercial return, where it's already paid back for us. But, actually, it's about the longevity and advocacy we gain from our customers."
More exclusive app owner and expert content
Listen to the complete interview with Victoria Betts, check out the rest of the Apprising Fall 2021: Mobilizing Digital Growth agenda and register here to access all of the exclusive content on demand from poq and friends, including Hotter Shoes, as they share the latest insights on appcommerce technology, best practices, data and future-facing trends.
From boomers to zoomers
How the pandemic has opened up digital shopping for a new generation

Poq in conversation with Victoria Betts, Chief Commercial Officer at Hotter
Watch On Demand
Get in touch
Start your appcommerce journey today
Contact Us