e.l.f. Cosmetics launches new mobile app on poq platform with immersive experience features to drive customer engagement
The No. 1 preferred makeup brand for teens*, has launched new iOS and Android apps on the poq native app platform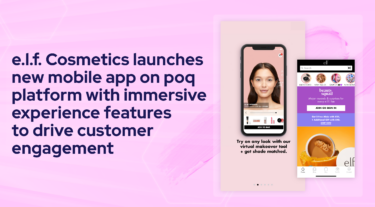 London, 31 August 2022 – Global mobile app experience and commerce company poq today announced e.l.f. Cosmetics, the beauty brand who makes the best of beauty accessible to every eye, lip and face, have launched new mobile iOS and Android apps using their composable commerce native app platform.

A disrupter in the beauty industry, e.l.f. launched a new mobile app with more advanced technology that allows e.l.f. consumers to experience new immersive features such as a personalized shade finder, as well as more convenient access to Beauty Squad, the e.l.f.loyalty program.

Ekta Chopra, Chief Digital Officer, e.l.f. Beauty commented: "We are really excited about the new e.l.f. apps from poq. Our Beauty Squad members are our most loyal e.l.f. fans, so we have made it our mission to build a unique experience for this amazing community. New exciting engagement features are examples of the [e.l.f. consumers'] differentiated experience on the new mobile apps as compared to the web, but it is just the start of our native app journey."

"We partnered with poq because their platform not only seamlessly integrates with our Salesforce Commerce Cloud platform but empowers us to connect technology partners to really push the experience boundaries for our consumers," Chopra furthers. "We are a youthful, fun brand that's moving at the pace of our consumer, always wanting to surprise and delight. Our ambition is to make the app the number one digital channel for our brand and provide premium quality products at an extraordinary value for every eye, lip and face, whether that be in the physical or digital world."

Jay Johnston, Chief Executive Officer, poq said: "Having the opportunity to work with e.l.f. is such an honor. Their relentless mission to connect with their community and offer them the best possible experience using native technology, aligns perfectly with poq's vision. The MACH Alliance-certified, headless technology that we provide, offers unrivaled flexibility enabling them to really deliver a stand-out digital channel."

About e.l.f. Cosmetics
Since 2004, e.l.f. Cosmetics has made the best of beauty accessible to every eye, lip and face. We make high-quality, prestige-inspired cosmetics and skin care products at an extraordinary value and are proud to be 100% vegan, clean and cruelty-free. As one of the first online beauty brands, e.l.f. continues to attract a highly engaged audience and set benchmarks with new digital platforms. Our brand is widely available at leading retailers such as Target, Walmart and ULTA Beauty, and has a growing international presence including at Boots, Superdrug and Douglas. Learn more by visiting www.elfcosmetics.com .
*Source: Piper Sandler Teen "Taking Stock With Teens" Spring 2022 at the bottom
Get in touch
Start your appcommerce journey today
Contact Us