Dynamic Links: Making it easier to bring customers to your app
Market leader in mobile native app deployment to the retail industry announces the appointment of new global marketing head to support its business in its next phase of growth.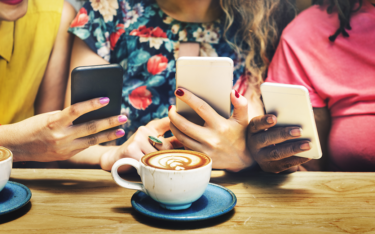 One of the most important aspects of providing a great online customer experience is to create an optimal user journey. Therefore, when marketing to your new and existing customers through channels such as email or social, retailers should take into consideration whether their customers have their app downloaded or not. With a deep linking software or platform, retailers have the power to optimise the user's experience dependent on the platform they are on as well as whether they have the app downloaded. At Poq, we have enabled Firebase Dynamic Links – providing our clients with comprehensive linking capabilities.
Before continuing, you may find it helpful to first take a look at our App Marketing Links Info Sheet to provide yourself with an overview of the different types of marketing links in existence.
Firebase Dynamic Links are a tool provided by Google' new Firebase platform to allow marketers to create a single link that will work the way you want, on multiple platforms, and whether or not your app is installed. With the new linking software implemented, Poq clients, through their marketing efforts, will benefit more from increased user retention within the app, increased conversion rates, as well as in-app purchases.
Many retailers will understand Firebase's dynamic linking capability as deep linking, i.e. retailers will be able to link to specific content within the app or on the web. Utilising a single link, Firebase can detect whether the user has the app and therefore direct the user to this deep link in-app. In the instance the user does not have the app installed, the retailer, on set-up, will have the option to choose whether to direct the user to the specific content on the web or to the App/Google Play Store to download the app. In the latter case, once the user has downloaded the app, upon launch will be welcomed with the deep link content – creating a frictionless user journey.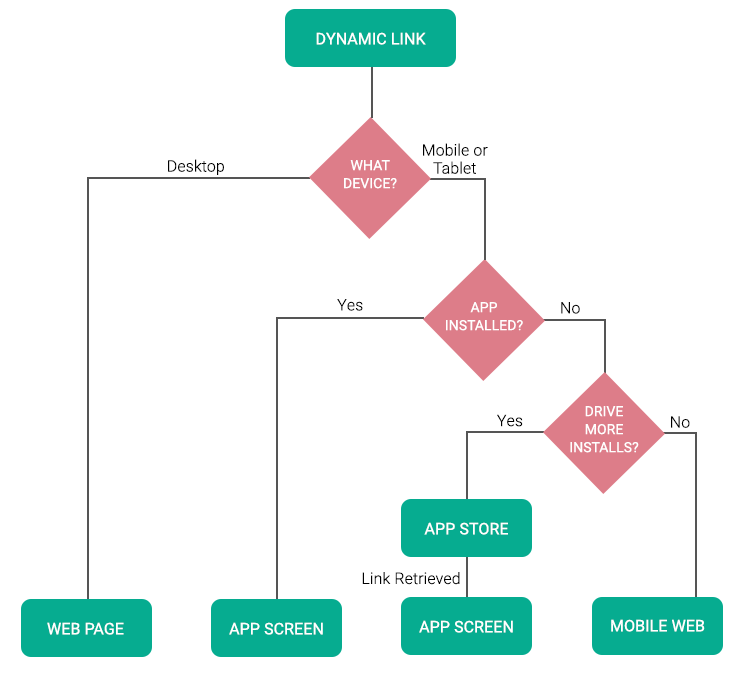 A decision tree for understanding the best route for your customers.
With Firebase Dynamic Links, deep linking becomes incredibly simple and easy to set up. Retailers will be able to choose between different types of user journeys and select the ones that best suit their customers. And now, Poq has enabled an expanded use of deep linking for all its clients through our work with Firebase.
Once your dynamic links have been enabled within Firebase you are able to use these across many of your campaigns. For example, within your regular newsletters, your pay per click (PPC) ads, social posts, and more. Utilising dynamic links and directing users to your app throughout your marketing channels will not only send customers to their preferred shopping platform but also create a better user experience on a platform that drives higher (AOV).
Tracking and analytics
By using dynamic links, retailers are able to use the Google Firebase console to measure and attribute their campaigns. This can be done by appending your links with UTM parameters which can then be filtered and reported on. In addition, by setting up conversions in the console you are able to track the success of the links by measuring in-app events and revenue. The events tracked include (but are not limited to):
app first-open
app-reopen
sign-ups
add to wishlist
add to cart
purchases
The analytics tool enables retailers to assess the performance of their campaigns and hence helps inform marketers to make smarter decisions.
To learn more about how you can use Firebase Dynamic Links be sure to take a look at their use case examples such as converting web users to app users and social, email, and SMS campaigns.
The power of dynamic links
Poq clients are now empowered to build impactful marketing campaigns by seamlessly creating web to app journeys and utilising the app's super user experience to convert.
With Firebase Dynamic Links retailers are empowered to effortlessly set up cross channel links that improve the omnichannel experience and convert web users into loyal app customers. On top of that, retailers can track and analyse their efforts to ensure they are building communication strategies that positively impact the business.
When a retailer's website, mobile web, and app are all optimised and working together to drive traffic to the app through deep linking, they can move on to execute and attribute seamless cross-platform experiences. Additionally, retailers can use the app's rich features and smooth navigation to provide users with a satisfying shopping experience that not only produces revenue but also deep customer relationships and loyalty. Features such as My Account, Push Notifications, Stories, Visual Search and Store Mode provide users with a personalised and intuitive shopping experience that outperforms desktop and mobile web.
Get in touch
Start your appcommerce journey today
Contact Us