Chico's FAS maximises app adoption with poq App Marketing Services
To accompany the launch of new mobile shopping apps for Chico's, White House Black Market ("WHBM") and Soma brands, Chico's FAS, Inc. ("Chico's FAS") augmented their marketing capabilities with services from the poq App Marketing consultancy practice. Goals & Objectives To realise the full potential of their six native mobile apps, launched across three brands, […]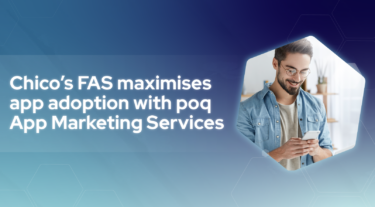 To accompany the launch of new mobile shopping apps for Chico's, White House Black Market ("WHBM") and Soma brands, Chico's FAS, Inc. ("Chico's FAS") augmented their marketing capabilities with services from the poq App Marketing consultancy practice.
Goals & Objectives

To realise the full potential of their six native mobile apps, launched across three brands, Chico's FAS decided to invest in specialized App Marketing services from poq. Chico's FAS wanted to ensure that they had the ability to market across owned media channels, while being able to measure and attribute each one. This would allow the brands to understand the performance of each marketing channel, so they could adapt their app marketing strategy in the future to maximise ROI. In addition, Chico's FAS wanted to upskill their own in-house teams with regards to app marketing technology, so they could be effective and efficient moving forward.
Solution

The poq App Marketing team supported Chico's FAS by first managing the setup of AppsFlyer, the mobile measurement solution available out-of-the-box in the poq native app platform. AppsFlyer allows retailers and brands to measure and attribute installs and post in-app events across all marketing channels via tracking links. The poq specialists, with Chico's FAS in-house digital teams, created a media plan for the app launches, taking into consideration all owned media channels including Smart Banner, Website Placements, SMS, email, Smart Banners and QR Codes. To ensure ongoing support, poq also set up custom reporting dashboards for the Chico's FAS teams so they could easily report back to the business and the individual digital units on app download performance. That coupled with weekly app marketing check-in calls has ensured that the Chico's FAS marketing team are confident in managing ongoing app marketing for their six apps, and has maximised downloads in the first month of launch.
Key Results
Team upskilled and able to create app marketing deep links
42% of installs attributed to channels (SOMA)
59% of installs attributed to channels (Chico's)
57% of installs attributed to channels (WHBM)
The remaining installs are organic.
Across all 3 brands, smart banners were the most effective channel to drive downloads, followed by popular website placements beyond the homepage that receive a lot of traffic, and QRCodes used in-store and in package inserts.
All key in-app KPI's are outperforming the initial ROI model/forecasts showing revenue exceeding the plan.
Sarah Daniels, Digital Growth Manager at Chico's FAS, concluded: "Initial app downloads far exceeded our expectations, thanks to the marketing strategy put in place by poq. As a result, we have continued to employ app marketing services with poq as we look to our next phase of growth in our app business. Integrating apps into our overall digital mix is a big part of our strategy along with identifying other channels to drive downloads. Our next phase focuses on retention and ensuring we are driving customer engagement with the apps across all owned, earned and paid channels."
---
SAFE HARBOR STATEMENT UNDER THE PRIVATE SECURITIES LITIGATION REFORM ACT OF 1995
This press release contains statements concerning our current expectations, assumptions, plans, estimates, judgments and projections about our business and our industry and other statements that are not historical facts. These statements are "forward-looking statements" within the meaning of the Private Securities Litigation Reform Act of 1995. In most cases, words or phrases such as "aim," "anticipates," "believes," "could," "estimates," "expects," "intends," "target," "may," "will," "plans," "path," "outlook," "project," "should," "strategy," "potential," "confident" and similar expressions identify forward-looking statements. These forward-looking statements are based largely on information currently available to our management and are subject to various risks and uncertainties that could cause actual results to differ materially from historical results or those expressed or implied by such forward-looking statements. Although we believe our expectations are based on reasonable estimates and assumptions, they are not guarantees of performance. There is no assurance that our expectations will occur or that our estimates or assumptions will be correct, and we caution investors and all others not to place undue reliance on such forward-looking statements. Factors that could cause actual results to differ include, but are not limited to, those described in Item 1A, "Risk Factors" in our most recent Annual Report on Form 10-K and, from time to time, in Item 1A, "Risk Factors" of our Quarterly Reports on Form 10-Q and the following:
The effects of the pandemic, including uncertainties about its depth and duration, new variants of COVID-19 that have emerged, the speed, efficacy and availability of vaccines and treatments, its impact on general economic conditions, human capital management, consumer behavior and discretionary spending, the effectiveness of any actions taken in response to the pandemic, and the impact of the pandemic on our manufacturing operations and shipping costs and timelines; the ability of our suppliers, logistics providers, vendors and landlords, to meet their obligations to us in light of financial stress, labor shortages, liquidity challenges, bankruptcy filings by other industry participants, and supply chain and other disruptions; increases in unemployment rates; increases in labor shortages and our ability to sufficiently staff our retail stores; changes in general economic conditions, including but not limited to, consumer confidence and consumer spending patterns; the impact of inflation on consumer spending; market disruptions including pandemics or significant health hazards, severe weather conditions, natural disasters, terrorist activities, financial crises, political crises, war and other military conflicts (including the ongoing military conflict between Russia and Ukraine) or other major events, or the prospect of these events, including their impact on consumer spending; shifts in consumer behavior, and our ability to adapt, identify and respond to new and changing fashion trends and customer preferences, and to coordinate product development with buying and planning; changes in the general or specialty retail or apparel industries, including significant decreases in market demand and the overall level of spending for women's private branded clothing and related accessories; our ability to secure and maintain customer acceptance of in-store and online concepts and styles; increased competition in the markets in which we operate, including our ability to remain competitive with customer shipping terms and costs; decreases in customer traffic at our stores; fluctuations in foreign currency exchange rates and commodity prices; significant increases in the costs of manufacturing, raw materials, transportation, importing, distribution, labor and advertising; decreases in the quality of merchandise received from suppliers and increases in delivery times for receiving such merchandise; our ability to appropriately manage our store fleet, including the closing of underperforming stores and opening of new stores, and our ability to achieve the expected results of any such store openings or store closings; our ability to appropriately manage inventory and allocation processes and leverage targeted promotions; our ability to maintain cost saving discipline; our ability to operate our retail websites in a profitable manner; our ability to successfully identify and implement additional sales and distribution channels; our ability to successfully execute and achieve the expected results of our business, brand strategies, brand awareness programs, and merchandising and marketing programs including, but not limited to, the Company's turnaround strategy, retail fleet optimization plan, sales initiatives, multi-channel strategies and five operating priorities which are: 1) continuing our ongoing digital transformation; 2) further refining product through fit, quality, fabric and innovation in each of our brands; 3) driving increased customer engagement through marketing; 4) maintaining our operating and cost discipline; and 5) further enhancing the productivity of our real estate portfolio; our ability to utilize our distribution center and other support facilities in an efficient and effective manner; our reliance on sourcing from foreign suppliers and significant adverse economic, labor, political or other shifts (including adverse changes in tariffs, taxes or other import regulations, particularly with respect to China, or legislation prohibiting certain imports from China); U.S. and foreign governmental actions and policies and changes thereto; the continuing performance, implementation and integration of our management information systems; our ability to successfully update our information systems; the impact of any system failure, cyber security or other data security breaches, including any security breaches resulting in the theft, transfer, or unauthorized disclosure of customer, employee, or company information; our ability to comply with applicable domestic and foreign information security and privacy laws, regulations and technology platform rules or other obligations related to data privacy and security; our ability to attract, hire, train, motivate and retain qualified employees in an inclusive environment; our ability to successfully recruit leadership or transition members of our senior management team; future unsolicited offers to buy the Company and actions of activist shareholders and others and our ability to respond effectively; our ability to secure and protect our intellectual property rights and to protect our reputation and brand images; unanticipated obligations or changes in estimates arising from new or existing litigation, income taxes and other regulatory proceedings; unanticipated adverse changes in legal, regulatory or tax laws; and our ability to comply with the terms of our Credit Agreement, including the restrictive provisions limiting our flexibility in operating our business and obtaining credit on commercially reasonable terms.
These factors should be considered in evaluating forward-looking statements contained herein. All forward-looking statements that are made or attributable to us are expressly qualified in their entirety by this cautionary notice. The forward-looking statements included herein are only made as of the date of this press release. We undertake no obligation to publicly update or revise any forward-looking statements, whether as a result of new information, future events or otherwise.
Get in touch
Start your appcommerce journey today
Contact Us