Card Factory App Launch Success Story
Card Factory is the UK's leading specialist retailer of greeting cards, dressings and gifts. Founded in 1997, its mission is to help customers celebrate their life moments. The retailer operates through its nationwide chain of over 1,000 Card Factory stores and online, via www.cardfactory.co.uk and www.gettingpersonal.co.uk. It recently launched poq-powered native iOS and Android mobile apps so that customers can explore its full range of value-for-money products and access a variety of value-added digital features.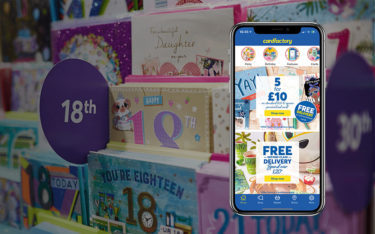 How Card Factory set best-practice standards with its poq-powered app launch
"We've probably been quite aggressive in the push of our apps launch: we've been communicating about it to our store colleagues (as non-essential stores are shut) and to our existing customers via email and social media, plus we've got a huge presence on our website; and, when our stores do open, we'll look to roll out our in-store campaign."

Glyn Williams, Customer Marketing and Digital Director, Card Factory
Making the most of an appcommerce launch
Challenges
Card Factory was looking for accelerated speed to market with mobile apps that could enhance its competitive offer and accelerate digital growth. It wanted to integrate recently implemented Salesforce Commerce Cloud-based ecommerce product feeds and merchandising, as well as targeted push notification management capabilities from Airship, with native mobile app content management and checkout functionality.
Solution
Customers can select from thousands of products using the apps, which also offer a reminder system, so special dates are never missed. It also enables customers to personalize many of their purchases, including a "verse finder," and includes wishlists and other features to enhance product discoverability, as well as an integrated store finder.
Card Factory also backed this full digital flagship Card Factory experience with a best-in-class app launch marketing campaign.
The new apps launch included:
Owned and social media and promotions
Valentine's themed and generic versions of its "Appy Days" advertising on website homepage and email campaign targeting existing customer base
Limited time and availability discount code for free Valentine's card and delivery for a penny, redeemable in-app
Third-party advertising and marketing
Advertising in both App Store and Play Store
Warm-up and launch day ads in a national newspaper
YouTube rich media ads
Positive news coverage (365Retail.co.uk)
Results
"We are excited to launch our new Card Factory apps, which form a key part of our online and digital strategy," said Glyn Williams, Customer Marketing and Digital Director, Card Factory.
He added: "We've seen record online traffic levels pretty much from 23 March 2020 [first UK national lockdown] and it's still going. We're excited about the app launch. We see a huge opportunity for growth in this channel in terms of dwell time, repeat rate and loyalty."
At launch, Card Factory was able to reach:
~50k website homepage hits per day
~0.5 million opted-in customers via email
100k downloads in first 6 weeks
29.7k offer redemptions (74% of whom were net new Card Factory customers)
"It's not just about ecommerce anymore – it's very much about how we deliver an experience for our customers," Williams commented. "As our shops reopen, we'll be looking at how the role of the mobile app in particular supports our High Street business."

Glyn Williams, Customer Marketing and Digital Director, Card Factory
Get in touch
Start your appcommerce journey today
Contact Us