AppRising 2021: The Time is Now for App Commerce
Poq's recent virtual event revealed just how important app commerce has become in the retail mix, as well as how the company is helping its clients capitalise on the resulting opportunities. "Apps are now bigger than TV," stated Jay Johnston, Poq's newly promoted CEO, as he opened proceedings on the day of AppRising, Poq's most recent virtual […]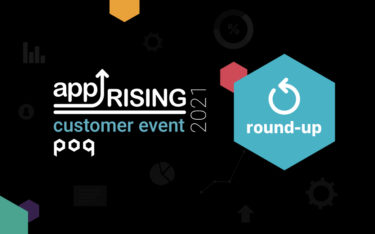 Poq's recent virtual event revealed just how important app commerce has become in the retail mix, as well as how the company is helping its clients capitalise on the resulting opportunities.
"Apps are now bigger than TV," stated Jay Johnston, Poq's newly promoted CEO, as he opened proceedings on the day of AppRising, Poq's most recent virtual event.
Johnston highlighted how app commerce has grown, charting the evolution of Poq since 2012 – four years after Apple first launched the iPhone – to today, providing best-in-class mobile shopping apps for some 50 leading retail clients from around the world. 
"$143 billion was spent in-app during 2020, over 3.5 trillion hours, according to App Annie," he said. "If you think of what that represents from a mindshare perspective, that's a massive 25% growth on last year." 
Looking ahead, he declared: "The future is mobile," as he pointed to Poq's regular monthly and quarterly release schedules, as well as many new features, including the App Insights trends and metrics dashboard and new partnerships with specialist partners, AppsFlyer, eSSENTIAL Accessibility and Amplience.
Chris Long, Senior Product Manager, Poq then outlined recent and planned improvements in his presentation of the recent and forward-facing company product strategy and roadmap. 
Long also explained how work to extend Poq's capabilities as part of the composable commerce ecosystem has seen its product team build out its headless architecture to enable plug-and-play integration between best-of-breed cloud providers, the first of which will be Amplience. 
He explained: "This allows us to adopt best practices into Poq quickly and enable greater choice for our clients in terms of how they develop their apps."
Maximizing app commerce success
Sheenu Aggarwal, App Marketing Specialist Partner, Poq and Russell Burden, Director of Partner Development, AppsFlyer shared the stage next to introduce the new mobile measurement partnership (MMP) to enhance app commerce marketing strategies and results. 
The ability to accurately test and learn what works for audiences, as well as to accurately attribute downloads, engagement and interactions was a key differentiator of success, according to Aggarwal. 
Burden commented: "Now is the time to make the most of your existing owned channels," as he unveiled a new zero-commitment mobile marketing measurement plan for Poq clients, including a special introductory Snapchat offer, to start working with AppsFlyer to manage their app commerce marketing efforts and budgets more effectively.
Following the optimization theme, theme Øyvind Henriksen, Founder and SVP Product Strategy, Poq, took to the main stage to reveal Elevate: a new Poq offering that will empower retailers to create a best-of-breed digital infrastructure in support of all of their sales and marketing channels.
Henriksen explained how Poq is taking best practices built into the platform over the last decade and breaking them down into composable components. "As a Front-End-as-a-Service app commerce platform, it contains all of the functionality we've developed so you can create your own app experiences," he said.
Made up of a native app commerce software development kit (SDK), an extensible application programming interface (API) 'backend for frontend,' and headless content management system (CMS), Elevate will allow retailers to, "build differentiated apps with bespoke functionality and tight integrations, according to Henriksen. 
Strategic capability and opportunities 
James Brooke, Founder and CEO, Amplience followed with an overview of their new CMS integration with Poq. "As a leading headless content and digital asset management platform, we really care about content experiences, that's what we specialize in," he said.
Brooke added that the partnership would provide a deep and rich, cross-channel content experience for customers that includes Poq native apps. This was vital, he added, as apps are the best performing consumer-facing digital channel in terms of engagement, conversion and retention.
Poq also invited retail clients to share their app commerce experiences in a series of roundtables: representatives of Cotton Traders and Hotter discussed the impact of the pandemic; and, Card Factory and Studio Retail executives endorsed just how important their apps had become to engagement and retention. 
Tom Martin, Sales Manager, AppsFlyer and Tze Sam, Client Services Director at digital agency, Jellyfish, also joined Poq's Aggarwal to confirm just how important engagement and interaction data is for driving marketing budget to shopping apps. 
"MMP facilitates speed of access to and visibility of intent, value, share of voice, unique users, cost per install, which are some of the ways of refining your app strategy," commented Sam. "
They were followed by a Poq debate on the future of Apple and what the tech giant might do next. "Think about the right time to show your app customers the incoming IDFA pop-ups," advised Aggarwal. "It doesn't have to be as soon as the user downloads and opens the app. Think about building trust first and smart timing in terms of when you ask for permission."
If you missed out on any of the day's great content, be sure to visit Poq's AppCommerce Insights page for more in-depth reports from the event roundtables, as well as the chance to catch up on all of Poq's AppRising sessions on-demand.
Get in touch
Start your appcommerce journey today
Contact Us