AppRising 2021: Driving Marketing Budget to the App
Mobile marketing experts discuss the challenges and opportunities available to app owners for maximizing app marketing investments and appcommerce sales.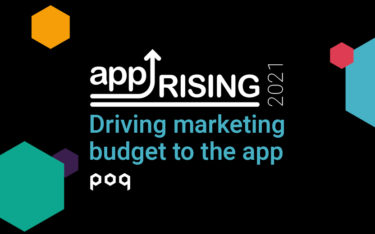 Retailers and brands have traditionally found the development, delivery and measurement of mobile appcommerce marketing campaigns challenging. That was the consensus among mobile marketing and measurement experts during a recent Poq roundtable discussion. 
One challenge highlighted by Sheenu Aggarwal, App Marketing Specialist Partner, Poq, was that of communication between the app and marketing teams. "App owners invest in native features but then need to get users to the app to show how well it will do," she said. "So, marketers need an app measurement and attribution tool to justify any spend."
Aggarwal explained that, although different to more traditional ecommerce cookie-based tools, tracking app marketing investment enables marketers to measure key performance indicators (KPIs), such as regular revenue targets and app growth as a percentage of digital. "So, its knowledge, education and transparency through tracking," she added.
Tom Martin, Sales Manager for Poq mobile measurement partner (MMP), AppsFlyer, focused on the difficulty traditional brands have in transitioning to a mobile app-first strategy. "You just don't know what you don't know," he commented. "It's understanding there's a need for a mobile app and then for transparency, by being able to measure its impact."
Harnessing attribution insight
Martin added that app and marketing attribution insight is "gold dust" in terms of understanding users: "You can then segment and build cohorts of users that you can target more effectively with campaigns that are more likely to resonate with them, from a marketing, loyalty and user experience point of view."
Tze Sam, Client Services Director for digital marketing agency, Jellyfish, agreed that mobile apps are still seen as a specialist marketing domain. As a result, she said a digital maturity framework can help clients rightsize their investments, from those starting out to others that have more mature apps. 
"When launching an app, through to when you are trying to connect the dots to your website activity, to when you're trying to scale and grow with additional products, there are quite a different set of tactics involved, as well as education in communicating the steps," said Sam. "There's also the infrastructure to run campaigns, as well as optimize organic search."
Once campaigns are in-flight, the panellists agreed it was vital to gain visibility of download and in-app interactivity attribution. But Martin said running different network software development kits (SDKs) to make sense of install data can compromise app performance. 
Partnering for mobile measurement
Using an MMP provides one SDK and acts as a referee, in terms of transparent and impartial attribution of last touch points and events as a guide to where to invest budgets. Sam also said that app owners can unlock much greater app insight from an MMP in terms of where users are coming from, as well as their intent and value. 
She added: "To understand what my brand keyword is doing versus my generic competitor, you need an MMP to understand the value of the user and their interaction at a keyword level. That's where you need to match the data from Apple, say, to the data from an MMP."
Sam suggested that, once basic KPIs around keywords are established, more mature app marketers look at cost per install. After building up a user base, they may then go on to analyse the cost per first action. 
This led the panellists to discuss solutions available to add 'deep links' into their marketing campaigns that redirect users straight back into the app. Aggarwal said deep linking to specific app pages, like category or product pages, was a great way to enable a seamless customer journey, especially for customers who've already downloaded the app. 
Gaining deep link benefits
"This is an important part of an app retention strategy," she added. "It also means app owners' budgets aren't focused solely on acquisition. They're already spending that media budget on retaining their web base, so why not do so for apps if you're splitting that traffic?"
But some tools, such as Google's Firebase, can be resource intensive to maintain. Both Aggarwal and Martin agreed that this was another reason why the recent partnership integration between Poq and AppsFlyer was so important for optimizing app user journeys and bringing them back to the app.
Martin agreed deep links can seem complex. But he said that, with the right MMP, it's an easy way to measure how successful organic campaigns perform from the point of view of owned media. "Imagine creating an email campaign, for example, to try and sell a pair of sneakers, and you send someone who already has your app to the wrong page?," he said.
"That's the user journey completely wasted. The retail space is so competitive that, if you get it wrong and somebody else gets it right, you've lost that business."
Emerging best practices
In terms of emerging best practices for maximising reach and speed to market through app marketing campaigns, Martin went on to reference deferred deep linking as a way to target and acquire non-app customers with the right message at the right time and convert them to download the app, while minimizing potential drop-offs or terminated journeys.
Sam referenced the relative maturity of app owners, suggesting they should align strategy and spend with growth targets, while analysing app as part of their overall digital base. "Advanced mobile marketers have an advanced understanding of their unique user value," she concluded. 
"Often, they can connect the value of each user across mobile and web through unique customer IDs, where a customer may transact on either. But the app has a fundamental role to play in the user journey, such as offering delivery status updates, for example."
Comments were taken from the Poq AppRising 2021 AppGrowth roundtable discussion, 'Driving marketing budget to the app,' hosted by freelance retail expert and Poq content writer, Miya Knights.
Get in touch
Start your appcommerce journey today
Contact Us