AppRising 2021: Card Factory and Studio Retail embrace the power of mobile apps
Digital leaders from Card Factory and Studio Retail discuss the importance of app commerce for driving engagement and building bridges between channels at Poq's recent virtual event . By Ben Sillitoe Retailers are putting mobile apps at the centre of their digital and customer strategies, and using the technology to help make consumers' lives easier and […]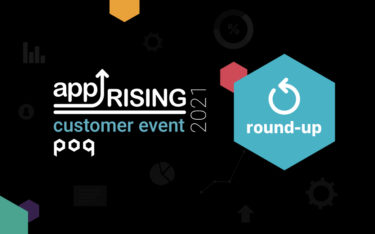 Digital leaders from Card Factory and Studio Retail discuss the importance of app commerce for driving engagement and building bridges between channels at Poq's recent virtual event .
By Ben Sillitoe
Retailers are putting mobile apps at the centre of their digital and customer strategies, and using the technology to help make consumers' lives easier and personalise shopping experiences.
They were a couple of the key takeaways from a roundtable at Poq's Apprising 2021 virtual event on 11 February, which featured Poq clients, Craig Elwell, Head of Digital Development, Studio Retail, and Glyn Williams, Customer Marketing and Digital Director, Card Factory.
Online retail trade association IMRG found UK ecommerce sales grew by 37% year-on-year in 2020, aided by temporary shop closures enforced on non-essential retail and limited journeys out of the home amid the coronavirus pandemic.
Appgrowth opportunity
Mobile data analysis from App Annie's annual report shows Gen Z, Millennials and Gen X/Baby Boomers spent 18%, 17% and 27% more time, respectively, in their favourite apps in 2020, as digital usage accelerated. 
Against this backdrop, Studio Retail is now driving about 20% of its sales through its app, which only launched on the Poq platform in 2019. Card Factory unveiled its first ever mobile app in early February 2021, and has reported strong early demand.
"We've seen record online traffic levels pretty much from 23 March 2020 [first UK national lockdown] and it's still going," explained Williams. "We're excited about the app launch. We see a huge opportunity for growth in this channel in terms of dwell time, repeat rate, and loyalty."
Elwell noted Studio's app has been downloaded and used regularly by shoppers more used to the company's catalogues rather than its ecommerce channel. He said Apple and Google Store reviews suggest the simplicity and ability to access the 'My Account' function, where credit can be viewed and bills paid, are key drivers of traffic.
"We saw a massive surge in downloads when the first lockdown occurred, last March, and it's really continued," he explained.
"We've used push notifications to promote sales clearance, events, that kind of thing. The kind of engagement with push has been huge – we see a massive spike in visitors, not just to the app, but to the web as well when we send push messages."
Promoting app stickiness
App engagement is up, but the 'stickiness' of the app as a strategic tool in retail is also evident in how it provides the glue between separate consumer channels.
For Studio, one such example is how it brings together credit accounts and shopping in the same place. For Card Factory, a key target is how the app will be used to connect ecommerce and shops.
Williams said the Card Factory app has a wish-list feature which can be used by customers in place of pen and paper in the aisles of its stores. He also argued the app will have a part to play in attracting people to the high street post Covid, tapping into that shift to more localised shopping, as experienced during the pandemic.
"It's not just about ecommerce anymore – it's very much about how we deliver an experience for our customers," Williams commented. "As our shops reopen, we'll be looking at how the role of the mobile app in particular supports our high street business."
Ongoing shopping evolution
Both Studio Retail and Card Factory acknowledged there is a requirement for retailers to keep pace with changing consumer behaviour and exploit the benefits of new technology.
Studio wants to use what people say about its app to refresh its main website, and it also plans to incorporate visual search functionality and more personalised push notifications into the platform.
"We're continually looking to evolve the app and have new features on there that customers will hopefully love and keep them coming back," Elwell remarked.
Williams described Card Factory's new app as "a huge asset," and is mindful of continually iterating on the original platform, which only launched with Poq at the start of February.
"I'm excited about our shops opening back up, engaging our store customers with our mobile proposition, and then developing our omnichannel set of propositions," he said.
Whether that takes the form of pre-ordering, click & collect or other functionality for Card Factory remains to be seen. But it is clear the retailer – and fellow Poq client, Studio – are on an app commerce journey that is really starting to take off. Comments were taken from the Poq Apprising 2021 AppGrowth roundtable discussion, 'Driving apps as a critical customer engagement and retention channel,' which was hosted by freelance retail journalist, Ben Sillitoe.
Get in touch
Start your appcommerce journey today
Contact Us