Commerce, Crowds and the Future of the Store
A lot of the festive experience has typically been defined by two things: commerce and crowds. Following the holiday sales period, retailers and analysts go on to report colossal surges in sales – and these figures are typically accompanied by media footage of mad-dash chaos, as consumers crash like waves through the doors and aisles […]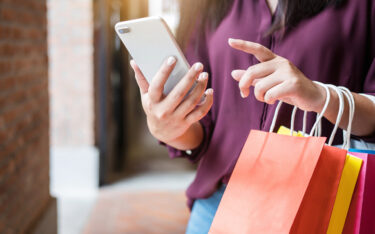 A lot of the festive experience has typically been defined by two things: commerce and crowds. Following the holiday sales period, retailers and analysts go on to report colossal surges in sales – and these figures are typically accompanied by media footage of mad-dash chaos, as consumers crash like waves through the doors and aisles of stores and malls in search of a bargain.
But 2020 has marked a new type of pre-festive experience. The sales figures were more impressive than ever, with Adobe Analytics finding that a record-breaking $9bn was spent in the US during this Black Friday alone (an increase of 21.6% YoY). But the crowds were nowhere to be seen. Even with a seasonal discount boost, footfall traffic dropped 56.9% year-on-year across the UK, for example.
In the space of a year, COVID-19 has irreversibly disrupted and transformed the retail landscape. Retailers want to know where this leaves their physical stores in the wake of lockdowns and footfall dampening social-distancing measures. As the early festive Black Friday figures prove, the lucrative opportunities for retailers remain the same. But they must now evolve and adapt their physical and digital store mix to capture as much commerce as possible.
Mobilizing the store
The way consumers view the role of the physical store in their shopping journeys is changing. A year of lockdown and limitations has pushed them to explore digital opportunities – with eMarketer finding that ecommerce will account for over 30% of total retail sales in the UK – soaring from just 21.9% in 2019 and noting that "habits that UK consumers formed during lockdown look set to endure". 
Moreover, IMRG Capgemini e-Retail Sales Index data found online-only retailers were up +24.8% on their half-year 2020 performance (January to June compared to the previous year) when it comes to online retail revenue growth, while multichannel retailers were trailing on +9.5%. When it comes to year-on-year growth, the average gap between the two over the past 12 months was 13%.
Another trend tracked by the Index was a sharp upturn in sales growth through smartphones – and all the evidence points to this being a significant factor. As their use has evolved in retail primarily from purely research purposes to the completion of purchases too, the gap between online-only and multichannel retailers has grown and remained consistently wide.
The unified store
So, while the immediate importance of ramping up ecommerce capacity and digital resilience is clear, it is not always so clear what this offering should look like. Digital encompasses a multitude of formats and channels – but arguably the most influential ecommerce device is the one that sits in our pockets: our smartphones.
Through lockdown our mobile devices became our tether to the outside world, keeping us up to date on news, connected with friends and in touch with brands. The latest report from AppAnnie shows that mobile activity increased across the board – most significantly with a massive 40% increase in the use of mobile for shopping. This trend peaked through the Cyber Weekend, with consumers spending more than one billion hours in shopping apps throughout the holiday season.
This shopping activity is overwhelmingly taking place in-app. According to eMarketer, the average person spends 90% of their mobile time in apps versus on the mobile-optimized web. Significantly, conversion rates are also much higher via apps than mobile web. For brands and retailers, this presents a clear opportunity to capture new app commerce growth and craft a retail experience that addresses the needs of modern consumers, working as both an online flagship, at hand whenever needed, as well as digital gateway to its physical equivalent.
Creating a personalized space
How consumers experience your brand is critical. Retailers have carefully strategized and invested in crafting incredible in-store experiences for customers for decades – but with app commerce, this can be taken to the next level. 
While the in-store experience is typically designed for an audience en-masse, an in-app experience can be crafted and tailored for the needs of a specific user. For retailers, investing in creating this space and testing the unlimited possibilities for personalization can drive consumers into stores. Advertising products that are in-store exclusives can be used to encourage consumers into the physical store and drive further conversions.  
An app can also be a really useful tool to monitor in-store traffic during these challenging times. Making use of features like booking systems for personal shopping services, for instance, can ensure that the app and in-store experience is complementary. 
Driving loyalty
Customer loyalty is an incredibly powerful force in retail and apps are a fantastic channel for capturing and driving it.
Retailers should encourage users to log in – and more easily stay logged in – from the off. This allows for retailers to capture immensely valuable first-party sales and engagement data from their customers, opening the door to further insights into how they browse, what catches their eye and what makes them complete a purchase. 
Retailers can also link loyalty cards that can be used in-store to the app, encouraging repeat purchases. This streamlines the consumer journey and enables consumers to reap loyalty point rewards and redeem both in-app and at the point of sale in the store.
At Poq Commerce, we also saw shoppers increase time-in app by 90% across Cyber Weekend, and this usage can inform where retailers should nudge consumers along. The process of adding to the cart can sometimes add friction – so consider more interactive native app features such as Swipe-to-Like. Equally, peak usage times are a great opportunity to experiment with native multimedia content and messaging that can boost engagement and nudge conversions.
Cementing retention
The best customers are the ones that keep coming back. The good news here is that apps are specialists in cementing customer retention because your brand and your store are only ever a click away. 
There are many in-app features that can act as a bridge between the physical and the digital. For example, the ability to look up stock before a visit to the physical store makes the experience at the store far smoother for the consumer. In-app barcode scanners can also be used to check stock availability online, or in other stores, to encourage customers not to look elsewhere. 
Equally, app commerce allows retailers to retarget customers at key moments through the likes of push notifications of timely offers and content. Combining such features with functionality that can also enable an enhanced view of the physical store can keep them coming back to both the app and store for more. Crowds and commerce have defined the holiday sales period – but even though consumers are not yet flocking back through the doors of a flagship store, they are still streaming online in their masses to browse and spend. There is a huge opportunity for retailers to leverage this lucrative shift – and app commerce's capacity to engage and retain customers off- and online will be critical in determining who emerges in this 'New Normal' on top.
Get in touch
Start your appcommerce journey today
Contact Us