One of Australia's Largest Global Retailers, Cotton On Group, Sees Mobile Shopping Apps Support its 'Customer-First' Commitment
Cotton On Group leverages shopping apps on the Poq platform to support its omnichannel strategy, provide a more personalized customer journey and increase in-store traffic.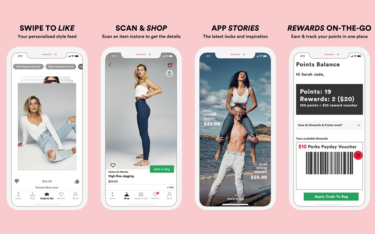 Geelong & New York May 6, 2020 – Global retailer Cotton On Group, since launching its first iOS mobile apps in New Zealand, Australia and in the United States has experienced a significant increase in average customer value, with customers engaging more frequently across stores, web and app.
Since 1988 when Nigel Austin – Cotton On Group Founder – made his first denim jacket sale from the boot of his car at the Beckley Market in Geelong, Australia, Cotton On Group has had one simple purpose –to make a positive difference in people's lives.
For its customers, this means giving them an unrivalled shopping experience, and in the digital world that includes providing apps that create a richer and more accessible retail journey.
Shoppers can now easily engage with the brand in a way that is convenient and suits them. This has helped to increase registrations of the company's popular loyalty program, Cotton On & Co. Perks, which currently has more than 8 million active members globally and is growing daily.
With enhanced product discoverability and store stock checker functionality in the app, customers are more encouraged to visit stores to complete their purchases. This is another example of how the Cotton On Group is providing its customers with the tools to devise their own shopping journey, satisfying their individual needs.
The Group leveraged Poq – a native SaaS mobile app platform for retail – to launch its apps. According to Brendan Sweeney, the Group's General Manager of Ecommerce, the business designed its ideal customer journey and concluded that its strategy would be customer-centric and not focused on channels. This focus on creating "connected experiences," has seen the app feature as a core part of this strategy.
Sweeney commented that "Shoppers are spending more and more time on their smartphones, and Cotton On wants to provide a mobile shopping experience that meets our customer's expectations. However, we're also looking to our app to drive more traffic into our stores and since launching the iOS apps in November 2019, we have found that our app customer – whether they also shop in-store or online, are the shoppers that engage most with our brand, creating a truly omnichannel experience. In fact, this was a very high priority for us," Sweeney continued.
"We sought a partner that really knows the fashion retail space and could advise us on the best course for our app strategy. We're confident that Poq will help us meet our mobile channel growth goals, including making our loyalty program more accessible to shoppers."

Brendan Sweeney, General Manager of Ecommerce, Cotton On Group
Due to the success of its iOS app, Cotton On Group will be releasing the app to its Android customers later this year so all customers can benefit from the enhanced shopping capabilities. Furthermore, the business will utilize the new Android app to empower in-store team members with the ability to carry out stock checks in real-time on the shop floor, allowing them to spend more time with the customers and continue giving them a great shopping experience.
"At Poq, we're working with our customers to build the future of app commerce and couldn't be more thrilled to be working with a forward-thinking retailer like the Cotton On Group to partner with on its shopping apps," said Helen Slaven, Chief Revenue Officer, Poq. "It's great to see established retailers recognize how apps can be central to end-to-end business strategies and customer-centric approaches."
Poq launched the Cotton On app, alongside international digital commerce agency, Tryzens. Tryzens CEO, Andy Burton stated; "We have built our business with a close commitment to partnerships with our clients, in particular, Cotton On and has supported its digital strategies for a number of years now. Partnering with Poq, to launch the Cotton On app was a great opportunity to extend our service offering, providing the retailer with a full suite of omnichannel services."
Get in touch
Start your appcommerce journey today
Contact Us