3 beauty community sites getting it right online
Beauty companies have been late to the party when it comes to making the most of their brands online, as least compared to the fashion world. But for consumers it's a whole different story. There are beauty bloggers galore, Instagram and Twitter are flowing over with nail art, and Pinterest is stuffed to the brim […]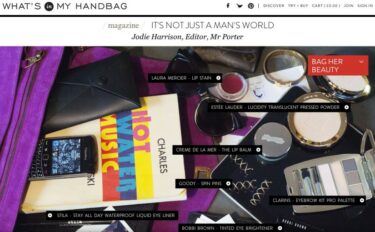 Beauty companies have been late to the party when it comes to making the most of their brands online, as least compared to the fashion world. But for consumers it's a whole different story. There are beauty bloggers galore, Instagram and Twitter are flowing over with nail art, and Pinterest is stuffed to the brim with make-up tutorials.
Perhaps because of this, cross-brand community sites are thriving, as a way for consumers to share reviews, experiences and tips. Here's three that every beauty retailer should be aware of.
What's in My Handbag:
This site is based around the classic idea of show and tell – getting a peek at the beauty products that stylish people carry around in their handbag.
But that's just the heart of the concept. Built around it are layers of shopping and customer interaction. You can upload your own bag contents (they've even got a handy styling guide for your photo), buy products with special deals and offers, and create wishlists of beauty items. There's also a 'Try' feature where community members can get selected to sample free products.
Why it works: There's a bit of everything on this site – a community, reviews, the ability to buy products, and interesting editorial content, all packaged in a great-looking site. The free sample aspect is a good way to draw people in and encourage them to participate.
MakeupAlley
This is one of the oldest beauty communities online, launched in 1999 – practically pre-history in internet years. It's totally user-generated, built on a base of 2,178,703 user reviews (yes, that's more than 2 million) of over 130,000 products. That's a whole lot of information. Users can rate products from 1-5 and give a short review. There are also discussion forums, and even an iPhone app.
Why it works: The sheer volume of reviews and the number of loyal users ensure that this site remains relevant. Search for any new product and you'll see it start to gather opinions almost immediately after launch, making Makeup Alley a very useful resource. It's not the most modern-looking interface around – ironically for a beauty site, it definitely looks its age – but it's easy to use and has a huge following.
She Said Beauty
This site describes itself as 'The Social Network for Beauty', and aims to provide a one-stop, integrated experience for beauty lovers. Key to this is their active community of bloggers who can syndicate their posts on the site. You don't need a blog to sign up though – just create a profile with some details about yourself and your favourite brands, and then you can contribute photos, product reviews, and videos. There's also a big product directory which has price comparisons and reviews from users, as well as editorial content and offers.
She Said also offer the Beauty Box, which is a selection of 5-6 luxury beauty samples sent to your house for £9.00 a month. Users can then review the products on their blog and on the She Said site itself.
Why it works:
Similar to MakeupAlley, you can search for products and see other people's opinions, but user profiles are much more important and there's added functionality like the price comparisons. It's also a great tool for finding new beauty bloggers (which could be handy for brands) and tracking the most popular products.
Do you have any other beauty community favourites?
Get in touch
Start your appcommerce journey today
Contact Us