Amplience: In Conversation with Poq
Digital content expert and leader, James Brooke, interviews our very own Jay Johnston, about mobile app development trends and meeting retailer and consumer demands.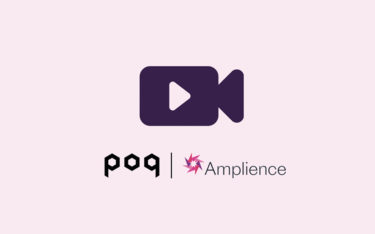 After recently announcing a new partnership agreement, the CEOs of Poq and leading headless customer experience provider, Amplience, sat down recently to discuss retail customer experience and enabling technology trends. 
Jay Johnston, Chief Executive Officer, Poq highlighted how far the company he leads and the industry it serves had come since its launch in 2012. He also described the journey the company has been on since he joined as Chief Technology Officer three years ago. 
"We've graduated from startup to scaleup," he said. "But we're still on the same course as when I started, which is to build out a strong SDK [software development kit] strategy at both the front and backend."
Johnston added: "We want to enable people to build Poq apps without any dependencies on us. So, we can get out of the way of retailers' ability to create amazing shopping digital flagship shopping experiences for their customers on mobile, knowing that native isn't the only way, but that it's the best way of doing that."
Ambitious platform strategy
James Brooke, Chief Executive Officer and Co-Founder, Amplience also pointed to a shift in retailers' belief in apps. "I know the experience on a mobile app is better because it's native," he said.
"But there was a period there where mobile sites and responsive seemed to take the focus away from that. But apps are everywhere now, and it comes up in nearly every conversation we have with our customers that I join."
Johnston explained: "Our clients know that they're best customers demand the best possible experience and they're focused on giving their end user what they want, which is a seamless shopping experience on mobile. Then there's value-add from marketing and content as well."
Brooke agreed: "I see a big desire to deliver much more joined up, orchestrated retail experiences that really takes the digital side of things into account, but also physical stores; and, apps are seen as the join between the digital experience and the digital experience in-store that really brings the whole thing to life."
Managing integration complexity
Both CEOs reflected on the disruption of the pandemic, agreeing that this had also served to push retailers towards adopting native mobile apps. "Everything's hit fast forward," Johnson commented.
"But apps are complex," he added. "They're a moving target with a network effect. One of the big drivers for Poq to build out our SDKs was to decouple the components and customizations. We've done some deep thinking on the app side to decouple dependencies and, with our latest version 19 release for instance, we've integrated with AppsFlyer, and rolled out our backend SDK."
Brooke shared the concept of "content as data". He explained: "It sits in a repository where you can share all of that content across all of the different customer touch points. This is why our partnership makes so much sense, because you're controlling a part of that customer experience that a retailer wants to get to content to, and that they're probably also using somewhere else."
Johnston agreed: "With cloud underpinning it all, retailers want to integrate this merchandiser and this ecommerce system, with that push notification system and that analytics provider. So, a mix-and-match, plug-and-play approach that enables best-of-breed content management with native apps gives them a really powerful set of options."
"Giving our customers freedom is what we're all about at Amplience," Brook declared.
Match made for shopping apps
Having already proven the integration and published from Amplience to a Poq app, Johnston said both providers were delivering on client demands. "This delivers efficiency from a publishing standpoint and we're never going to be able to write a CMS [content management systems] as good as Amplience. We're now excited to get customers live."
Brook added: "In the past, retailers might have had a separate app team. Now they just want to be able to offer their customers an experience that is consistent, targeted, compelling and orchestrated in a way that adds value at every single step on their journeys."
The two CEOs also looked ahead to mobile technology-enabled trends ranging from 5G to virtual reality (VR). Johnston said smartphones have gone broad in terms of penetration and predicted that, over the next five years, they will go deep.
"Mobile will only get richer, faster and more pervasive, with wearables and Apple's silicon enabling apps to run on desktops, for example; and; we're doing some really interesting things with clients using augmented reality too," he concluded.
Watch the interview in full here: https://amplience.com/videos/a-conversation-with-poq/
Get in touch
Start your appcommerce journey today
Contact Us