Poq Platform Release: Poq introduces strategic content capabilities in Andromeda
Content management overhaul and home screen multimedia enhancements complement headless, best-in-class integration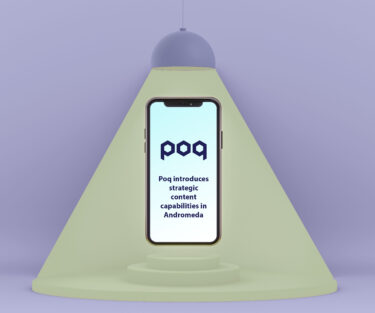 Poq today reveals a number of new, strategic content management capabilities designed to improve the management, efficiency and effectiveness of its clients' native mobile apps.
It has overhauled its content management system (CMS), introduced video and product carousels to poq app home screens, and released its pre-built integration to the best-in-class headless CMS of its technology partner, Amplience.
Improved CMS user experience
The new poq CMS focuses on maintaining existing capabilities, while improving the user experience of managing an app. This includes a new purpose-built user interface, tailored to the task at hand; a modern web app approach built in React; and, an end to page reloads interrupting a task.
Introducing home screen videos
Building on existing poq-powered app home screen functionality, home screen video banners are one of the multimedia components that clients can now also set up in the new CMS. Video content has grown in popularity on social media platforms, including Instagram and Facebook, generating 48% more views than image or plain text posts.

Poq app home screens now also support autoplay video, to deliver an Instagram-like look and feel. Clients will be able to make the most of this feature by reusing social content.
Home screen product carousels
Alongside the new video functionality, poq's latest release, Andromeda (Version 21), also adds the ability to create carousels to promote products directly on the home screen.

CMS users can choose to display products from a specific category on the home screen carousels. Alternatively, the carousels can link directly to the customer's recently viewed items, creating a more personalised experience and encouraging them to continue their shopping journey.
Headless CMS integration
In an omnichannel world, retailers and brands increasingly want to centrally manage and reuse their content. So, as well as continuing to improve its own CMS, poq has released a pre-built integration to the headless CMS of poq's technology partner, Amplience.
This new integration is ready to add to a poq client's Amplience console, enabling them to use their Amplience CMS to manage content for their poq app alongside their website, blogs, social media and email.
Swapping over to Amplience as the CMS provider is handled seamlessly in the backend with no updates needed to the poq app to support this.
App investment strategy
The addition of home screen videos and product carousels will enable more creative and differentiated home screen marketing capabilities driving increasing customer engagement for clients.
The pre-built Amplience integration is part of poq's commercial strategy to enable API first, headless integrations between its leading appcommerce platform and other best-in-class technology providers. Retailers and brands can then create composable commerce stacks with poq apps to optimize sales and marketing growth.
Get in touch
Start your appcommerce journey today
Contact Us