Cotton Traders' App Success Story
Cotton Traders is a leading clothing retailer founded in 1987 by former England rugby captains, Fran Cotton and Steve Smith. The company is based in Altrincham, England and sells casual clothing and footwear collections for men and women, plus a new homeware collection, Cotton Home, in over 25 countries worldwide.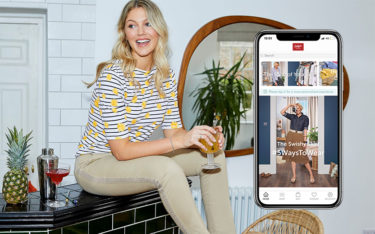 How Cotton Traders launched its digital flagship shopping experience on mobile with Poq
"App is a trading platform that enables us to serve more inspirational and engaging content. We expected a lot of existing customers to shift [when we launched our app], but there has been a big growth in new customers too. It's easier to navigate and allows for extra engaging features compared to mobile and tablet web."

Shona Jameson, Chief Marketing Officer, Cotton Traders
Embracing mobile appcommerce during a perfect storm
Challenges
Cotton Traders wanted to capitalize on its growing digital customer base by offering them a best-in-class digital flagship store experience. It also wanted to complement its existing store and direct-to-home channels and capture more of the growth it was seeing generated via mobile, yet increase frequency of visit, purchase and value. The retailer worked closely with Poq to launch native mobile iOS and Android apps that could meet increasing customer demand for added-value shopping experiences and content.
Solution
To support its accelerated digital trajectory, Cotton Traders chose to launch Poq-powered, transactional digital apps in summer of 2020 that would offer both new and existing customers a flagship digital store experience. Despite the disruption of the global pandemic, the apps went live in July 2020, as planned.
The new apps enable:
Easy-to-use shopping experiences
With sophisticated search functionality and the ability to create wish lists.
Engaging and added-value content
Including exclusive content and stories to showcase the latest collections.
Results
"If anything, the pandemic came like a perfect storm in terms of driving the success of the app," commented Paul Hurst, Head of Digital, Cotton Traders. "But we'd been seeing for several years now, and certainly in the previous 12 months before the pandemic, an ongoing shift in terms of our mobile visit penetration growth, in line with our target customer audience being the over-50s."
Paul added: "Conversion on the app is better than mobile and tablet web, and since launching the app, our more loyal customers that have used the app have increased their purchase frequency."
Since launching mobile shopping apps with Poq, Cotton Traders has seen:
59% increase in incremental revenue
13% greater average order value
30K installs in first seven weeks 5x increase in iOS app push notification opt-ins
"Cotton Traders are data-driven; we avoid paralysis by analysis. We want to make sure we offer a bespoke digital experience that enables targeted and timely digital actions. Listening to our customers, if they do channel shift it's very unlikely they will revert to previous channel behaviour. So, we make sure to mix all mediums for communication and engagement."

Shona Jameson, Chief Marketing Officer, Cotton Traders
Get in touch
Start your appcommerce journey today
Contact Us