Case Study: The Studio Retail App Growth Story
Studio Retail Group is a publicly-traded British multichannel retailer, operating across the business-to-consumer and business-to-business marketplaces. Known as the digital value retail group and trading across two separate, respective divisions, its consumer-facing Studio Retail division has enjoyed unprecedented success working with Poq Commerce to launch its Studio WOW mobile shopping app. Our early success has given […]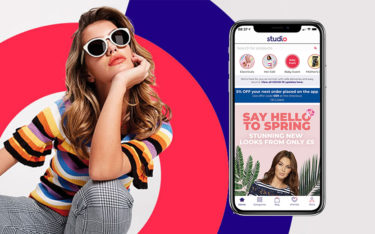 Studio Retail Group is a publicly-traded British multichannel retailer, operating across the business-to-consumer and business-to-business marketplaces. Known as the digital value retail group and trading across two separate, respective divisions, its consumer-facing Studio Retail division has enjoyed unprecedented success working with Poq Commerce to launch its Studio WOW mobile shopping app.
Our early success has given us the confidence to continue investment and scale the app. We want to do more with inspirational content, such as the likes of App Stories. We also want to bridge the gap between online and the offline, catalogue experience and use the app to unlock print catalogue content and link that directly to product online.

Chris Chalmers, Marketing and Digital Director, Studio Retail
Capturing explosive digital shopping growth with new mobile apps
Challenges
Though historically catalogue-based, over 90% of Studio Retail's customers today shop its broad range of fashion, home and leisure items, toys and gifts online via the studio.co.uk and ace.co.uk websites. As part of its mission to grow as a successful online value retailer, Studio Retail chose to work closely with Poq Commerce to launch Apple iOS and Google Android apps to capitalize on consumers' increased appetite for mobile shopping.
The Solution
After identifying the opportunity to further grow digital sales via mobile, Studio Retail worked with Poq to develop a minimum viable product (MVP) version of new, fully transactional apps for iOS and Android that were soft launched in September 2019.
The new apps include:
Full digital offering
A rich and varied, but simple online catalogue experience for mobile
Hybrid financial services integration
Studio's credit line functionality, creating a hybrid mobile retail shopping/financial services app that gives customers everything they need for a successful and financially astute buying experience.
Results
"Download velocity has been and continues to be extreme," according to Chris Chalmers, Marketing and Digital Director, Studio Retail. Among single device households and the core segment of 35-55 year-olds, downloads happened at scale. There was even growth seen among the least likely to adopt 65+ audience. To date, the app has been downloaded over 1 million times and delivered double the volume of transactions than its initial forecast.
The Studio app continues to evolve with the addition of its personalized product range, which officially launched in time for the festive 2020 season, allowing customers to personalize hundreds of products from robes to pencils.
After launching its first Poq mobile shopping apps, in comparison to mobile-optimized web, Studio saw:
28% more time spent in app
7.5% higher user conversion
100%+ increase in sessions
7% greater average order value
Studio Retail on the importance of developing a native mobile app:
"Native mobile apps deliver great customer experience benefits, while working with a platform takes away some of the need from internal IT services and enables a fast pace of change. Make sure your proposition stacks up, that it is competitive and be confident that you have the right proposition to stick. Fully embrace it and ensure you have the investment to drive the downloads. We've also seen higher push opt-in rates than email opt-in rates, creating a whole new contact channel that is instant and can be used to deliver highly relevant and timely communications."

Chris Chalmers, Marketing and Digital Director, Studio Retail
Get in touch
Start your appcommerce journey today
Contact Us