As many countries are gearing up to resume life after COVID-19, this month we take a look at how important apps have been during lockdown, how consumer behaviour may have changed forever and the new normal.
Importance of Ecommerce Apps During Lockdown
Large American retailers are doubling down on their investments in ecommerce apps, especially at Walmart, where they consolidated their grocery and shopping apps into one for customer convenience. There has also been such a large growth in the demand for curbside pick-up and delivery that most American retailers like Walmart, are now investing in it. Last month we discussed how Poq client, American department store, Belk, is an early adopter of curbside pick-up in response to the coronavirus outbreak. Using the FlyBuy Pickup solution from Radius Networks Belk shoppers are able to drive to their local store and easily pick up their shopping contact-free.
COVID-19 has been a catalyst for mcommerce. In recognition of the growing demand for online shopping and what is likely to be a permanent change to consumer behaviour, Australian coastal and casual apparel retailer, SurfStitch, unveiled its plans to launch an app with Poq ahead of Black Friday 2020. An approach that many brands and retailers are set to take in light of this year's Black Friday season set to be more important than ever before for non-essential retailers worldwide.
"E-commerce apps are especially well-suited to capitalize on re-engagement." – Kia Saedi, Regional Sales Director, Adjust.
A powerful statement from Adjust conveying the importance of using the data from app shoppers to serve targeted ads at the right time and bring shoppers back to and engage with retailers' apps. During current retail uncertainty, investing in engaging your most valuable customers – existing app shoppers – couldn't be more crucial.
Find out how Cotton On Group is using its app to drive engagement with shoppers and how they created a connected shopping experience across channels pre-COVID-19.
Post-COVID-19 Consumer Behaviour Predictions: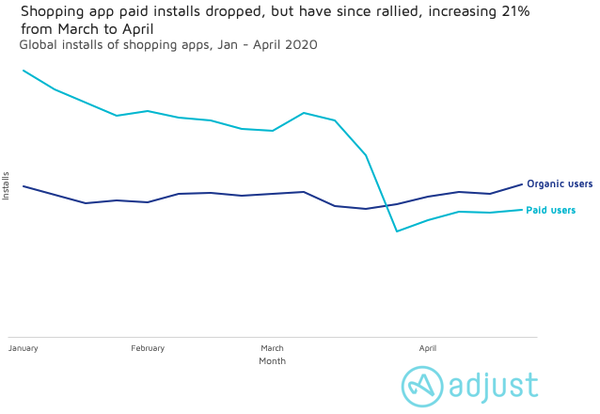 The last week of April compared to the last week of March saw a 43% increase in shoppers returning to their favourite shopping apps – Adjust.
The new norm for retail app downloads sees year-on-year downloads in May up 2.7x – Poq.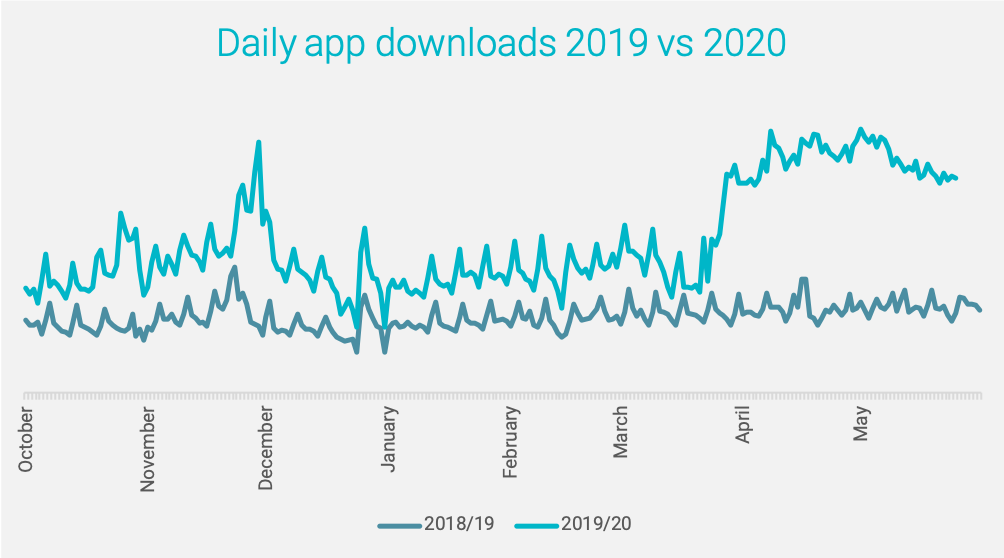 As more shoppers intend to continue to shop online post-COVID-19, building brand affinity and loyalty couldn't be more important. Read our 3 simple methods for creating super customers.
Open for Business – The New Normal
UK non-essential retail is due to open on June 15th subject to coronavirus targets being met. In the spirit of social distancing, PayPal has announced that it has launched QR payments which enables people to make purchases completely contactless by scanning a QR code in the PayPal app which can be used from restaurants to shops. Vendors can print a QR code for individuals to scan and pay without the need to handle cash or contact checkout technology, like touchscreens.
Mamas & Papas has taken virtual shopping experience even further by being the first UK retailer to launch a virtual personal shopping experience for new and expecting parents. Shoppers can now book appointments with store associates in the shop via video call to see demonstrations of products and get more information.
Post-COVID we expect to see a growth in retailers utilising their app technology to expand the shopping experience and blur the lines between the physical and digital store.
It's also predicted that the adoption of AR & VR technology for shopping experiences will grow as shoppers want to engage with products before purchase according to Coresight Research. ASOS is one step ahead as they introduce AR technology to show simulated clothes on models as the business can't work with models during the outbreak.