Written by: Chris Long, Senior Product Manager
Our thoughts are with everyone during this time and we hope you and your friends and family stay safe throughout this challenging time. We are in this together and will do whatever we can to support you.
COVID-19 is bigger than anything happening at Poq, but there are still some interesting things being worked on that can hopefully make your job easier. Here's an update from our Product team.
Our latest release, Halo, will provide Poq clients with more tools to drive traffic to their app and more importantly, understand their app's performance in more detail.
In Jupiter, our previous release, we launched Firebase Dynamic Links support. This, complemented by our social media marketing integrations, app store advertising and push messaging capabilities provides Poq clients with a great set of tools to drive traffic to their apps.
App Insights Dashboard
With tools available to drive usage to the apps, clients need to make sure they understand the outcomes of growth in terms of performance. Our new App Insights Dashboard addresses the need for a better picture of the data. It aggregates metrics from different sources to create a singular place where the right information can be accessed quickly and easily.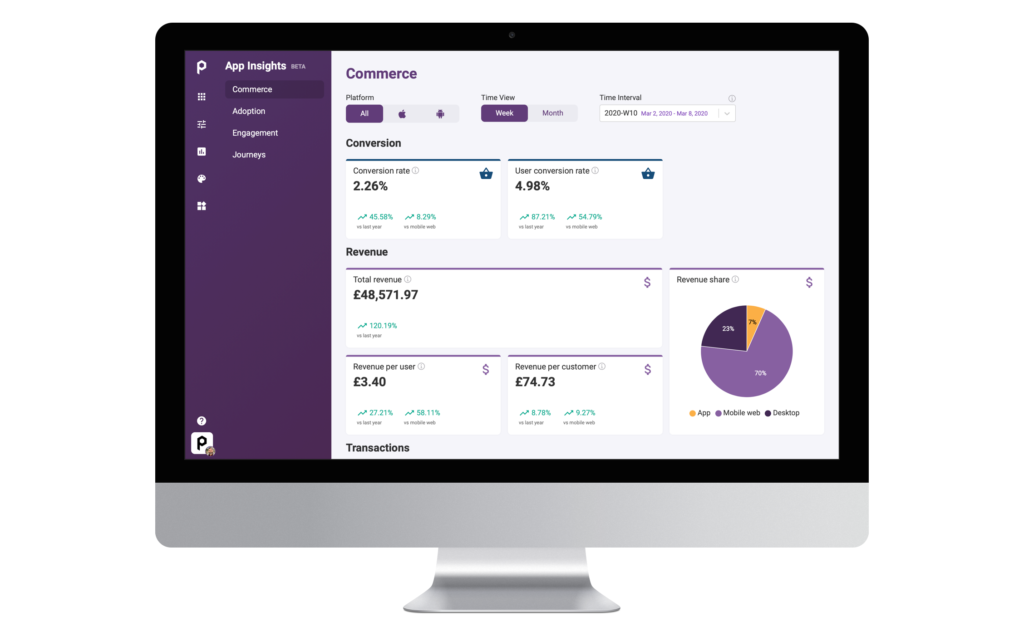 The App Insights Dashboard is made of 4 key areas:
Commerce: understand all your revenue based KPIs in a single screen, including total revenue, conversion rates, revenue per users, AOV or transaction volumes.
Adoption: see how your customers are taking to your app with ratings and reviews all available for different versions as well as app download volumes.
Engagement: understand your app audience a little better by getting insight into new users, returning users, visit frequency and dwell time statistics
Journeys: dig a bit deeper and understand how your users typically progress through the transaction journey with a 6-step user-based conversion funnel.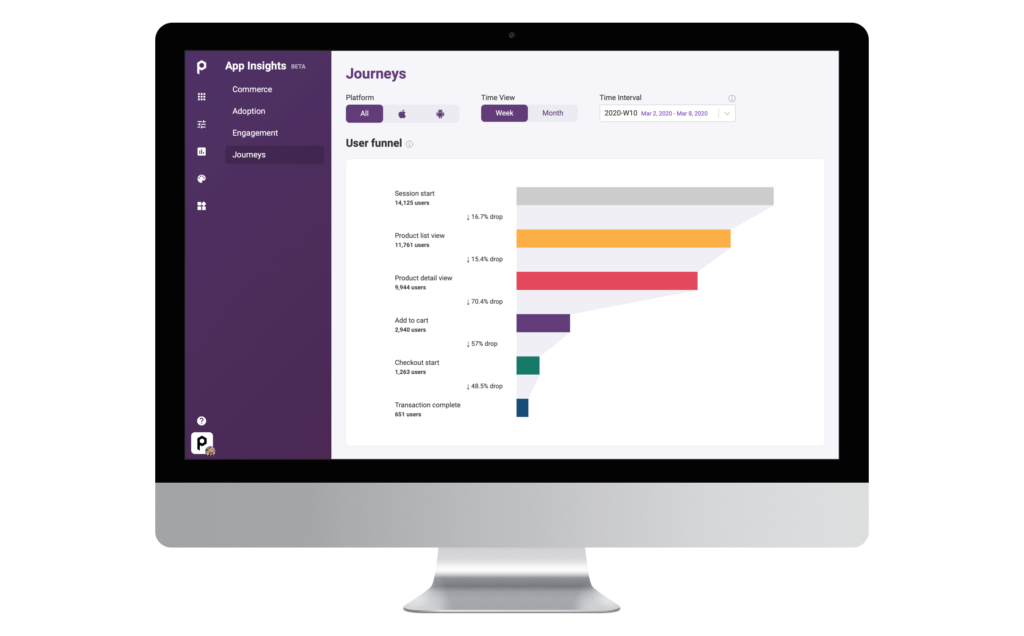 All metrics include year on year comparison and can be filtered for different platforms (iOS and Android).
Having access to all this data in one place can make the weekly or monthly reporting on app performance a breeze. However, we know that App data in isolation might not give the full picture. The App Insights Dashboard can be easily integrated with web data to show a comparison of performance across the digital channels.
The App Insights Dashboard will be available in the Poq App Manager using your existing credentials. Our Customer Success team will be in touch to explain further.
The little things that matter
Being on a SaaS platform like Poq, means you're getting constant improvements. Here are a few more things that we've made just a little better with Halo.
Sharing Products with Dynamic Links
Following the introduction of Firebase Dynamic Links, it made perfect sense to make sure that the same technology is utilised when users share products between them. From now on, when using our new Product Details Screen, if a product is shared, it will take users to the app if they have it installed already and take them to the App or Play Store if they don't.
Improved Predictive Search
Our predictive search has been only showing one level of parent category in the search as you type suggestions. In some edge cases, this may have shown two identical predictions that were, in fact, pointing to a different category. We have now made sure the full category tree is displayed and give users the maximum context when searching.
Android Currency Switcher
The Currency Switcher allows Poq clients to merchandise the same catalogue to multiple countries in the right local currency. This feature has previously only been available for iOS but it is now also available for our Android platform.
As always, our main priority is to support our clients through this challenging trading period and we will be in regular contact to offer any help we can.
Please do not hesitate to contact us if you have any questions or queries.
Hear from our app experts on how COVID-19 is impacting retail and how you can prepare for the most important Black Friday ever.