Category creator of app commerce predicts 25% of ecommerce traffic to come from apps in 2020
New York and London, March 10th, 2020. Poq – the app commerce company, today released Holiday 2020 | The App Commerce Guide. This guide offers retailers practical insights into consumer app shopping behavior. Highlighting how retailers can optimize app features like push notifications, App Stories and search to drive customer engagement and product discovery.
Key findings include:
Over 25% of online traffic from apps by holiday 2020 – App traffic overtook desktop for retailers with apps in 2018. App traffic is set to be a quarter of ecommerce traffic by the end of 2020.
More hours spent on app each Black Friday – 387,000 hours spent on apps on Black Friday. The same as watching the 1994 hit sitcom Friends 4557 times. This is a 105% increase from Black Friday 2018.
App downloads increase 42.2% – over Cyber Week 2019 (November 26 – December 2) compared to 2018. The consumer demand for apps for the big sales days continues to grow.
Apps drive engagement – Features like App Stories – shoppable in-app stories like Instagram Stories – saw a 31% increase in interactions over Cyber Week. Meanwhile, brands on Instagram saw a drop in engagement over the holiday period.
App shoppers have a higher intent to buy – Over Cyber Week, app shoppers were 16% quicker to add the first product to their bag than the average shoppers in Q3.
Most successful ecommerce push notifications in Q4 – Notifications using the term "deal" had a 50% better direct open rate than the Q4 average. "Deal" was most often combined with emojis and the percent sign (%).
Furthermore, this guide demonstrates how to make products more discoverable by examining what your customers are searching for and how to use innovative features like Swipe-to-Like – similar to Tinder where shoppers swipe on products – to put more products in front of your customers.
This latest research examines over 100m push notification sends, 165m app interactions and 6m in-app searches from over 45 shopping apps (on the Poq platform) and delivers retailers practical and actionable insights into the behavior and habits of shoppers. The guide follows the shopping journey from customer acquisition through engagement, product discovery and purchasing behavior.
"Consumer behavior changes around big sales days like Black Friday. Customers opt to shop with the most convenient, relevant and engaging shopping experiences." said CEO & Co-Founder Oyvind Henriksen. "Retailers globally are recognizing the importance of apps. By adapting to these evolving habits, retailers are building authentic consumer relationships and generating more revenue."
Ready to maximize your app engagement and create a successful app commerce strategy for Holiday 2020? Download Holiday 2020 | The App Commerce Guide now.
Ecommerce Traffic Share by Channel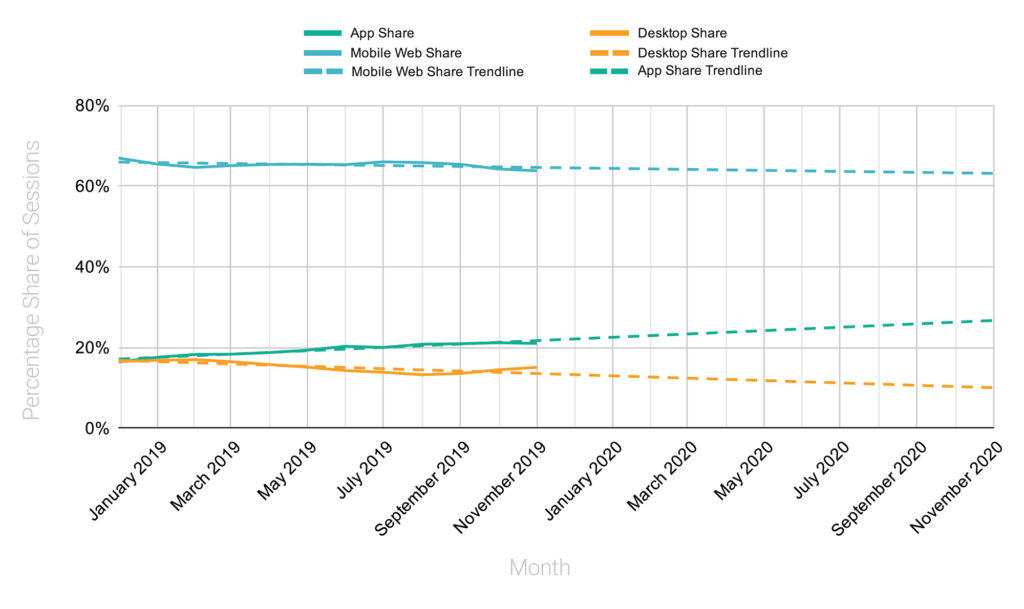 In early 2019, apps overtook desktop in terms of the share of online traffic (sessions) positioning mobile as the dominant channel for ecommerce. By the end of 2020 Poq predicts that over 25% of all online traffic will originate from apps.
About Poq:
Poq is a Software-as-a-Service platform that empowers retailers to create highly-effective and fully-customized native apps. Apps that allow them to build stronger brands, sell more of their products, deepen customer loyalty and deliver highly-relevant content, communications and rewards.
Our platform is the result of years of focus on retail apps and is proven to increase conversion rates and revenue. New code and major releases are delivered regularly. Clients include global brands and department store retailers, such as Missguided, Holland & Barrett, Belk, Feelunique, PrettyLittleThing, Kurt Geiger, Cotton On, Oasis and Hotel Chocolat.