Don't have time to read the whole article? Skip to the bit that's right for you: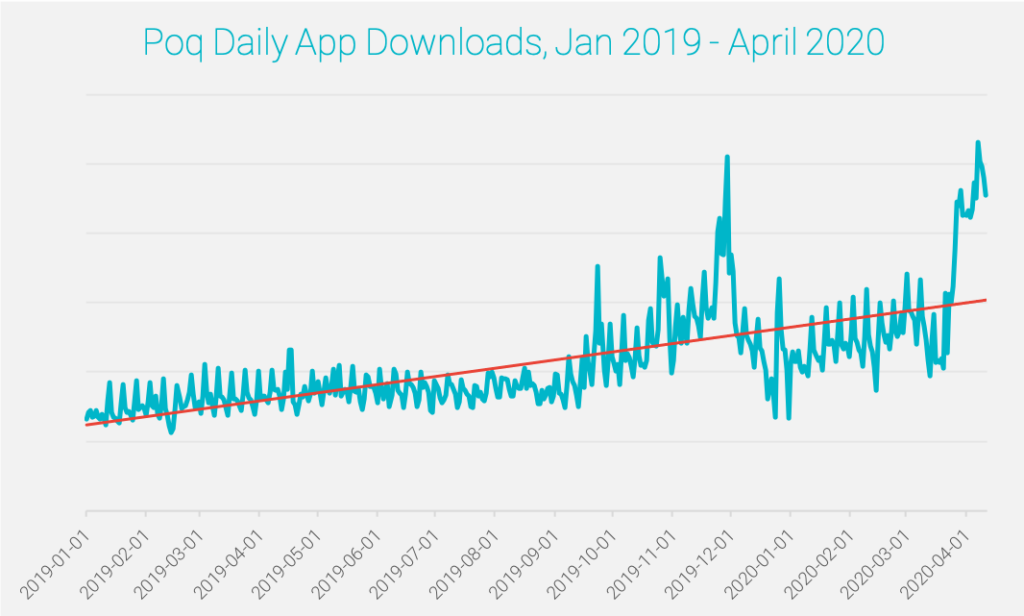 Update: 15th March 2020.
On 7th April, daily app downloads beat the record highest daily app downloads – Black Friday 2019- on the Poq platform. Showing that as the lockdown continues globally, shoppers are still opting for apps as their preferred shopping channel.
Update: 27th March 2020.
As the pandemic spreads further worldwide and more countries go into lockdown closing non-essential shops and businesses, consumers are turning to their mobile devices to get what they need.
With almost all retail stores temporarily closing down across the UK and New York and other major cities in the US, shoppers are left with no option but to browse and purchase non-essential items online and engage with their favourite brands through the digital channels available to them. We have seen as many daily app downloads over the last few weeks as those during the peak shopping period beginning in November 2019.
On March 12th, cases of coronavirus surpassed 125,000 globally according to World Health Organisation (WHO), with 460 confirmed cases in the UK and 987 confirmed cases in the U.S. We examine what this means for retail and how you can try to minimise the effect of falling footfall.
We anticipate that downloads will continue to grow whilst people have more free time on their hands and seek out ways to occupy it. We also predict that brand engagement will grow during this period, as shoppers will be searching for relevant content and ways to fulfil their interests in different retail verticals.
In our latest webinar, we discussed some of the transferable tips you can take from driving customer engagement over Black Friday and periods of high traffic and how you can adopt these in the current retail landscape to develop and maintain successful relationships with your customers. We also explored what you can do to prepare for the next holiday period, which will be more important than ever before.
Watch the on-demand recording now.
What Does Coronavirus Mean for Retail?
Update 26th March: All non-essential retailers across the UK have been asked to shut stores and further isolation restrictions have been put in place to enforce social distancing and further prevent the spread of the virus. However, retailers can continue to function online and deliver goods to their customers. Meanwhile, New York has become the third epicentre for the outbreak of COVID-19.
Brick-and-mortar retailers, particularly supermarkets in the UK, have started rationing the sale of certain items, like pasta and hand sanitizer in order to prevent stockpiling and panic buying behaviours, according to Retail Gazette. Meanwhile, health and cosmetic retailers like Neal's Yard and Lush are offering free hand washing in their stores to help prevent the spread of COVID-19, entice customers in and demonstrate their products.
Coronavirus has essentially become a catalyst for online shopping and a more digital lifestyle. The age of digital connectedness will be put to the test now more than ever and as many consumers don't have desktop computers at home, they will turn to mobile to conduct their shopping.
According to ContentSquare in a review of over 1,400 websites, shoppers are spending 26% more time on grocery websites and are spending 20% more on grocery products online than they did at the end of February. Groceries aren't the only retail vertical being affected by the virus. Understandably, travel and tourism websites have seen a drop (-20%) in traffic and sales, as well as the sale of sports goods (-28%). Meanwhile, home furnishings and lingerie have seen a spike in sales. Poq has seen revenue for health and nutrition shopping apps grow by 22% since February.
Revenue for health and nutrition shopping apps have grown by 22% since February.
British online supermarket Ocado, has struggled to keep up with the increased online demand as it's website and app experienced difficulties yesterday (12th March) and it has advised customers to place orders further in advance because more people than normal seem to be placing large orders.
Almost half (49%) of consumers are making more purchases online in order to avoid visiting physical store locations according to research from the law firm, Squire Patton Boggs. Logistics specialists, ParcelHero claim that overall ecommerce sales are likely to double from 20% of all sales to 40% as consumers choose to buy more products online. And, as more shoppers buy online for the first time, McKinsey & Company claims that;
"Customers' changing preferences are not likely to go back to pre-outbreak norms."

McKinsey & Company
They predict that many shoppers who buy online for the first time because of the coronavirus outbreak will better be able to appreciate and understand the broader advantages of shopping online and will be more likely to maintain this behaviour beyond the pandemic peak.
Tips: How to Grow Your Online Presence Amid Increasing Competition
As the demand for online shopping grows, the competition for retailers to win consumer attention will heat up. More than ever before, retailers will be competing against ecommerce giants like Amazon. Some might say that this means retailers need to spend more on ads in order to acquire new and re-engage current customers. However, this isn't the case.
With shortages of stock and workforces working from home or self-isolating, it's important to utilise your shopping app in order to reach your existing loyal customers and to be heard above the noise, rather than serving more transient one-time purchasers.
At Poq, we have extensively worked with both pure-play digital native and omnichannel retailers and we recommend with the consumer shift to digital, that all retailers take on a pure-play, digital-first mindset for the foreseeable future.
I see mobile web very much as acquiring the customer and mobile app is about engaging your customer" – App Commerce 2018

Jonathan Wall, CDO – Missguided
Retailers and brands should focus on using mobile web to acquire new customers and convert returning mobile web customers to app. Once on the app, shoppers can easily be engaged and nurtured, ultimately making them a more valuable customer.
In our latest guide, Holiday 2020 | The Complete App Commerce Guide, we examined how retailers and brands can be louder than their competition over the peak trading and holiday period with apps, and many of these tips and tricks can be applied today.
In tough times for the economy, cash preservation is key. Retailers need to double-down on engaging loyal customers and embracing the new consumers who do shop online for the first time in order to avoid going to physical stores. Concentrating on shoppers who are already familiar with your brand or who organically find your app reduces the spend on acquiring customers who may only shop once with your brand to avoid the stores.
Get your copy of Holiday 2020 | The Complete App Commerce Guide for actionable insights on how to drive engagement with your shopping app over highly competitive periods.
Here's how we recommend you can optimise your app strategy for the increased online demand and how to ensure you reach your loyal customers:
1. Optimise Your Push Notifications
As consumers turn to ecommerce to fulfil their shopping needs, keep your brand front of mind with relevant and timely push notifications. Try these 3 tips from our recent guide:
If you do already have a sale planned or in progress, make sure to use emojis, and terminology like 'deal' and a percentage sign (%). Push notifications including these factors from retailers typically saw an open rate of 3.3% vs the average 1.9%.
Try sending push notifications at 3pm & 4pm, when fewer retailers are sending push notifications, push notifications have a higher open rate and the hours are still sociable.
Try rich push notifications, segmentation and personalisation to boost your direct open rates.
2. Tailor Your In-App Content to Engage Shoppers
Many brands using the Poq platform use a feature called App Stories to serve content to shoppers. Similar to Instagram Stories, this feature enables retailers to convey images, GIFs and video content about any topic. From the latest fashion lines to drop to new sales, user-generated content and the stories behind product sourcing, App Stories provide a creative and visual way for retailers to share information with customers.
As people are spending more time indoors, they're likely to spend more time browsing products and engaging with content like this to pass the time. Therefore, it's important that you're reaching serving customers with relevant content that is completely shoppable and facilitates product discovery.
In conclusion, retailers need to double-down on the online channels they know that will engage their loyal customer base – apps – in this time of increased online demand. Retailers should be prepared for more browsing behaviour as shoppers have more idle time and ensure they provide relevant and interesting content to deepen customer relationships and build brand affinity.