When launching a retail app, you have to consider what features will provide your customers with the most satisfying and engaging experience. And now, more than ever, apps must provide shoppers with much more than just purchase capabilities. Consumers want to experience personalisation, engage with dynamic content, have the same options available to them that they would have in store, and more.
In a previous blog, "The power of building a shopping app on a true SaaS platform" we discussed how retailers can choose to customise their apps on top of an established and powerful platform. This decision allows retailers to not only take ownership of app innovation when built on an external app platform but also provides the ability to implement rich user experiences unique to the business's needs.
With the ever-changing and increasing demands of consumers, launching features they want should be done quickly and efficiently. Fortunately, when developing on top of a true SaaS platform, customer demands can be satisfied promptly, before frustration sets in. Below we take a look at four different types of features you can build to bring consumers back to your app time and time again and keep them happy.
Social Shopping
Humans are natural advice seekers. When faced with many of life's decisions, we often look to friends and family for input. In today's era of sharing, consumers expect to be able to share their desired items with friends and family, to get feedback and to let them know what would make a great gift for birthdays or weddings.
With a powerful true SaaS platform, you can swiftly implement a Social Shopping feature onto the app. Your app users can intuitively set up a list of items they desire in the same way they would create a wishlist. However, unlike its predecessor, this new wishlist can be distributed using the device's native sharing capabilities. Your shoppers can then share their list of desired items with friends and family through email, SMS, Whatsapp, Facebook Messenger and more. Consequently, the purchase journey reaches beyond the individual shopper and becomes a social experience.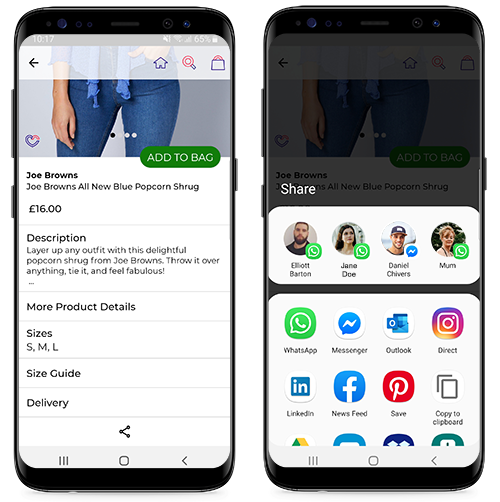 If the user has requested for items to be purchased from the socially shared wishlist, once items are purchased they are instantly removed from the list across all channels (i.e. app and web). Creating a seamless social shopping experience that can be utilised for many reasons and occasions. Such as a wedding, baby shower, trip abroad, graduation, birthday, and more. According to Mageplaza, "It is the easiest and most technological way to let people grant wishes and love."
Wishlist Collections
A natural extension of social shopping is the ability to have multiple wishlists or wishlist collections. For retailers with a large product catalogue or a wide range of products, consumers will want to categorise their desired items. Not just creating basic lists of desired items but lists for specific reasons, such as a friend's wedding, redecorating your home, or a ski trip. Your shoppers want to stay organised and not feel overwhelmed by all the potential products available for purchase.
In 2018, Asos implemented wishlist "Boards" after discovering that 43% of its shoppers wishlisted more than 50 products and some shoppers had as many as 500. By providing wishlist collection capabilities, users can stay super organised – allowing them to re-discover wishlisted items much quicker. And ultimately, you will benefit from the quicker path to purchase. According to Magento, multiple wishlists reduce abandoned cart rate due to the facilitated decision-making process.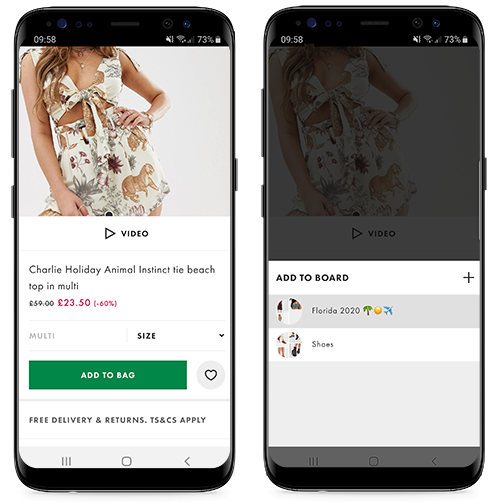 As a retailer, you can also benefit from the more refined and enriched data that wishlist collections can provide. You can gain insight into consumers' annual shopping habits, typical reasons for shopping, the optimal number of wishlisted items, and more. And, from this data, you can provide improved user experiences and personalisation.
The wishlist collections feature helps your shoppers have a frictionless shopping experience by providing the ability to categorise large sets of products and product types into more digestible lists. With a more deep and diverse set of products the more considered the purchase and with wishlist collections, the purchase journey is facilitated.
Personalised Shopping
It can be understood that shoppers will sometimes want to add a personal touch to the products they purchase. They may want to monogram their towels or send a special someone a gift with a note. By offering consumers the possibility of customising and making bespoke purchases, you are empowering them to make your brand their own.
According to Gartner in their recent Omnichannel Intelligence Report, retailers understand that they must apply personalisation and customisation tactics to fully realise the potential of mobile. And, a Deloitte study has shown that 1 in 5 consumers are willing to pay 20% more for a personalised product. Personalisation and customisation place a higher value on your products while also turning mobile shopping into an experience unique to each and every one of your customers. You can choose to allow your customers to personalise products by customising colours, adding personal messages, sewing in their names, changing fabrics, and more. With a customisation feature such as Nike's By You, Ralph Lauren Customise, or Apple's Product Engraving you can create a stronger bond between you and your customers built on emotional loyalty.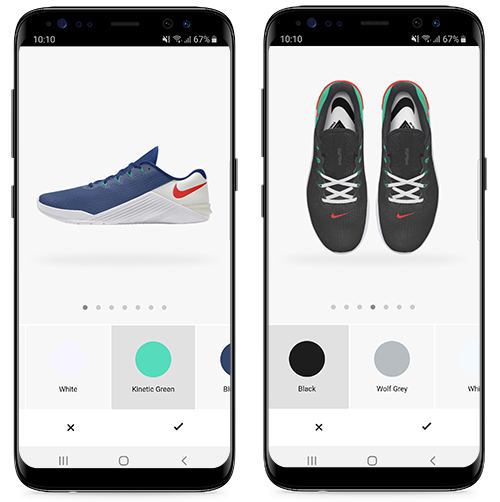 When it comes to purchasing gifts for others on app, you as a retailer are providing the same experience available in-store – something consumers consistently want. The gifting feature can allow your consumers to pick wrapping/packing options, send personal notes, and provide recipients with a gift receipt. Gifting is a personal experience, so its important shoppers can add a special touch to the gifts they will purchase for friends, family, or significant others.
Video Content
Generation Z, consisting of persons born between 1996 and 2010, currently makes up about 32% of the population and is expected to soon surpass that. They are the largest generation in the world and hold a significant amount of spending power. According to Inc, Gen Z members hold $44 billion dollars of spending power with that number going up to $600 billion when taking into consideration allowance money from parents. And this generation love consuming videos.
Gen Z members spend an average of 3.4 hours watching videos on the internet every day. Additionally, 70% of them consume videos on streaming services and one-third of that is on mobile. It is safe to say that the most important current and future generation for retailers want their digital experiences to be filled with videos.
You can choose to implement video content in a number of ways. As a beauty retailer, you may consider makeup tutorials, as a yoga clothing company you could produce instructional yoga videos, and as a male clothing retailer, you can show the different ways to mix and match various products.
Video content is a powerful tool that goes beyond entertaining and engaging shoppers, they can produce strong loyalty and returning users. In the current retail climate, loyalty and returning users are key to monetising users and having a successful long term business. Currently, 72% of consumers prefer learning about a product or a service in a video and 4 in 5 people believe that demo videos are very helpful. These numbers show that your shoppers want videos to be a part of the shopping experience and by providing them you will ensure customer satisfaction – producing loyalty and retention. This capability is especially important for the retailer whose success is acutely impacted by building strong relationships with your shoppers.
With an app built on top of true SaaS platform, you have the freedom to launch features and capabilities unique to the wants and desires of your particular customers. While it's important and even expected for all retailers to have a robust shopping app with optimal shopping features, not all retailers are the same and as such, shopping apps cannot follow a one-size-fits-all approach. It is important that you listen to your customers and analyse the data – utilising the power and flexibility of the app platform to implement impactful features that will ensure loyalty and long term business success.
---
Want to know why customising your app on top of an established and powerful platform could benefit you?