This Black Friday ecommerce was retail's saving grace as smartphones played a key role.

Despite store footfall dropping by 2.1%, app traffic actually grew 240% – like-for-like comparing Black Friday 2018 and 2019. Research also found that digital revenues were up 14% according to Salesforce and up nearly 20% according to Adobe Analytics.
How did app shoppers behave over the busiest time of year?
On the week leading up to Black Friday shoppers were already spending more, with the 3 days before Black Friday seeing 2.1x more revenue go through apps than the average day in Q3. and the percentage of shoppers saving items to their wishlists was much higher in the days before Black Friday.

When it came to Black Friday itself, revenue was 5.7x the daily average in Q3 and spiked as wishlist use dropped. We guess there are 2 contributing factors here:
Shoppers are buying the products they had saved in their wishlists before Black Friday and
Shoppers are making more impulse buys and bypassing the wishlist altogether and adding products straight to their baskets.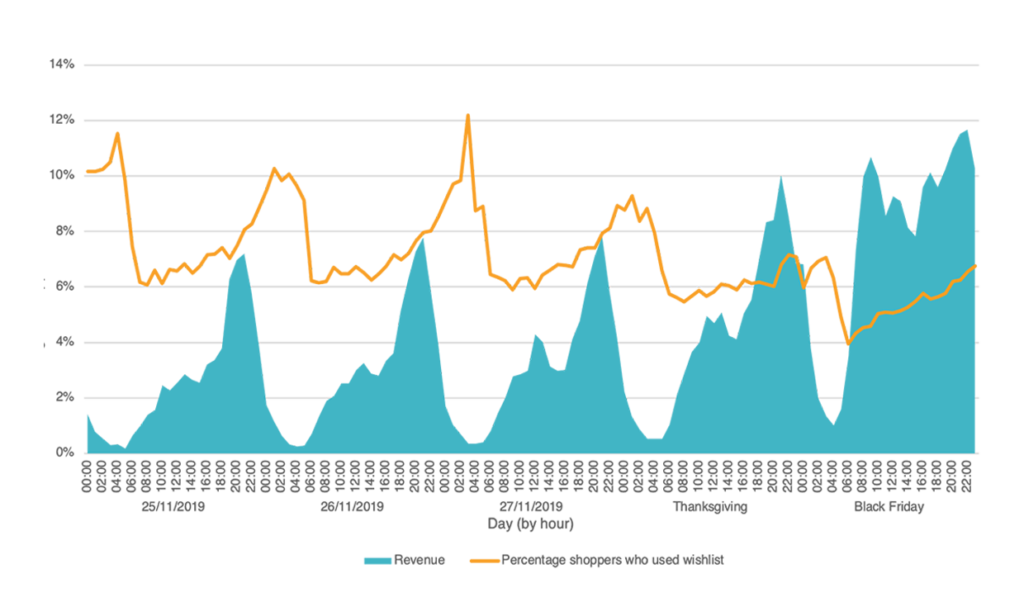 A deeper dive into Black Friday
Taking a closer look at Black Friday saw the most shoppers on apps at 9am compared to the most money being spent on app at 10pm. We attribute this to the idea that shoppers are browsing in the morning for the best deals and going online in the evening to make their purchases, with a fear of missing out on the deals before midnight.
Shoppers are more engaged with apps on Black Friday
We found that shoppers are more engaged with content on apps than mobile web on Black Friday. Shoppers visited apps 3.4x more than mobile web and 3.5x more than desktop and the total time spent in apps was 3.7x greater than mobile web and 2.1x greater than desktop.

Some ways that shoppers are more engaged on app is through the app-exclusive features like 'App Stories' and 'Swipe-to-Like':
In-App Content
'App Stories' is feature similar to Instagram Stories provides shoppers with shoppable content in the form of images, GIFs and video. Shoppers spent on average 2 minutes 20 seconds interacting with this type of content on apps which enhances product discovery and promotes shoppers to use the wishlist or even make purchases from within the story.
Swipe-to-Like
A concept many app shoppers will be familiar with and in the spirit of Tinder, the 'Swipe-to-Like' feature enables app shoppers to view a variety of products and swipe left to 'dislike' and discard products and swipe right to 'like' and add products to wishlist. This new form of product discovery saw a staggering 1.25 million swipes on Black Friday alone – averaging 33 swipes per user – providing retailers with unique and valuable data about what products are working well and that can inform future product development and purchasing decisions.

To find out more about when is best to promote your app for downloads, what percentage of online traffic app accounted for and more about consumer behaviour on apps, read our lastest results from Black Friday.