by: Katarina Kovacevic
Product Marketer

The decision to launch a retail app is often married to the decision of whether to build in-house or buy the app software from a third-party solution. Retailers enter into a Buy versus Build decision framework, looking at the pros and cons of each potential choice, and from there a decision is made. However, true Software-as-a-Service (SaaS) platforms can offer retailers a third type of solution that will bring together the best of both worlds and is an improvement of Buy, Customise.
Imagine you're in a race. When building, you're beginning the race from the starting line. But, when choosing to buy and then customise, you'll begin the race half-way to the finish line.
Enhanced app development: the best of both worlds
Retailers who choose to build an app in-house have the freedom to create a completely bespoke app product – completely owning its development from inception to launch. Additionally, they have a far-reaching capacity to test and experiment on the app, only limited by internal resources and time. But this comes with the burden of maintaining the app over a long period of time.
On the other hand, retailers who buy an app software, can rely on proven solutions and routine upgrades that keep the software inline with modern technologies and trends. However, they are often met with inflexible features and capabilities.
The Customise approach, however, brings together the best of Build and Buy. Retailers can purchase app software that launches fast, and can be easily customised to suit their unique needs.
Customise combines the stability of buying a software with the freedom of building in-house. With Customise, retailers purchase a proven platform while at the same time providing their developers and designers with the ability to tailor out-of-box features and offerings using tools such as a Software Development Kit (SDK) or a design management system. At Poq we have our very own SDK – allowing clients' developers to tweak, rearrange, and change various screens of the app. And with our App Styler tool, a retailer's in-house design team or app manager can make real-time style changes to the app (e.g. colour themes, font, button shape, etc).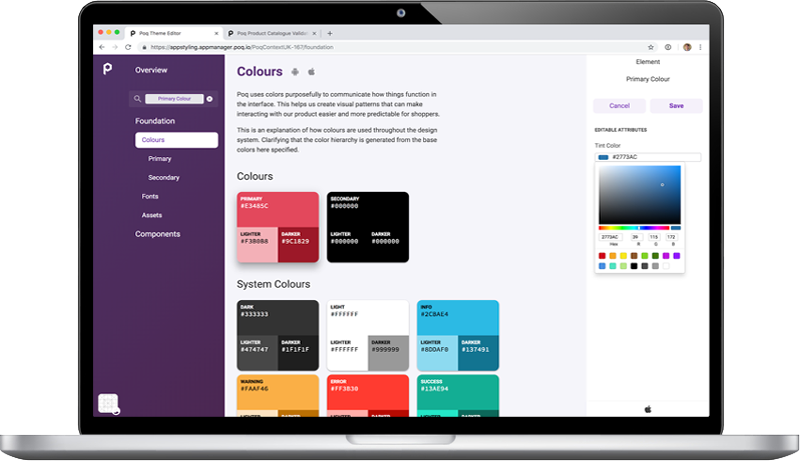 Retailers who choose Customise over Build and Buy avoid the inflexibility of many third-party software providers and the risks involved with managing their own infrastructure. As a result, retailers with an app built on a true SaaS platform are empowered to customise, own and develop their app, all while knowing they can rely on the platform's core functionalities.
Get ahead of the competition faster
When purchasing an app software from a third party, the retailer has immediate access to industry best practices and time to launch standards. As a result, the app can be launched much more quickly than when building in-house. When building in-house the app software is most often conceived from scratch with development and testing passing through many arms of the business – producing a lengthy time to launch. As a result, the app can be launched far more quickly than when building in-house.
Fortunately, when choosing Customise, retailers receive all the benefits of the third party's best practices and can cut development and testing processes in half; a majority of the work is already handled by the true SaaS platform. Additionally, the platform is beholden to consistently developing a roadmap of new capabilities and features, providing a base of modernisation upon which retailers can innovate on top of.
The extra time and access to up-to-date capabilities give retailers the space to focus on building go-to-market strategies and developing features on top of an existing technology. With this capacity, they can build an app experience that positively singles them out amongst the competition. Retailers who decide to Customise are provided with the breadth to focus more on what their customers want and how they can differentiate themselves in an increasingly crowded industry.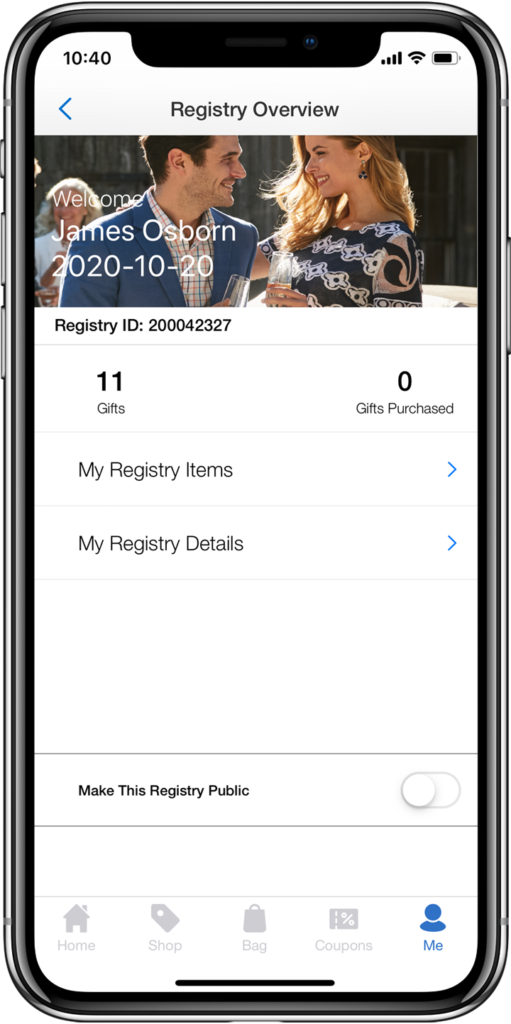 Reduced risk and potential cost
Deciding to launch an app is not a light decision and no matter if you choose to Build, Buy, or Customise there are risks and costs involved. When building in-house, the product development process can often cause issues in other areas of the business – disrupting the business as a whole. In addition, to build a high-performing and impactful product, a retailer must have highly powerful IT resources and technologies such as skilled developers and / or impressive cloud services; all of which often come at a higher cost.
When buying, a retailer is often spending a considerable amount of money at once in order to purchase the software and then must wait to gauge the return on investment (ROI). However, more often than not, when buying, the third party vendor has been tried and tested by other businesses in the industry – providing some reliability in terms of success with similar types of businesses. Moreover, the retailer will reduce cost due to the reduced need to purchase a whole suite of IT resources.
With Customise, retailers can also benefit from the reduced risk and cost of the Buy scenario. At the same time, they can create a true partnership on development and innovation between themselves and the true SaaS platform provider – using its powerful IT resources as their own.
Key Takeaways
When making a business decision to build an app, there are a vast amount of considerations. Just keep in mind that when building on a true SaaS platform, retailers will reap many benefits:
A powerful combination of a stable platform and the development freedoms associated with building in-house.
Ownership over the development and innovation of the app.
Quick launch of a high performing app with rich user experiences.
Breadth of time to focus on customer needs and industry differentiators.
Lower risks and costs across the entire business.


To learn how one of Poq's clients have launched an app using a true SaaS platform, check out Quiz's story.