Holiday sales are quickly approaching and the retail industry is ramping up for the biggest season of the year. We take a look at what's happening in the world of app commerce this September.
Holiday shopping, Black Friday and sales mania
We've come to expect Black Friday and the surrounding holiday sales days to grow year on year. Here's what the industry predicts for Holiday sales in 2019:
Whilst we're talking about consumer behaviour, John Lewis found that 'bed-time' shopping (between midnight and 6am) skyrocketed over the last year as shopping becomes an 'always-on' activity. In fact, we saw that shoppers spent more time and money in retailers' apps in the early hours of Black Friday (12am-3am) than 4am-6am. This significant amount of activity suggests that retailers need to be prepared to maximise on Black Friday sales throughout the day.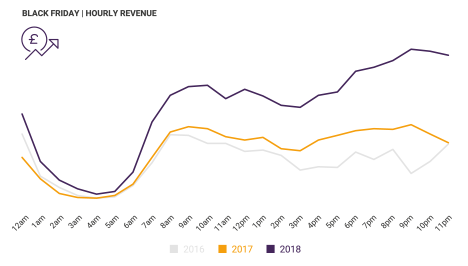 Download our guide to holiday consumer behaviour to find out more.
Brexit
With Brexit quickly approaching, many wonder what impact it will have on retail. The British Retail Consortium and Retail Ireland have warned that some products could see reduced availability if Britain leaves the EU without a deal on October 31st. Sales will take a hit as consumer confidence in the economy decreases. It's anticipated that even Holiday sales in the UK could take a hit with the poor timing of Brexit being just 4 weeks before Black Friday – possibly resulting in retailers struggling to meet supply demands, offer deals and maintain consumer confidence.

Additionally, with the rise of UK business rates over the next 12 months, it feels like the British retail industry is under fire.
App engagement benefits reach beyond the app channel
On a more positive note, Texas A&M University published new research in the INFORMS journal Marketing Science, finding that "retail app users buy 33% more frequently, they buy 34% more items, and they spend 37% more than non-app user customers over 18 months after app launch." Venkatesh Shankar, one of the authors of the research, states that; "For the retailer, the lesson is that having a retail app will likely increase customer engagement and expand the range of products being sold online and in store".
The growing demand for omnichannel shopping
It's thought that 32.2% of U.S. offline retail sales will be influenced by mobile and recent research by Forrester and the NRF have identified that "traditional and online retailing are increasingly intertwined" in a progressively omnichannel market.
Apple update
On September 10th Apple held its annual Keynote presentation. We take a look at what their latest announcements could mean for app commerce. The iPhone 11 will have built-in Wi-Fi 6, meaning faster wifi and faster shopping for customers at home and in store on the retailer's Wi-Fi networks. However, this is reliant on the Wi-Fi signal at both ends of the connection being Wi-Fi 6 and this may take some time to implement across homes and stores.

With claims of an hour longer battery life on the iPhone 11 compared to iPhone XR, shoppers will be able to shop for longer on the go too.

In other Apple-related news, the long-awaited iOS 13 is now available to download with much needed 'quality-of-life' improvements.

Find out what iOS 13 updates mean for shopping apps from Poq's own, Product Designer, Luis Abreu.
The future is now – with native apps
Amazon is world-renowned for its behemoth shopping app and are currently trialling a one-click star rating system for those who have purchased items. The retail giant wants to encourage shoppers to identify good products and embrace the power of product reviews, especially after recent concerns over fake reviews.

And, more shoppers are using apps than ever before. Eighty-two per cent of shoppers have at least one shopping app on their phone and an average of 5 (4.9) shopping apps on their phone. However, according to Power Retail, only 6% of retailers actually have an app.

The future of retail may not even be mobile…

Augmented Reality (AR) technology is coming a long way and by 2030, it's predicted that we'll be using AR glasses to access the technology instead of mobile. What could this mean for shoppers?
Finally, the Samsung Galaxy Fold has finally launched! On September 6th, The Fold became available to buy in South Korea and will be launched in US, France, Germany and Singapore in the near future. Shoppers will be able to view products easier with the Fold's larger screen.