Guest blog post from Antavo, the leading SaaS technology in loyalty programs for retail
by: Jess Mizarek, Loyalty Strategy Lead, Antavo
In this day and age, there's only one thing that changes at an even faster pace than technology: customer expectations. The two go hand in hand, actually, because introducing a feature to a smartphone — such as NFC technology — often unlocks dozens of new ways people can engage with their favourite brands.
Yet many companies stick to the old-age formula of appeasing customers with coupons and discounts. However, recent studies have pointed out that today's shoppers are looking for experiences, not just transactions. And they wish to have engaging brand experiences on all channels possible: in-store, online, and most importantly, mobile.
So, if you wish to cater to the modern customer and foster an audience with a high customer lifetime value, then you should step up your game and bring the brand experience to a whole new level.

What is a loyalty program and why does it matter?
Before going into more detail on why increasing loyalty for the mobile-loving generation is the go-to strategy in customer retention, let's bring everyone up to speed on what loyalty programs are.
At their core, loyalty programs are structured marketing strategies that offer various benefits for frequent customers, such as discount coupons, free products or free shipping.
This is fine on paper, but if you wish to truly stand out, you can't settle with the ordinary. The best loyalty programs go one step beyond, both in what they reward and how it's rewarded.
You can incentivise more than just the transaction itself – encouraging any behaviour that's useful for your business. Such as, referring a friend, bringing back old clothes, downloading an app and even exercising.
In a similar vein, you should channel creative energies into your rewards. For example, offer your customers perks that don't run out (like free shipping), or establish VIP clubs with exclusive benefits. Experiential rewards are always popular among buyers, but you can opt to spice things up with gifts from 3rd party partners.



Why is customer loyalty a game changer in retail?
Loyalty programs are versatile customer retention tools primarily used for increasing purchase frequency or raising basket value. Other benefits include enhanced data-gathering capabilities, more personalisation options and a deeper emotional connection with customers. But more on that later.
Still, loyalty programs are more than just points on a plastic card. They are tools for changing customer behaviour and developing a stronger bond with customers. It's an alternative for retailers to retain customers without constantly bombarding buyers with discounts. Instead, loyalty programs help you use coupons and markdowns more efficiently. Plus, they give you the opportunity to offer customers something new and provide rewards that appeal to them on a personal level.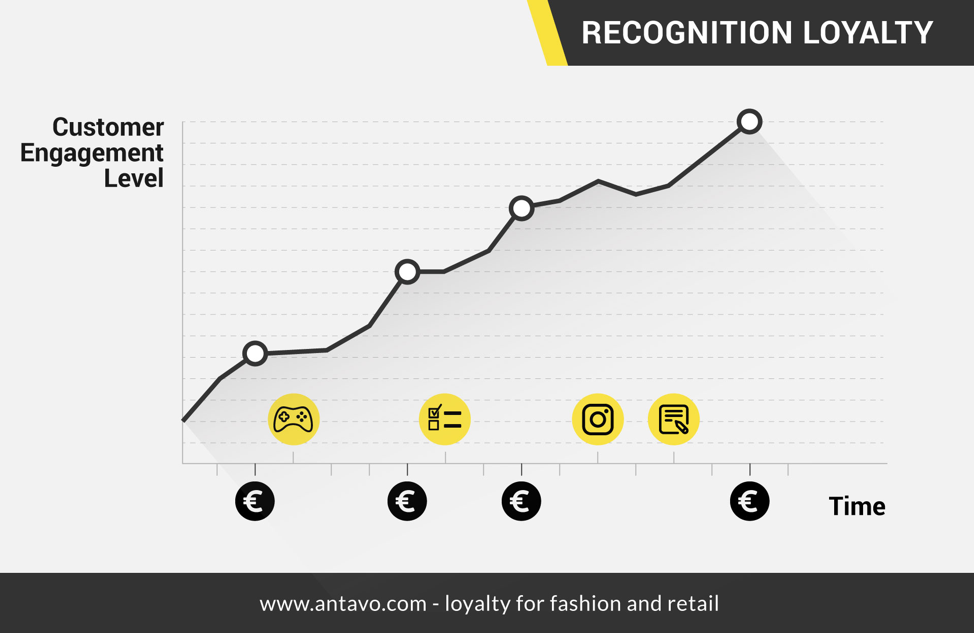 Fitting a native app with loyalty capabilities
Integrating a loyalty program into your brand's app experience holds many benefits. For one, customers can access all loyalty related information in a convenient manner. But more importantly, you'll be able to reward app-related interactions as well, such as daily login, adding products to wishlist, sharing their photos and / or scanning a barcode.
But that's still not all! Here are five advanced features that the partnership of a Mobile App Platform, and a Loyalty Management Platform – like Poq and Antavo could bring you:
Combine loyalty incentives with App Stories — With loyalty incentives you can build customer habits and encourage customers to be more involved with app stories. This includes rewarding them for watching app stories, actually being featured in a story or interacting with stories in any shape or form.
Collect customer data with fun & interactive surveys — Use Gamified Profiling to create engaging quizzes that can be answered with a single tap or swipe. Then use the surveys to collect demographic data, product preferences, and personal preferences. All of which can be used to personalise your marketing activity.
In-store experiences via app & loyalty incentives — Connect the in-store and mobile experience by organising specific events where customers can earn rewards by searching for particular products on the shelves and scanning their QR codes or product barcodes. This is a great way to gamify the shopping experience, generate buzz and boost engagement rates.
Digital loyalty cards & coupons within your app — Utilise loyalty cards to bridge the gap between online and offline purchases. This can fuel your omnichannel initiative, by creating a single customer view and encourage customers to identify themselves in-store, using their phone. Plus, loyalty cards double as coupons and special event passes.
Loyalty incentives in push notifications — Introducing push notifications helps increase loyalty and build habits at the same time. Furthermore, personalising these messages with loyalty data (name, point balance, tiers, favourite colour, etc.) increases open and click-through rates.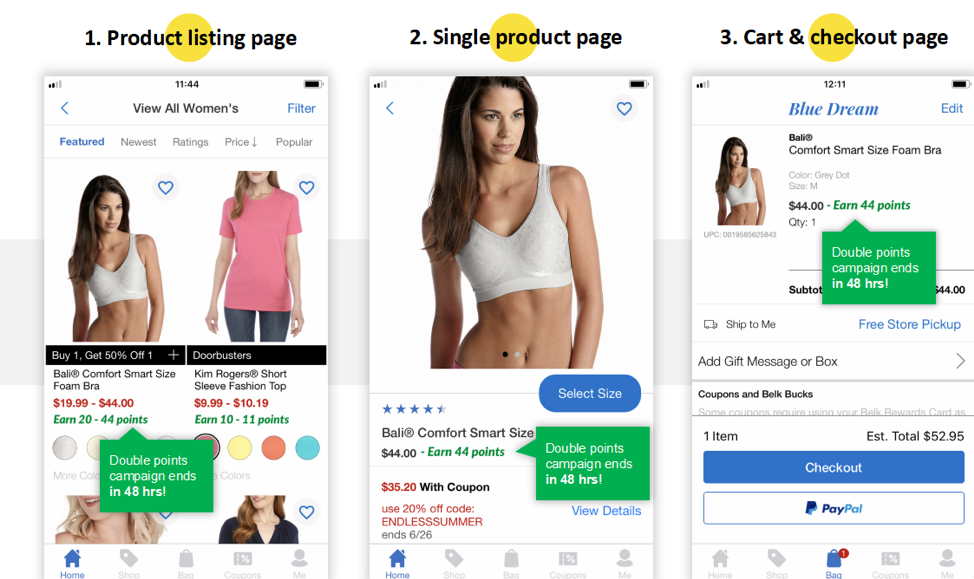 Driving value through loyalty-enhanced apps
The retail industry is characterised by a constant need for standing out, therefore combining the power of a mobile app solution and a loyalty program will give brands and retailers, like you, the edge over the competition. Furthermore, offering loyalty programs on native apps have other benefits as well:
Better customer retention — Retailers that go beyond simply rewarding purchases with their loyalty program give customers a reason to return day after day – engaging them with gamified mechanics or collecting badges. Doing so ensures that the brand stays on top-of-mind when customers make purchase decisions.
Improved CLTV — Loyalty programs have a direct impact on customer lifetime value (CLTV). Customers with an emotional connection to a brand have a 306% higher lifetime value. A well-crafted program not only prevents members from getting bored and switching over but prompts them to increase their spending volume to reap more valuable benefits.
Increased revenue — Repeat purchases are the lifeblood of retail, as businesses with 40% repeat customers generated nearly 50% more revenue than similar businesses with only a 10% repeat customers. Therefore, giving people an incentive to repeat their purchase is a win-win for everyone.
Elevated brand affinity and awareness — It's worth highlighting that loyalty programs can also drive word of mouth and increase brand advocacy through referrals, influencer marketing, and social media contests. Such campaigns help push your message and develop an emotional bond with customers.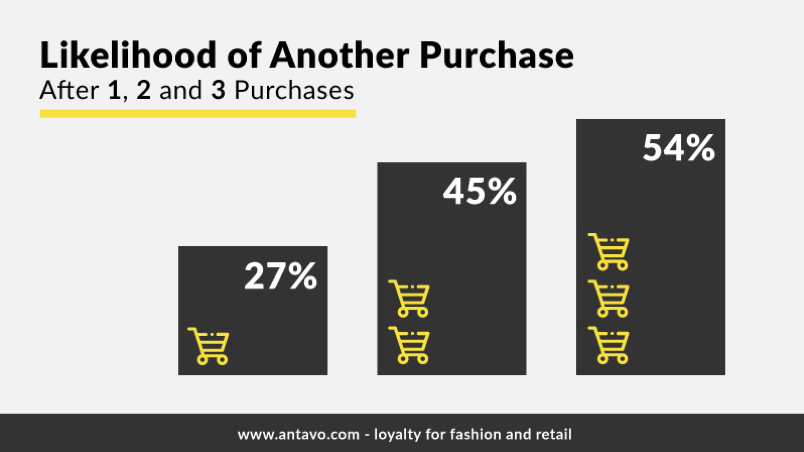 As you can see, loyalty programs are multifunctional tools capable of fulfilling a variety of your KPIs. If you're interested in learning more about enhancing customer retention and customer experience with the combined power of native mobile apps and loyalty programs, then make sure to register to the shared webinar of Poq and Antavo.