As the retail landscape continues to change and evolve, expectations of shopping experiences and how we shop, changes too. This month we examine how retailers are starting to truly embrace omnichannel retail, how social media is playing a growing role in the way we think about shopping and how upcoming European regulations look to impact the checkout process.
How to be truly omnichannel
As more retailers connect their digital and in-store experiences through the likes of click & collect (AKA Buy Online Pick Up In-Store, BOPIS) and this becomes the standard for multichannel retailers, the execution of these connected experiences has never been more important. Recent research has shown that £228m ($277m) of packages reserved online for collection in-store went uncollected last year according to Barclays, the British bank. That's 15% of all items purchased through click & collect. Barclays reported that the main reason for these items not being collected was poorly staffed desks and long waiting times.
But this has further repercussions for retailers, through shopping options like click & collect, retailers drive store footfall and there provide themselves with another opportunity to make a sale, not only are British retailers missing out on £228m worth of revenue, they lose out on the additional purchases made by shoppers collecting their items. Poor execution of click & collect is clearly costly.

Another easy way for retailers to drive footfall to their stores through digital channels is to offer store finders and store stock checkers, features available on their apps through the Poq platform. However, the latest research found that 61% of retailers don't have this functionality available, alienating shoppers who are looking to buy in-store or may even be close to or in the store itself. In fact, shoppers of all ages often check out products on mobile before shopping in-store, for example, nearly 61% of Baby Boomers qualify as frequent or occasional users of mobile devices when it comes to planning shopping trips.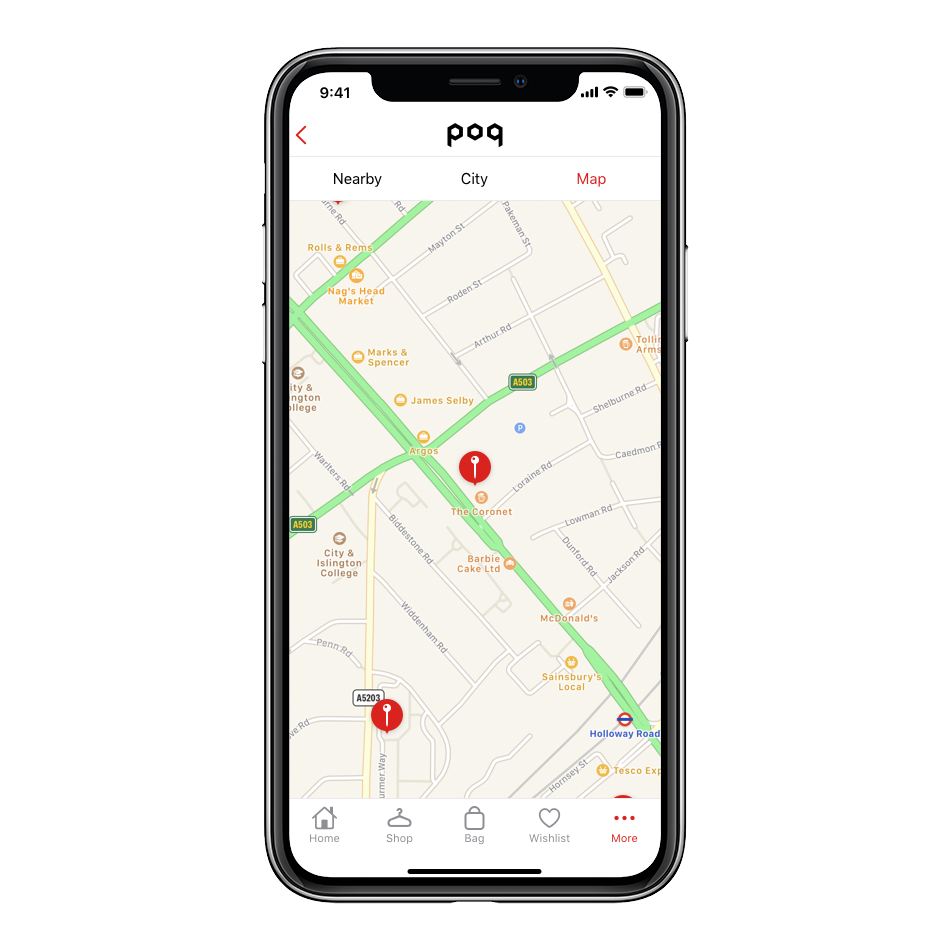 In Forbes recommendations on how retailers can drive stronger app growth, they suggest that multichannel retailers should use apps to connect the physical and digital store. Yes Marketing found that 57% of consumers have used a retailer's app whilst in the store to search for discounts or products. Shoppers are already using retailer's apps in-store, so good execution of omnichannel functionality is essential.

In the spirit of being omnichannel, British convenience store, the Co-op has even gone so far as to trial 'Pay-in-Aisle' in 30 stores, whereby shoppers can pay via the Co-op app.
Social media is embracing app commerce
With the launch of Instagram's in-app checkout earlier this year we've seen a surge in social media channels commercialising themselves and embracing ecommerce via the app channel. The latest in social platforms to join the app commerce bandwagon is the social video platform beloved to Gen Z, TikTok. TikTok launched in-app purchases through a feature called Hashtag Challenge Plus, prompting users to share video of themselves using a product and a separate tab allows users to buy products from the campaign.

Not only are social media channels are turning to retail, but retailers are turning to social media. Virtual clothes could be the next craze to take Instagram by storm. Norweigan retailer Carlings is developing the new concept that could see retailers launching digital collections of clothes that don't exist in the physical world, which influencers and shoppers alike can purchase and superimpose on their photos for social media.
App growth
As many as 38% of consumers shop via mobile apps and mobile is the preferred method for browsing (42%) compared to in-store (30%) and on desktop (28%). However, the latest research from CleverTap suggests that 86% of shopping app users stop using an app within 4 weeks of install. This suggests that shopping apps only see an average of 14% retention rate after 4 weeks after the initial install, however, apps on the Poq platform – which create engaging shopping experiences, retention is actually 2.8x higher, at 39.3% – dispelling CleverTap's research findings.

As the popularity of apps continues to grow and they become standard for large retailers, the benefits for small retailers is becoming more apparent. Small retailer and children's clothing store, Little Birdies Boutique, launched a white-labelled app, a method using customisable templates to build the app rather than the costly option of building it from scratch, with the aim of opening the business to a new shopping channel. But Shanlee Johnson, owner & founder of the business, states that the app enabled her to get insights from data that she wouldn't have been able to gather form an optimised mobile website alone.

According to eBay, shopping for the festive season has begun. Searches for "Christmas" in the DVD, Films & TV category shot up 63% during the second week of August last year. With shoppers starting to think about the festive season, is your app ready for holiday sales?
Watch our webinar with App Annie as we discuss the trends for mobile in holiday 2019.

Updates in regulations and tech
Important changes to EU legislation
This month the FCA delayed the introduction of Strong Customer Authentication as part of the Payment Services Directive (PSD2) by 18 months for the UK. The regulation is scheduled to come into effect on September 14th 2019 for other EU countries and for any UK retailer selling products within the EU, however, many retailers aren't ready for the change. SCA has now been delayed to March 2021 in the UK, in order to give retailers more time to make sure their checkout processes are compliant. Some retailers, like Zalando, however, have already introduced 2-step authentication for purchases ahead of the September deadline.
We've covered everything you need to know about SCA in this handy blog post:
Technology driving app commerce
The much anticipated and debated $2,000 Samsung Galaxy Fold phone has finally been rescheduled for launch in September 2019. We wait to see how the release impacts mobile app shopping.
Apple has been criticised for having the monopoly on the App Store and prioritising its own apps over those created by other developers. For example, the Apple Books app ranked #196 in App Store features at the top for book search results. Could this impact how shopping apps are listed on the App Store?
28% of marketers are struggling to deliver and drive engagement with video content, however, retailers on the Poq platform are seeing great engagement with video delivered through App Stories on their apps.