by Katarina Kovacevic
Product Marketer & Poq's UK office resident American
| | |
| --- | --- |
| It's time to celebrate Independence Day with our fellow red, white, and blues. Today is July 4th, one of America's biggest holidays; a day full of barbecues, fireworks, parties, and loads of patriotically designed cakes and puddings. It is also a time for sales! | |
Many retailers use July 4th as a platform upon which to bulk up their summer revenue with big discounts and deals. As a result, retailers can expect greater traffic to their websites and apps during this period. It is important that their websites and apps are well prepared for the high traffic – ready to withstand the onslaught of data and activity being placed upon their data centers and servers.
At Poq, we can recognise the fact that Americans love any reason to celebrate and have a party. You have Independence Day, Labor Day, Memorial Day, Graduations, St. Patrick's Day (Americans may go bigger than the Irish), Halloween, Thanksgiving, and, one of your biggest, Super Bowl Sunday. For many, if not all of these holidays, retailers either offer their customers big sales or sell holiday specific products over the course of a few days. Business Insider offers a great view into the many retailers offering July 4th sales.
| | |
| --- | --- |
| | Many retailers will use July 4th and the other summer holidays as a channel for building revenue around back-to-school campaigns. Although many young people wish they didn't have to think about going back to school, their summers are often invaded with commercials and ads compelling them to buy the t-shirts, notebooks, and backpacks that will raise their cool-factor. |
The National Retail Federation reported that 55% of back-to-school and college shoppers say they are planning their shopping around sale events like Prime Day, 4th July and Labor Day. Additionally, their spend was predicted to reach $82.8B in 2018. It is safe to say that retailers experience great amounts of traffic during the summer in general and on their sale days.
Black Friday and Cyber Monday are no longer the only days that require preparation. US retailers should take the time to ensure that their ecommerce channels are prepared all year round. Besides the summer holidays, celebrations such as Valentine's Day, Halloween, Graduations, and Super Bowl Sunday can also raise traffic for a period of time. We all know that we leave our Halloween costumes until the last second, and there's always a large chunk of bandwagoners buying team paraphernalia and showing support for a quarterback they just learned the name of.
While the traffic may not reach the same level of Black Friday or Cyber Monday, your site will still receive high amounts of traffic – resulting in increased revenue. The National Federation predicts that Valentine's Day spending will reach $20B and Halloween spending will reach $9B in 2020. Should a retailer's website crash during any of these periods, their revenue will suffer greatly, potentially affecting their annual revenue. Even companies like Amazon, struggle to adequately prepare and suffer a 2018 crash of its various ecommerce channels on Prime Day. It cost the company $1.2 million a minute and has resulted in eBay launching is 2019 Crash Day to compete with Prime Day. Not preparing properly can be costly in more than one way.
Independence Day is a day to celebrate, not fear. It should be filled with hamburgers and sparklers, not scrambles to fix a site crash. If you are a retailer with web and app you must ensure both channels are prepared. For tips on how to ensure your app is properly tested and continuously ready for high traffic, utilise our holiday season tips and apply them towards year round preparations. On Black Friday, the Poq apps experienced zero downtime and $2,630.24 (£2,091.71) revenue per minute – providing our clients with a secure and revenue driving app commerce channel.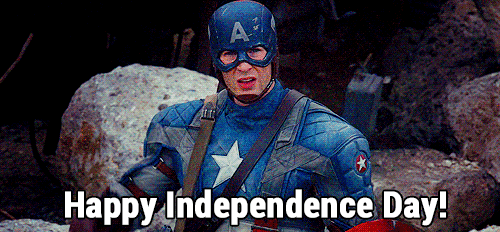 Keep on celebrating America and never change, your ecommerce channels will be able to handle the patriotism and frenzy.
Download our latest research on the holiday period for insights and top tips on making the most of holiday 2019.