Mike Hann Joins List of Young Innovators in Retail and Commerce Category.
London, March 27, 2019. We are excited to announce that Mike Hann, company co-founder and president, has been named to the prestigious 2019 Forbes Europe 30 Under 30 list. This year's Forbes Europe 30 Under 30 features 300 young disruptors across ten categories and from 34 countries and 22 non-European countries.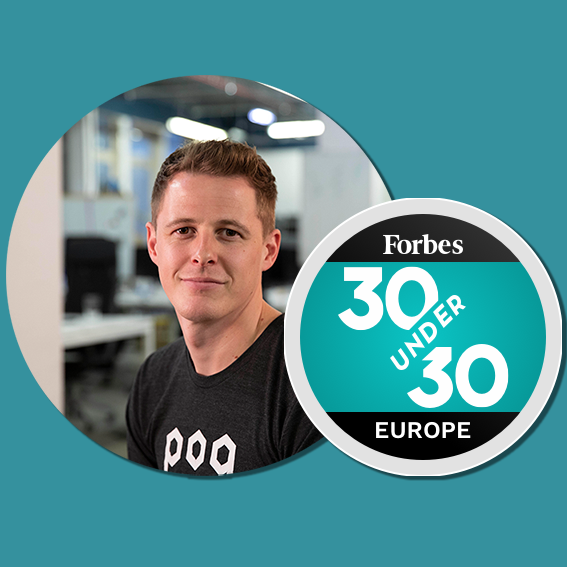 Hann was instrumental in raising venture capital investment of approximately $20 million, including $9.5 million in Series B funding with investors that included Revolt Ventures. Founded in London in 2011, Poq recently expanded operations to the United States to capitalize on the growth and popularity of mobile commerce in retail.
Hann saw the market opportunity for mobile commerce was about the explode and knew that Poq's key value proposition — the ability to allow retailers to easily create and launch apps in less time and at a fraction of the cost — would be compelling to brands that didn't want to wait a year or more to leverage the growing mobile commerce opportunity. Poq clients include Missguided, Belk, Quiz, Oasis, Tobi, among many others.
"I'm honored to join the Forbes list of young innovators and disruptors," said Hann. "Starting any company is not easy. It takes a spark, hard work, passion and motivation to be successful. After a dozen years of experience in ecommerce, I knew that were was a better way for brands to create exciting and engaging shopping apps in less time than it would take their teams, or outside developers to build. We're finding our mission to help brands create innovative mobile apps in less time growing in popularity, and we couldn't be more pleased."

Mike Hann, Co-founder & President at Poq
The Poq mobile app platform empowers retailers with the ability to scale as the app grows, giving consumers shopping app experiences with better performance and utilising mobile functionality to provide features exclusive to apps. Leveraging analytics, retailers can analyse consumer behavior across global markets in order to build the best shopping experience for their customers, creating a stronger bond with their customers and strengthening loyalty.