Empowering app product owners to set-up and configure your app
by Chris Long
Product Manager
On our road towards providing our clients with the ability to manage and configure their apps, we will be launching a Feed Validator and App Styling tool. As mentioned in our blog "Building the best self-serving app commerce platform", each feature will respectively make the set-up and in-live configuration of apps quick and easy by placing app management control in-house and in the hands of clients. While many more features and tools will be developed and implemented, we will begin by showcasing the tools vital for making the app's key jobs of app set-up and real-time app configuration* that much more time and cost-efficient.
Feed Validator: Catalogue mapping made simpler
Our new Feed Validator will provide clients with the ability to upload their catalogue feed file and check if the format and configuration matches the desired output of categories and products. The web tool will produce an output preview of the category hierarchy, product images, titles, prices, and other key product information as they would appear on the app. This will allow clients to analyse the output to ensure its adequacy–checking whether products have the correct information and grouping while ensuring no products are missing.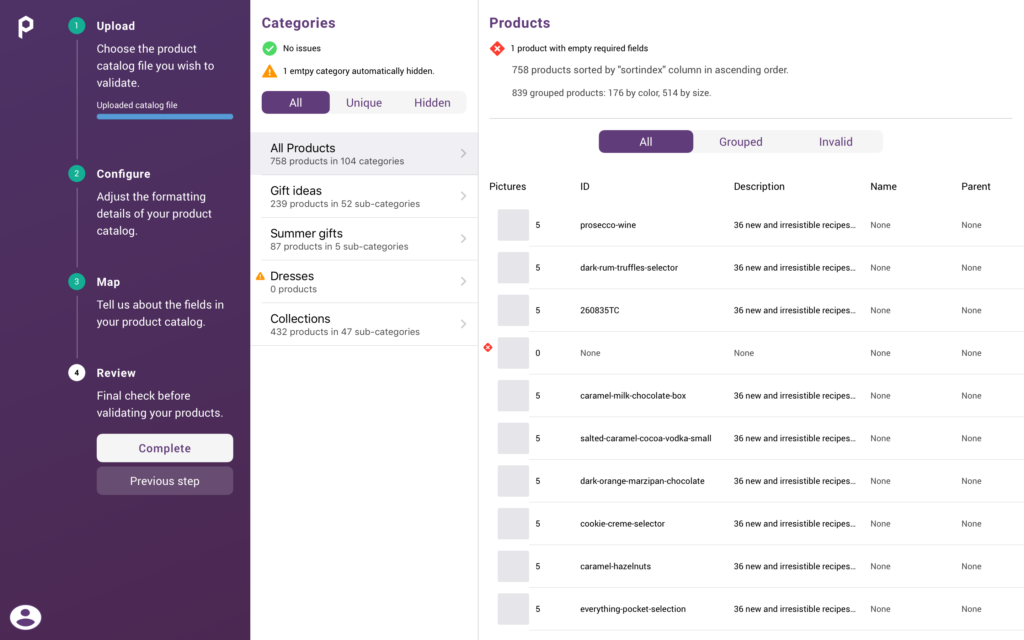 Without the Feed Validator, clients would rely on Poq's professional services team to analyse the output and establish its readiness for a push to the live app. Due to the fact the process is two-way, setting up product feeds takes an extended period of time as a result of constant back-and-forths. Fortunately, with the feed validator, the power to set up the product feed will lie in the hands of product owners.
Once the product owner is satisfied with the output and ready for it to be pushed live, the configuration file is provided to his or her designated professional services team within Poq. Once passed on, the product owner will subsequently have the capacity to choose how often the data is run based on their product stocks. This new tool will make the app's set-up process quicker and easier, removing the need for constant review by the Poq team and bringing control in-house.
App Styling: Easily implement consistent themes
The new App Styling tool will enable clients to configure the style of their apps using a powerful web tool. The tool will be built on our intelligent design system, which breaks down the app's styling into elements and components, and governs how they are used across different screens of the app. Meaning, elements such as colours or units, and components such as buttons or product cards, can be updated and customised with a few clicks of the mouse. To develop this structure, we investigated pre-existing concepts such as Atomic Design. As a result we chose to keep principles of Atomic Design at the core of our system (atoms, molecules, organisms, templates, pages) while building a more simplified structure of elements, components, and screens, so as to avoid overwhelming theme editors.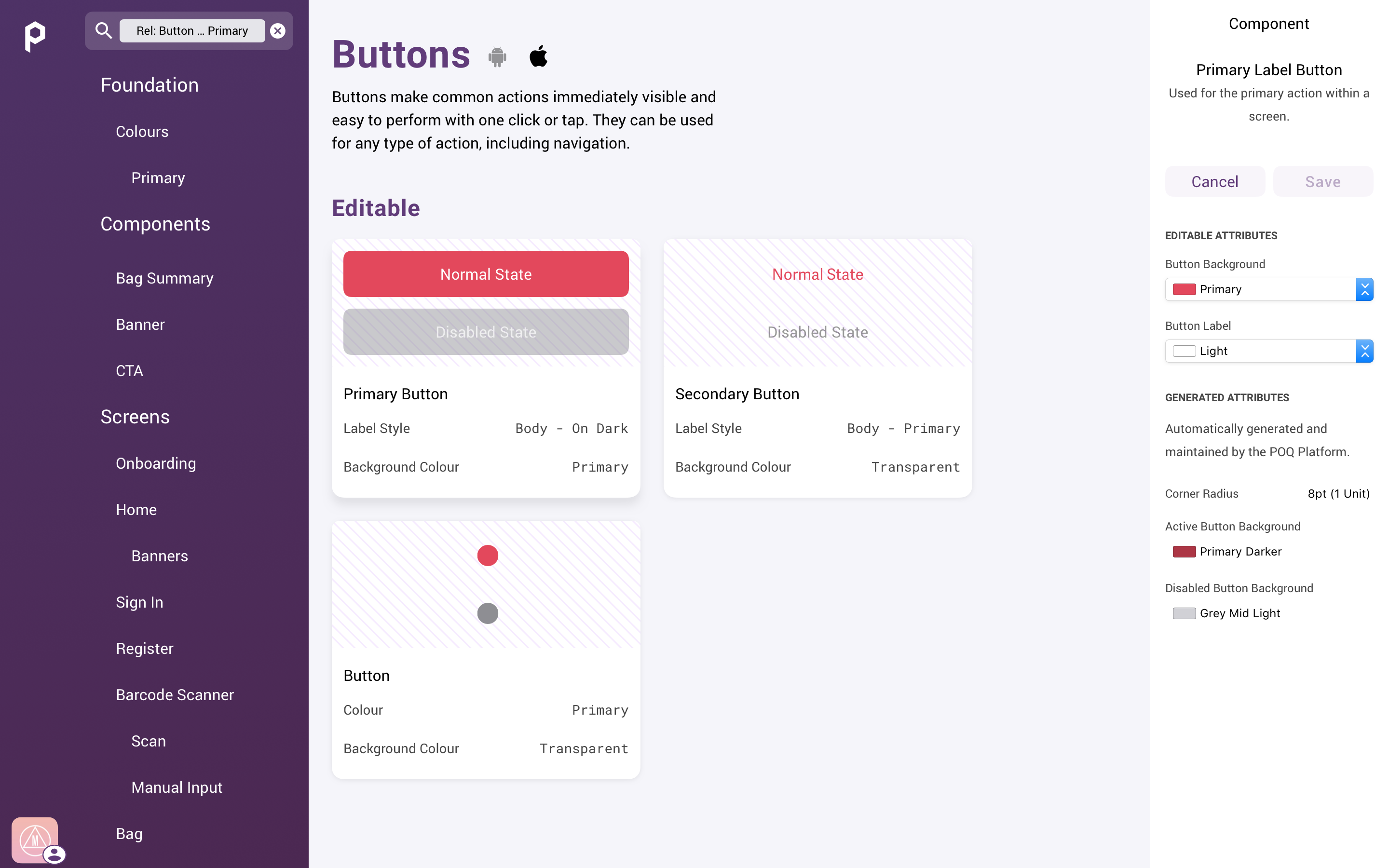 Meaning there is no grouping of themes, elements, and components: e.g. changing the colour of a button on the checkout page only makes modifications to that singular button, leaving other buttons with old branding. This type of app styling process lacked efficiency and we've been determined to not only make the process more coherent but also manageable by the retailer's product owner.
The previously mentioned design system is what powers the App Styling tool. We will dive deeper into the ins and outs of our design system in a later piece, but for now, it is important to understand that the system not only makes design changes speedier, but also safer. With the built-in rules, the product owner will efficiently ensure styling quality. The rules determine groupings of elements and components and limits design changes to the entire primary group. This makes it very easy and quick to have a working design that is consistent across the entire app. Creating a consistency is imperative for the app experience as it demonstrates to the user that the retailer has a strong and effective brand.
Your app, in your hands
With our new Feed Validator and App Styling tool, retailers will rely less on developers and Poq's professional services teams, and begin taking control in-house. With the ability to rapidly set up and configure apps, retailers will be quicker to market, and quicker to increased revenue.
To learn more about our self-service roadmap be sure to check out our piece on "Building the best self-serving app commerce platform".
*App set up is made up of configuration jobs which are done once, or infrequently prior to the app's launch. Real-time app configuration is made up of day to day configurations which affect the app's live experience.