A review of app commerce in 2018 and beyond
Learnings from 2018
🛒 Expectation vs Reality: How did Black Friday perform?
Last month we reported the top predictions for the Black Friday and across the Cyber Weekend but did expectation live up to reality?
It did!
Both Salesforce and Forrester predicted that over the Cyber Weekend mobile would dominate the sales and account for more than half of the online revenue for retailers and that for the first time, more shoppers would make purchases on mobile than desktop. Take a look to see how the industry and we have reported mobile and app commerce performance this holiday season.
Industry and Poq Cyber Weekend stats
Not only did Black Friday see record sales, especially on mobile, but according to
App Annie
, the app stores had a bumper day too. Shoppers downloaded 2 million retail apps on Black Friday, which is a 35% increase in average daily shopping app downloads compared with 90 days prior. Recently,
PriceGrabber
predicted that across the entire holiday season this year, 42% of mobile users with shopping apps specifically downloaded them for shopping the sales, and 84% of those with shopping apps will use them to shop. So it's no surprise that
89% of users on our platform
over the Cyber Weekend were returning users!
🚂 Rail sales
Over 2018 a fifth of rail commuters shopped on their mobiles whilst travelling to and from work last year in the UK, spending a whopping £2.6 billion (or approx. $3.3 billion) and this is expected to grow 75% to £4.6 billion (approx. $5.8 billion) by 2022. One in four young adults are most likely to shop on their commute or in lunch breaks. With rail commuters making up 9% of the UK adult population and accounting for 11% of retail spending, these mobile shoppers more valuable than your average shopper.
This is where apps are in their element, with intermittent wifi and 4G network connections on those long daily commutes, committed shoppers are able to maintain some level of functionality in their shopping even when the internet drops, as the app caches a certain amount of data on the phone itself. This was certainly the case over Black Friday, where 8am was one of the 3 hours of highest traffic over the course of the day on our platform.
Hourly volume of app traffic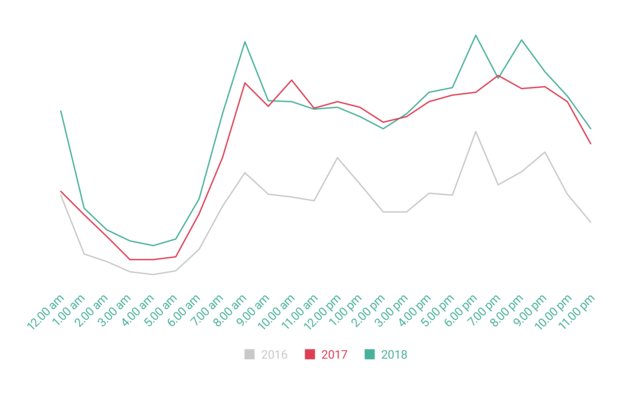 The shopping app market is maturing in the UK and US and customer demands of the quality of their app shopping experiences are greater than ever. According to Elavon; '53% of consumers prefer to shop online using a brand or retailer's app over its website'.
So with the popularity and expectation of being able to shop via app growing, is everything lost when consumers download an app only to delete it a short time later?
🛍 Turn deletes to repeats
The latest research from Adjust shows that on average 18% of 'churned' shopping app users (those who have deleted an app after installation) reinstall the app 3 months later. Much higher than other app verticals like social or entertainment apps. This could be attributed to the nature of shopping. Consumers may download an app to buy a specific item or only make a purchase every few weeks or months, with limited storage space on their phones, they may delete an app and re-download when they intend to purchase. This creates a great opportunity for retailers to retarget these churned shoppers in addition to attracting new ones.
🎆 New year, new me: Predictions for 2019
With smartphone users expected to grow to 2.5 billion worldwide by 2019, Forbes suggests shoppers are coming to expect a truly omnichannel experience where a mobile app as part of their in-store shopping experiences too. They predict that over the next 12 months retailers should plan to introduce barcode scanning of products and the ability to send push notifications about in-store and online offers. Klarna predicts that more retailers will invest in technologies that really matter, mastering the basics before embracing 'edgy' technologies like Virtual Reality (VR) or Augmented Reality (AR) to ensure they provide a seamless shopping experience.
Reported by Samantha Rigg