London, November 16th 2018 – Today, Poq has announced that it has been recognised by Deloitte as one of UK's fastest growing technology companies for the second year running.
The company has seen strong growth over the last four years and ranked 26th in 2017 and ranked 49th in the 2018 Deloitte UK Technology Fast 50, alongside other successful technology companies as the likes of Deliveroo, Bloom & Wild and Ometria.
Rankings are based on percentage revenue data over the last four years.
Oyvind Henriksen, CEO at Poq said: "To be recognised as one of the fastest growing technology companies in the UK by Deloitte for the second year running is a real testament to the growth in the app commerce space."
The Poq CEO, credits the fast growth to the companies growing client-base in the UK and US, new clients include OKA, Warehouse, Oasis, Tobi, Chi Chi London and Neals Yard.
"2018 has been a great year for Poq, we closed Series B funding earlier this year, taking the total investment in the company to Poq so far to £16.5 million. We have used this investment to drive growth in the UK and Europe, as well as in the US. The US market currently accounts for 25 percent of our revenue, with US clients ranging from a national department store chain, to online multi-hundred million dollar fast-fashion brands."
Duncan Down, lead partner for the Deloitte UK Technology Fast 50, said: "We are now in our third decade of celebrating the country's fastest-growing technology companies through the UK Fast 50 awards, and the rate of growth continues to impress. The UK start-up scene is in excellent health, with strong access to talent and funding. What impresses me most is the rate of growth, with the time from establishment to 'unicorn' status continuing to reduce. I would like to personally congratulate all of the winners and entrants for this year's awards."
The Deloitte Technology Fast 50 is one of the UK's foremost technology award programmes, celebrating innovation and entrepreneurship. Now in its 21st successful year, it is a ranking of the country's 50 fastest growing technology companies, driven by leading intellectual property and based on revenue growth over the last four years.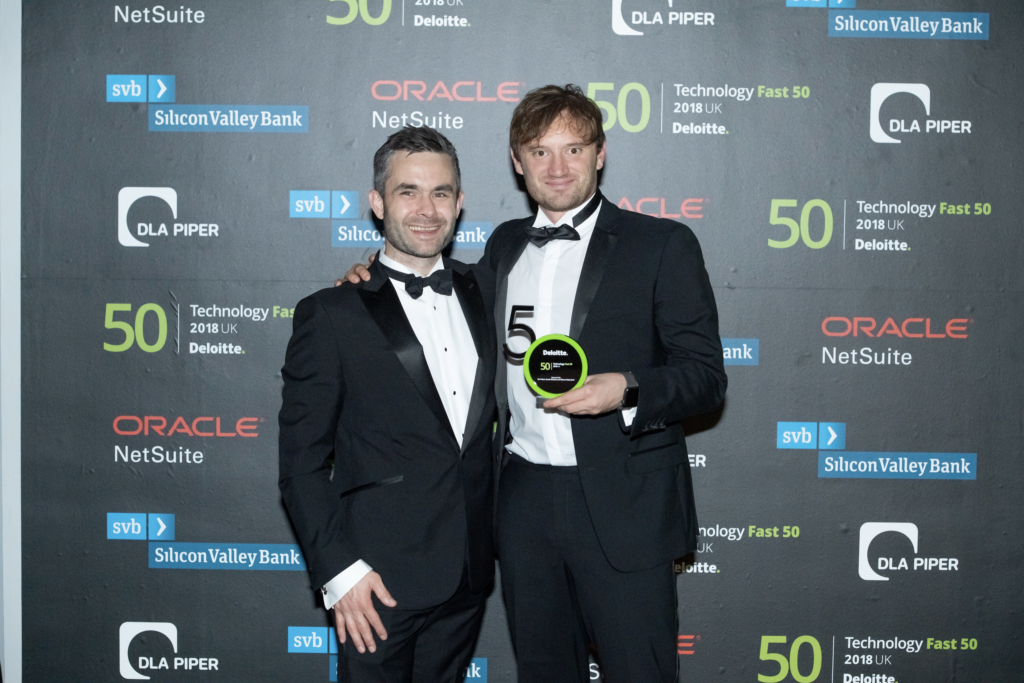 Rob Steel and Michael Langguth, COO at the Deloitte Fast 50 Awards ceremony, 2018.