How Poq conducted the Kano Method
Reported by Balint Szeplaki,
Head of Product at Poq
In our latest report; The ultimate guide to preventing bad app reviews, we conducted our own Kano survey in order to demonstrate one of the ways in which the Kano Method could be used to categorise app features and establish which were essential, performance and attractive to users, and how to use this to plan customer-centric product roadmaps.
Get your copy of The ultimate guide to preventing bad app reviews
As I mentioned in my talk at App Commerce 2018, ideally, Kano analysis should be conducted on a sample of a retailers' current or target customers. Dependant on resources and the detail of data required, data gathering for the Kano method can be approached in several ways, the most detailed and resource heavy being 1:1 interviews.
---
What is the Kano method?
Kano method, aptly named after Noriaki Kano in 1984, is an analysis which product developers, managers and the like use to determine the user satisfaction of specific features and ultimately drive product roadmaps. By asking a series of 'functional' and 'dysfunctional' questions, we are able to determine to which degree of satisfaction users feel about an app feature. This can be broken down to 5 categories of features:
Attractive: features that drive delight but are not expected to be present
Performance: the more this feature is provided, the more satisfied customers become, however, the lack of implementation can create a negative experience
Indifferent: regardless of the investment to these types of features, they won't get noticed and it does not change the user's satisfaction
Must-have: a feature that primarily removes pain but when executed well will not necessarily produce delight
Reverse: A feature which has an increasingly detrimental effect on user experience despite investment
In this post I'll break down how we carried out our Kano questionnaire on product discovery and top tips on how you can create your own. By conducting a Kano analysis on our own product discovery features, we quickly gained insight into users and their current feelings around our features.
---
Conducting a Kano analysis is as easy as 1,2,3
Once we decided which features we would like to look at, we followed 3 simple steps to conducting our Kano analysis:
Creating a questionnaire
Gather your data
Run the analysis
1. Creating a questionnaire

After deciding which features to look at, formulate a list of functional and dysfunctional questions on how participants 'feel' about a feature or the feature or the lack of it. The answers then should consist of a variation of the following options:
I like it, I expect it, I am neutral, I can tolerate it and I dislike it

Examples
Functional question:
'Imagine yourself scrolling through Instagram and see a pair of shoes you like. You take a screenshot and upload it to your favourite retail app. How would you feel if the retail app instantly provides you with visually similar products?'

Dysfunctional question:
'In a retail app, how would you feel if you did NOT have the ability to upload screenshots you've taken of products in order to find visually similar products?'

We collected demographic information about user age and retail app use, and only those who had made a purchase on a retail app before could continue to complete the rest of the survey. We included images and GIFs to demonstrate the features where possible.

2. Gather your data

The aim of our research was to gain an idea of the value members of the general public give to the product discovery features we chose to look at.

3. Run the analysis

In order to analyse the data, we took the responses for each pair of questions (functional & dysfunctional) and labelled them to correspond with the Kano evaluation table (see below). Once mapped, we looked at each feature question pair and totalled the responses for each category, this then dictates which category the feature falls into.

A – Attractive
P – Performance
M – Must-have
I – Indifferent
R – Reverse
Q – Questionable
---
Findings and key takeaways
Find out which features fell into each category in our Ultimate guide to preventing bad app reviews.
Ninety-one of the 100 people surveyed claimed to have made a purchase on a retail app, of these 91 participants: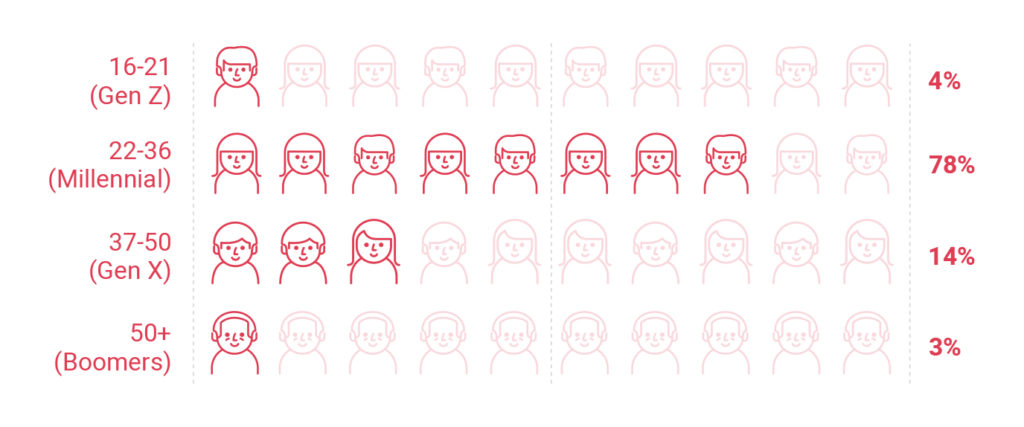 Attractive
Four of the 7 product discovery features we studied were thought to be attractive features by our sample. When present and executed well these features provide delight, however, when absent or not executed well, no pain is caused in the shopping experience.
Must-Haves
Recently Viewed was thought to be a must-have feature by participants, meaning that the absence of these suggestions would frustrate shoppers and recently viewed suggestions have become an expectation.
Performance
Alternatively, the ability to save items to a Wishlist was shown to be a performance feature. This means that apps without this feature will cause pain and however, when executed well, the wishlist has the ability to invoke pleasure.
Indifferent
Search Autocomplete & Suggestions made it into the indifferent category, with attractive coming in at a close second in responses. Over time, attractive features transcend the feature categories and they become 'part of the furniture' of retail apps as newer features and technologies rise to the top. These features are no less important than they used to be, but now they simply do not generate the same levels of excitement.
Application
As we have seen here, conducting a Kano analysis does need to pose a strain on resources nor is it too time-consuming. However, it does enable retailers and especially product teams to get an idea of shopper inclinations and satisfaction towards the features they currently have and the ones they consider implementing. The Kano method enables product teams to plan and prioritise an effective roadmap driven by improving and maintaining a satisfying customer experience; this, in turn, will grow customer retention and help avoid the fatal pitfalls of bad app reviews.
To find out more about preventing bad apps reviews and if you haven't done so already, download a copy of our Ultimate guide to preventing bad app reviews.