The highly anticipated peak trading season will shortly be upon us. Despite Black Friday last year being the busiest day on the Poq platform to date, clients on the platform saw no downtime on any of their apps and record sales.
Last year saw clients on the Poq platform saw apps' contribution to online and mobile revenue double compared to 2016. Predicting that this Black Friday will be bigger than the last and learning from the successes of 2017 we share the 4 top tips to prepare your retail app for the holiday shopping season and to help you to be Black Friday ready.
1. Freezing deployments to minimise risk
Don't risk any new bugs or errors making it onto your app during the highest traffic periods of the year, which would stop your customers from having a smooth and errorless journey.
Ensure that your your team or app provider, freezes the deployment of changes to the app in the run up to, and during Black Friday and Cyber Monday. As we've seen over the last few years, Black Friday has begun to spread across the entirety of November, so we recommend freezing deployments at least a week before the big day as traffic ramps up as customers get enthusiastic on the countdown to Black Friday.
2. The importance of scaling-up and load testing
Scaling up your servers and load testing your app in preparation for the increased volumes of traffic is a no-brainer.
Ensuring the team working on your app are aware of the levels of traffic you expect, especially as volumes of downloads grow preceding the big sales days (Amazon ranked No. 9 for the most downloaded app for U.S. iPhone users on the day before PrimeDay). As soon as Amazon's largest sale day of the year to date went live (Prime Day, July 16th, 2018), shoppers were confronted with a barrage of problems from customers not being able to access the homepage, missing out on time-based sales and seeing error pages of the variety of Amazon employee's dogs as a result. As adorable as the dogs of Amazon are, downtime only frustrated customers and would ultimately have a negative impact on sales and conversion rates.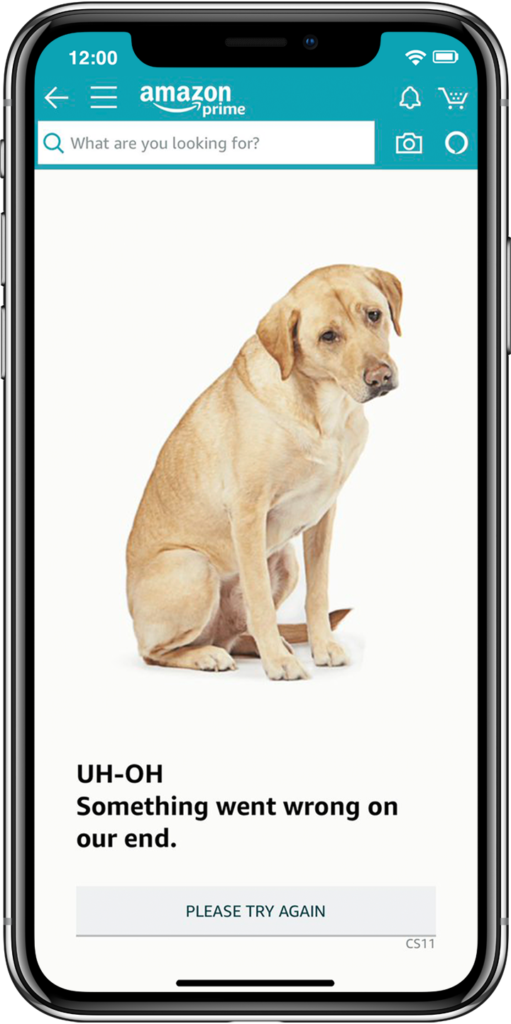 Despite this, the goliath that Amazon is, saw web traffic surge 50% compared to a normal day and the
conversion rate
across its desktop and mobile websites surge to 15.5% on the full day of sales compared to 11.1% conversion seen a week before the promotion, a nearly 40% increase. Without the hours of downtime, just think of what Amazon could have achieved.
3. Communication is key
Make sure to let the team running your app know how much traffic you are expecting to see through your app over the duration of the sales. Also make them aware of what marketing campaigns and sales you plan to run and when, including any flash sales so they can ensure that app is running smoothly.
Lastly, make sure to do all of this well in advance so any updates that need to be made to your app can be made in time before your deployment freeze.
4. Fire prevention! 🔥
Finally, preparation is key!
Ensure that you reduce the risk of issues occurring well in advance and by doing so, your app shopping experiences will run smoothly for customers. Remember prevent fires and plan ahead.
You can do so by scheduling your push notifications well in advance to leave you with the time and resources to deal with any other issues that may arise throughout the sale period. Its key to note, the less time you have to attribute to daily tasks the more time you can put into ensuring everything runs smoothly in this most profitable period of the year.
Find out how much revenue retailers saw last peak trading season and what to expect this year in the App Commerce Peak Trading Report