Q2 has been a successful quarter for the clients on the Poq platform, we've seen engagement driving app revenue. Building on the strong performance of last quarter our platform continued to break records, seeing 2.5 million monthly active users and seeing new highs of downloads. We take a look into how engagement is driving revenues across the board.
Sessions per user
Shopping behaviour varies between devices, apps are often described as more engaging and promoting loyalty, but how can we measure this? One popular indicator of users' feelings towards apps is to look at App Store and Play Store ratings and reviews, and rightly so. On the Poq platform in June, we saw an average of 4.6 stars.
However, this isn't the only indicator of app engagement and ultimately success, looking at how many people return to your app and most importantly comparing it to other shopping channels can provide some useful insights, as customers who continue to a return channel wouldn't do so unless they found the experience valuable and fruitful.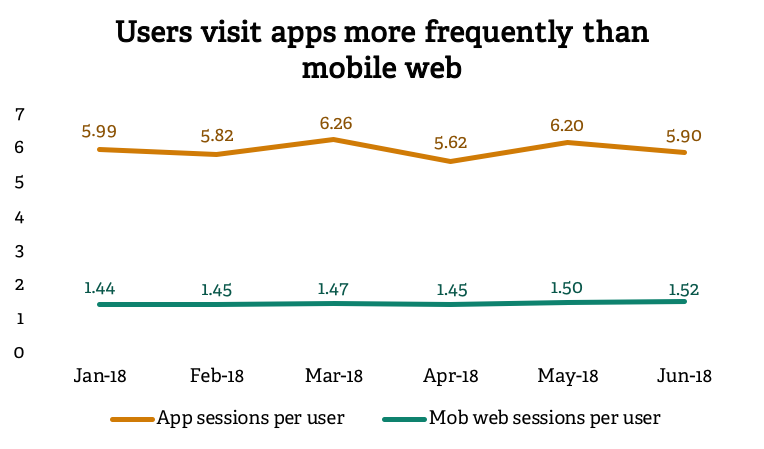 This quarter we saw users browse on apps 2.75x more frequently than on mobile web, showing that having that valuable space on customers' phones and the use of native mobile features like push notifications, get users returning to the app.
Returning users
Not only did app users visit the app more frequently than those visiting mobile web in Q2, but a larger portion of app users compared to mobile web users did so. In Q2 there was an average of 70% returning users on the app channel compared to 26% on mobile web and 29% on desktop.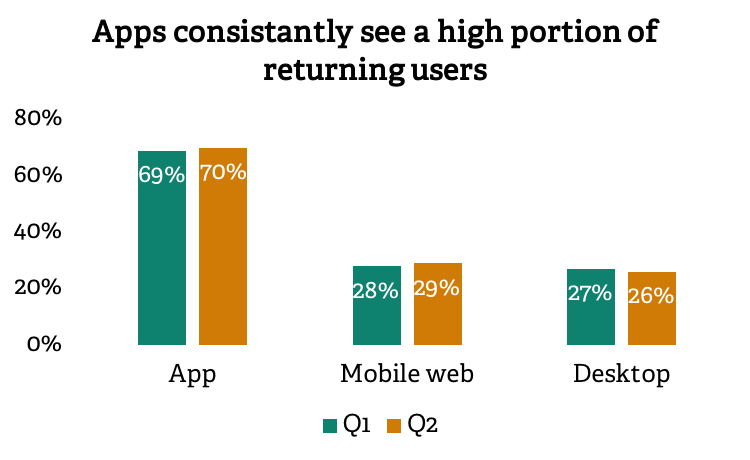 However, although repeat visits are a great indication that users are finding your app channel valuable, repetition is not necessarily the same as loyalty.
Time spent in app
Those who are loyal to your app and find the experience you provide most valuable will tend to spend a greater amount of their time interacting with your app each month. Q2 saw the average total time spent in app per user at 41 minutes and 17 seconds, compared to a total of 6 minutes 5 seconds seen on mobile web, that's 6.8x more time spent in app per user each month than mobile web. This can be attributed to both the fact that app users return to the app more frequently but also the fact average session duration on apps is longer than on mobile web.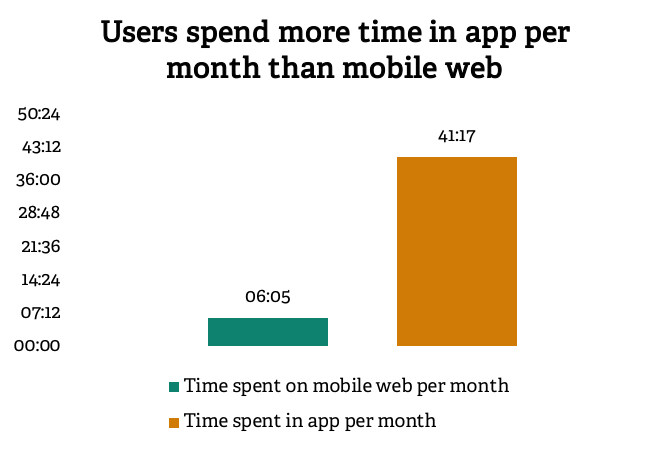 Apps utilise native mobile functionality allowing them to provide a more immersive and interactive experience than that provided by mobile web. For example, curated content in the means of App Stories on the Poq platform enables retailers to enrich shopper experiences in a way they are familiar to from social media but does not necessarily drive conversions and sales. These experiences build rapport with users and provide them with a reason to return to the app, easily consuming content in a familiar and shoppable way.
So, we've established that shoppers are spending more time on apps by interacting with them for longer times on a more regular basis, but does all this investment in engagement actually pay off?
Revenue per user
As app users are more loyal and engaged with retailers, we would tend to imagine that they are going to be the most valuable customers, and when it comes to revenue per user, this certainly holds true. In Q2, we saw an average of £6.48 revenue per user on the Poq platform, 3.25x greater than the revenue per user experienced on mobile web.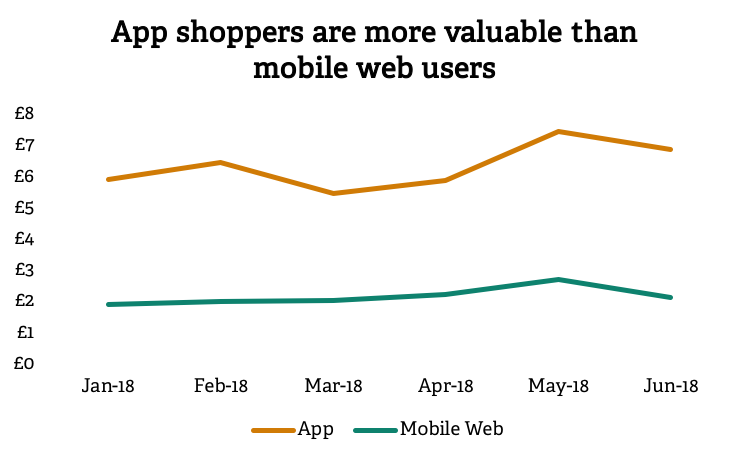 Engaging customers really does pay off. The demand for enriching and unique experiences that can only be provided by an app experience is growing. Apps are no longer a 'nice thing to have' for retailers but a necessity to target today's audiences and maximise revenues with the ongoing struggle for the high street to survive.
We recently discussed a lot of these themes at our second annual #AppCommerce 2018 event held in London. If you didn't get chance to attend or would like to learn more on the themes and topics discussed there, read our round-up of the talks here.
Reported by Samantha Rigg