In part 1 of our two-part iOS 12 blog series we explored the various ways Apple will be improving its performance and reliability with the iOS 12 release. In part 2 we will be examining how this new release will give power and control to the users. But as the great Ben Parker once said, "with great power, comes great responsibility", and now, more than ever, users will be responsible for their iPhone behaviours and habits. This could mean bad news for app powerhouses like Facebook and Instagram, but great news for retailers.
In the upcoming iOS 12 release, Apple will launch features that quicken in-app actions, group notifications, and increase control over app screen time. These new features will put great power in the hands of iPhone users.
Notification Control
Notifications will now be grouped by app and within that grouping, by threads and topic. Notifications will be more digestible and simpler to navigate, making it easier for users to prioritise which apps and topics they will focus on. Users can easily open or dismiss grouped notifications as well as customise their topic notifications within the in-app notification settings. Moreover, the user will be able to 'instantly tune' notification settings, i.e. view, clear, and disable, with a few simple swipes and taps from the lock screen.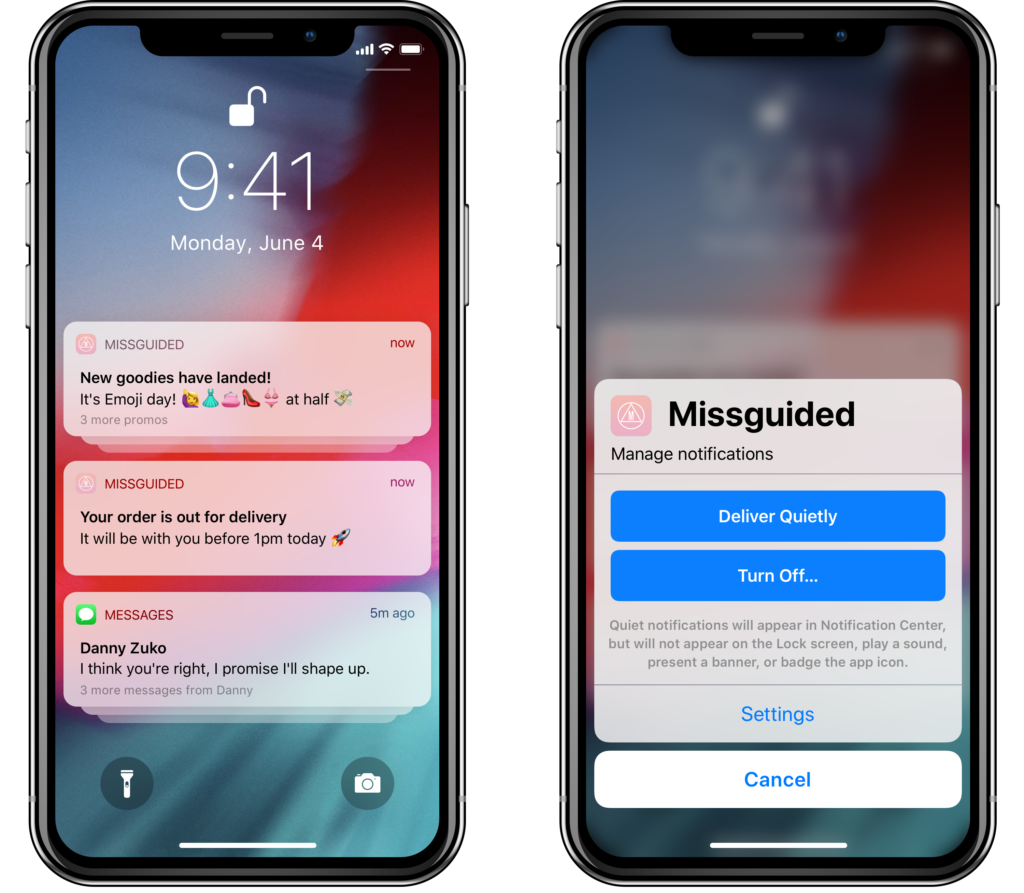 It is important to note that while, disabling app notifications will be made easier, the new iOS system will offer a deep link into the app's custom notifications centre where users can make fine-grained tunings. For example, users will have the ability to choose to disable all notifications except promotions and shipment updates.
What does this mean for retailers? Up until now, push notifications generate a 90% higher open rate than emails and when an app sends a push notification, 9.6x as many users will make a purchase compared to those who did not receive the message. With the reduced visibility of singular notifications, open rates for all types of notifications could drop.
Moreover, the ease with which notifications can be disabled or silenced could significantly decrease open rates and subsequently the effectiveness of push notifications. Therefore, retailers must be keen to build extremely segmented and personalised app outreach campaigns to remain relevant and top of mind.
Luckily, apps, more than web, provide retailers with potent data that allows for highly bespoke segmentation. Retailers will have the tools to build compelling push notifications that users will choose not to disable. The competition for attention amongst other retail apps, however, will increase. Retailers will need to continuously find innovative ways of remaining relevant and engaging. (But don't be too engaging or the user may feel bombarded and choose to disable all notifications.)  
Usage Transparency
Another new feature with the potential for sweeping repercussions is screentime management. iPhone users will have increased transparency into the amount of time spent within each app. Users will be provided with a weekly summary of app usage, battery usage per app, and app notification volumes. Additionally, users will have the ability to set app screentime limitations for themselves and family members.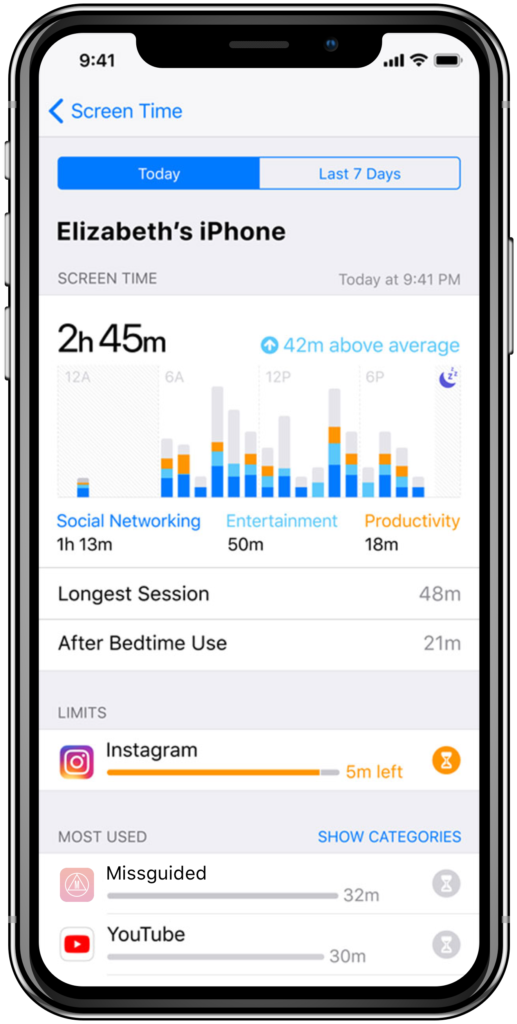 Like with grouped notifications, this feature will increase the competition for app screentime. Retailers will need to build and maintain compelling apps, optimised for continuous use that will not drain battery life. However, there is a rise in awareness of social media's detrimental effects on mental health and a movement towards digital wellness. In November 2017 a former Facebook exec, Sean Parker, admitted that the social media powerhouse was developed to be addictive and exploit weaknesses in the human psyche.  Thus, in an attempt to lead a digitally healthier life the app playing field may now level out.
Users may be less inclined to use social media apps such as Facebook and Instagram and more inclined to spend their time shopping. While this cannot be confirmed, mobile phones will remain highly important in relieving boredom and with a desire to decrease social media usage, users may turn to engaging shopping apps. Luckily, retailers such as Missguided and In the Style have App Stories, so users can still get a social media-esque experience if they wanted.
The competition for screentime is increasing while digital wellbeing movements also rise. With all of these new features being developed to work along with these social movements retailers, now more than ever, will need to ensure they continuously deliver great value to their users' screens. Stay tuned for a blog on the top tips on how to win in the 'Game of Screen-Thrones'.