Polaris has landed! Our latest platform release, Polaris, brings a range of new features that will optimise the shopping experience, streamline data analytics, ensure GDPR compliance, and increase Platform security.
But first…
Why Polaris?
More commonly known as the North Star, Polaris, is the brightest star in the galaxy and a natural guide for many explorers or anyone trying to find their way. Furthermore, when you hear the word Polaris, you create an association with Polaroid (you know you do, don't deny it), the instant camera before Instagram selfies.
There is no better name for this release. It is focused on empowering your customers with the ability to quickly and precisely find what they are looking for through the power of images. However, Polaris encompasses more than just one feature, and each is sure to capture your interest.
Snap. Search. Shop.
We are living in a world of images and instant gratification where your customers will want to immediately shop what they see and quickly receive fulfilment. To ensure that Poq clients have the ability to instantly gratify their customers' desires we have delivered Visual Search.
Visual Search is an image-recognition powered feature that significantly reduces the number of text-based searches and considerably increases conversion rates. Visual Search enables shoppers to snap a picture or upload an already existing image (e.g. from Instagram) and quickly receive similar matches to their desired item—all on the app.
Consumer engagement and loyalty are of extreme importance when gauging the success of a retail business and Visual Search will only serve to increase usage. Research has show that Visual Search enabled retailers experience a 35% increase in month over month usage, thus making it the highest return user channel. Visual Search is a feature you are sure to want in your app arsenal.
We're excited about Visual Search! Click here to find out more about Visual Search how the feature works.

Enhanced analytics
We have redesigned our Analytics layer to allow for more independent and flexible usage. Now, Poq clients can more easily enable their preferred provider and experience a much simpler and comprehensive app analysis experience.
Also…Firebase
Google has created Firebase, a range of tools specifically developed for apps. In this first iteration, we've looked at Firebase Analytics. As app commerce continues to grow, app performance analysis will be imperative for the success of your online business. With Firebase, users are provided with vital app insights that help drive key business tactics and decisions. The tool provides free, unlimited reporting on up to 500 defined events within your app and our new Analytics layer will implement, out-of-box, more than 50 key commerce related events.
This is not the end with Firebase. Google is constantly innovating and making enhancements and we will be looking to explore these as well in future releases.
Poq clients are GDPR ready
GDPR is here and we are ready! As a retail partner, we at Poq have worked to improve functionality that will ensure your app is GDPR compliant. The Poq platform now allows clients to easily add a T&Cs and Privacy policy link to their Sign-Up page. You can also add a toggle that will not allow the user to register an account without accepting your T&Cs.
We hope you already know and understand the implications it brings. But, in case you do not, the GDPR has introduced a tighter set of regulations on user consent, data sharing, and marketing preferences. If you want even more information, be sure to check out the ICO's Guide to GDPR or read about what Poq is doing about the GDPR.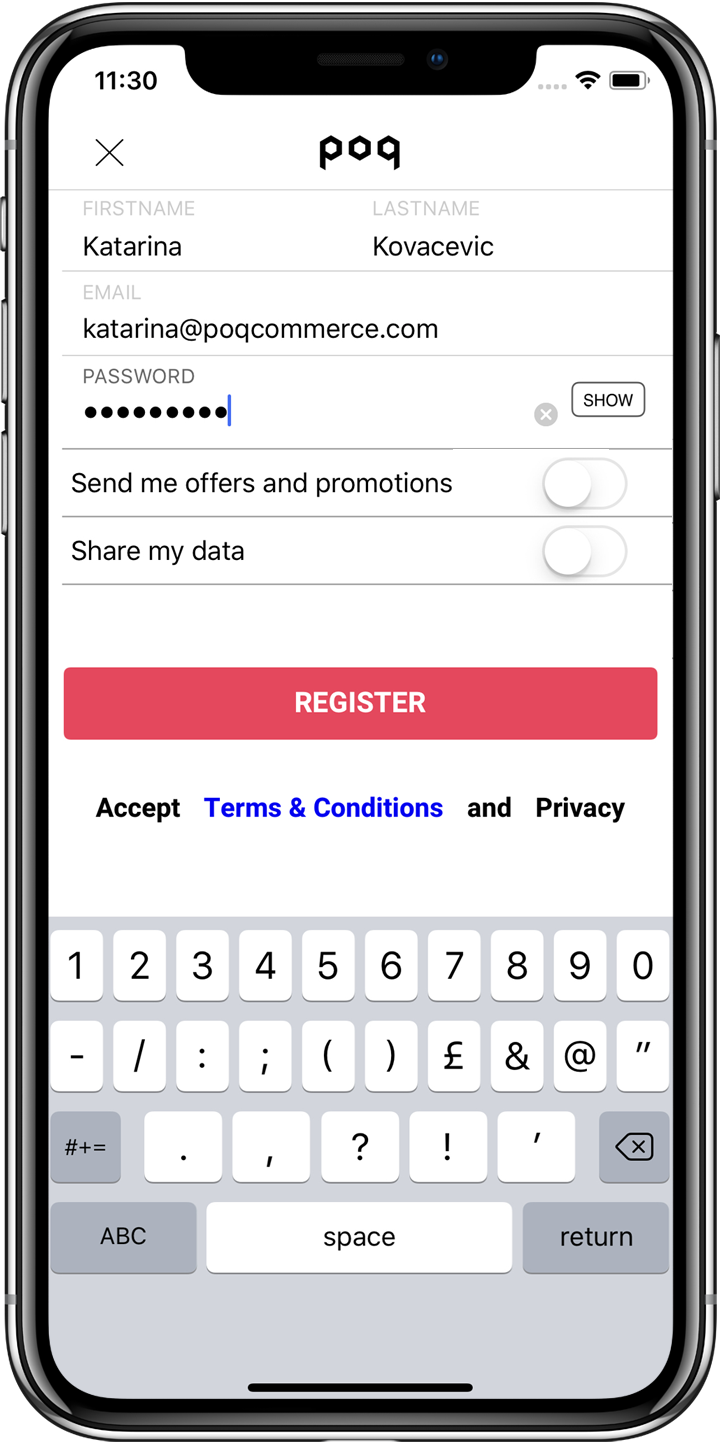 You choose your story 
Lasy year, we added App Stories, an interactive content carousel at the top of the home screen within our apps. The original design is a rectangle banner, but now, we have introduced a circular App Stories design. This new design allows Poq clients to mimic the look and feel of social media stories and is ideal for clients' intent on creating lots of social content. The platform now provides the option to choose between two templates.
Indicate your low stock items
In an effort to optimise the Size Selector we have added a low stock indicator to show when certain items are low in stock for a particular size. This feature commonly used on ecommerce websites will drive urgency when consumers see their size is low in stock thereby creating a fear of missing out on the item. This allows for a more seamless shopping experience that customers will be sure to appreciate. (Only available on iOS).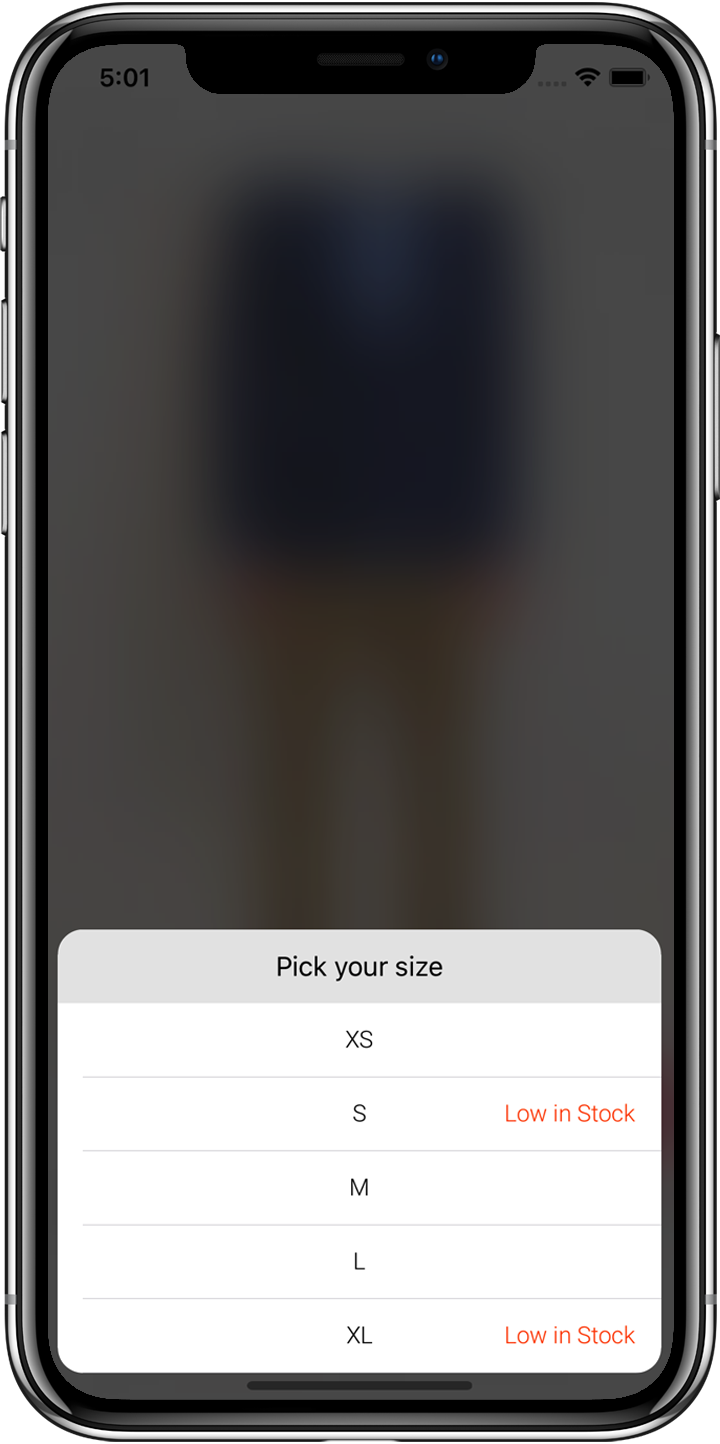 Honourable Mentions:
We did not stop there, we have also implemented:
A Wishlist improvement. We've fixed our Wishlist icons on the Product Listing Page (PLP). Previously, on returning to the PLP after wishlisting an item on the Product Details Page (PDP), the icon was not updated. This was causing some frustration so we fixed it. Now, the PLP icon gets updated in real-time for a consistent user experience.
An update to our integration with 3D Secure from Braintree. Exclusive to Native Checkout clients, 3D Secure provides an extra layer of security and fraud protection for your 3D secure enrolled customers.
We've made our app faster! Due to various API improvements in how our catalogue API handles cache, the response times for features like App Stories, Recently Viewed Items and any other real-time Merchandising Integrations are now 2x faster.
Find out more
To discover how the Poq platform can deliver on marketing and ecommerce metrics, please get in touch.