App commerce has exploded over the last year seeing apps break records across the board. We take a look at how the apps have performed on our platform over Q1 and compare to trends seen in 2017.
Downloads
Q1 has seen the highest numbers of downloads across the Poq platform to date. As our business is rapidly growing, our clients' apps are growing too.
Taking a look at download figures for clients who have been using the Poq platform for over a year now, they have seen an average of 56% growth in downloads. Shoppers expectations of retailers are changing, consumers now expect retailers and brands to have shoppable apps and this can clearly be seen in the growth of downloads across the board.

Returning users
The idea that apps are more engaging than mobile web are often thrown around in the retail industry, but how do we go about measuring this? One important factor to consider when looking at apps is loyalty, and we measure this with the returning user metric. Loyal customers are more valuable than acquiring new ones that might only make one purchase. We calculate the percentage of returning users (those visiting the app more than once) to measure the level of loyalty produced by a channel. Those who are more engaged are more likely to be repeat shoppers.
The percentage of returning users grew by 3% across apps on the Poq platform from Q1 2017 to Q1 2018 whereas mobile web actually saw a drop of 7%. Not only did apps outperform last year in comparison to mobile web, but in Q1 2018 apps on the Poq platform saw an average of 2.5x greater percentage of returning users than mobile web.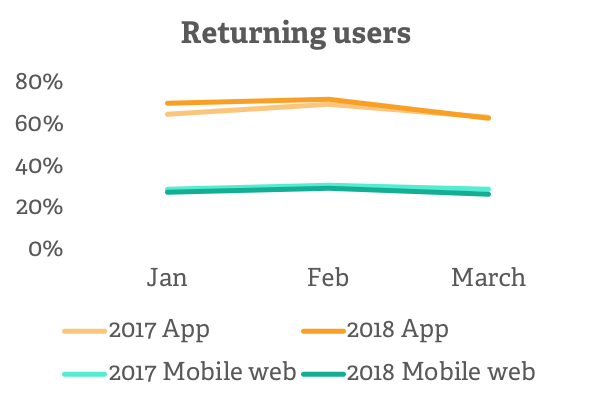 Sessions per user
Another way to measure loyalty and engagement is to look at how many times a customer uses the app; higher frequencies of visits open more opportunities for sales. Each time the app is used, a session is triggered. Compared to last year, the average number of sessions per user grew by 20%, averaging 6.3 sessions per user in Q1 2018. This is 2.8x greater than the average sessions per user seen on mobile web. This means that customers return to the app more often than mobile web, we attribute this to the superior shopping experience provided by apps, but does this reflect in what customers are spending?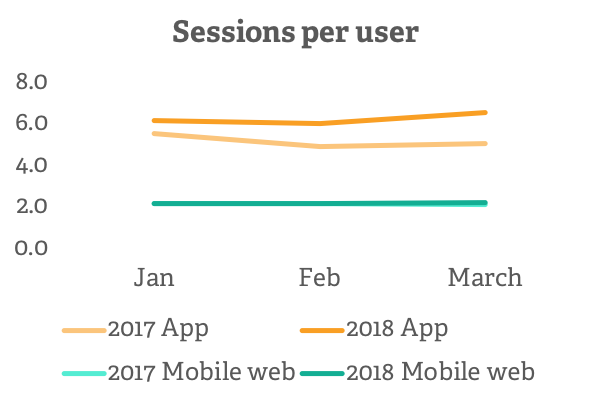 Revenue per user
One of the most valuable ways to measure the success of engagement with apps is by examining the revenue produced by each user. This is particularly useful as it accounts for the high levels of returning users we see on apps and gives us insight into how users prefer to spend. Year-over-year Q1 saw a 10% increase in average revenue generated per user and most interestingly, apps saw 3.3x greater revenue per user than mobile web. The experience provided on apps drives shoppers to spend more.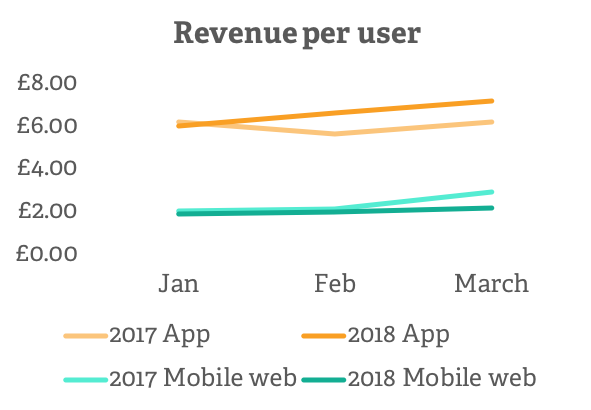 The bottom line
Shoppers are demanding the slicker more personalised experience that apps provide, encouraging loyalty and ultimately driving sales. Retailers should maintain or even redouble efforts to convert mobile web users into app shoppers to promote brand engagement and push frequency of visits, utilising native app functionalities such as push notifications.
Find out more about how customer expectations are changing in our latest video from the Poq founders.
Reported by Samantha Rigg