The decision is made, you need an app! Or perhaps you already have a poorly performing app and are looking for a better solution.
When it comes to building a retail app, there are a few different viable options to choose from such as building in-house or outsourcing e.g. building on a SaaS platform or using a traditional agency-built platform. Retailers such as ASOS, Amazon and John Lewis have built fantastic apps in-house whereas others such as Missguided, MADE.com and Beauty Bay have opted to build apps on a SaaS platform.
In this post, we'll identify the key differences between the available options to give you a better idea of what will work for your retail business.
Technology updates and go-to-market speed
Creating an in-house team takes time, from finding the best team and training them, to creating the entire app from scratch. Even when launching with an agency-built platform, this can take about 6-8 months as they both require the complete app to be custom-made. The app ecosystem is incredibly fast moving, for example, there is a new software update at least annually on both Android and iOS. Once an agency-built app is finally completed, it's basically out of date and will need to be rebuilt.
Apps built on a SaaS platform such as Poq, benefit from the use of a template built with years of focus on retail apps so can go to market in just 8 weeks. Having an existing library of modules that have already been tested and optimised saves time, so the retailer can directly customise these instead of building from scratch. The Poq platform is always up to date with the latest software versions to ensure your app is always working at its best.
Price differences
The most obvious difference and what IT leaders are really interested in is the most cost-effective method.
It depends on the scale of the business. Recruiting for an entire internal team, training and further research can become costly. Both Android and iOS systems use very different coding languages, so separate teams are required to build and maintain the apps. To put this in perspective, ASOS has in excess of 100 app developers in its tech team, so invests a lot into its in-house app.
A traditional supplier will generally charge a large one-off fee to complete the app project, and when it's complete, the service comes to an end and the app stops developing. To maintain the app for software updates or to make changes, they'll charge an additional sum. Often, even small changes like updating new banners for a new collection is a paid-for service as there are no business-friendly systems, such as a CMS, to update content live. It's hard to plan a budget when you have to pay for updates and changes every time an issue occurs.
With a SaaS platform, retailers are charged a fixed cost which is clear from the beginning. For example, the Poq platform runs on an annual platform fee where retailers' pay a relatively lower cost to get started which includes ongoing technology updates and regular new features, together with usage-based pricing that allows for scale. Additional modular or bespoke functionality can still be built for an additional charge but this is clearly set out from the beginning and led entirely by the requirements of the retailer. Retailers have clear visibility of the cost of the overall app and can work out ROI accordingly.
Control in the retailer's hands
Building an app in-house means that the retailer has full control of the overall app.
With an agency-built app, the retailer has very little control. All changes and updates need to go through the agency which works for smaller retailers that don't need changes in real time.
With a SaaS platform, there is more control than with a traditional third party as there's a Content Management System (CMS) available to make changes in real time. On the Poq platform, banners, lookbooks and more can be easily added from the CMS to ensure branding and campaigns are consistent across all channels. This means that retailers can leave the bulk of the development to a specialist technology vendor to free up its in-house developers to add value where it really counts.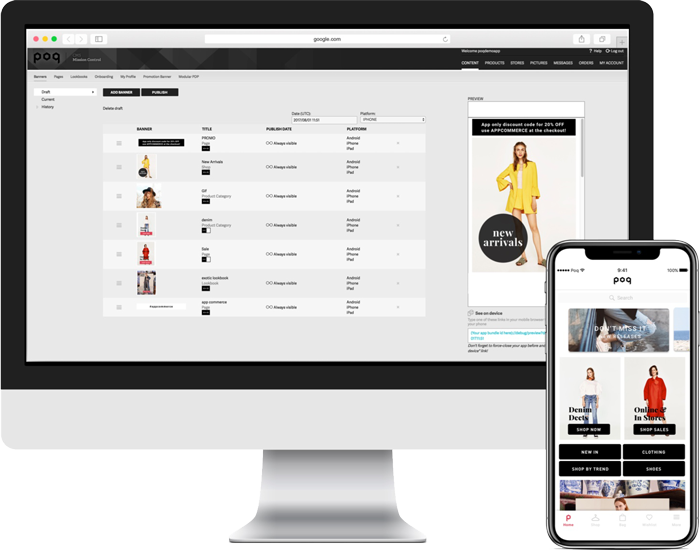 Expertise
A benefit of outsourcing to an app specialist is that they'll have a sole focus on mobile and apps and therefore, will have experience and knowledge in industry trends and making user-friendly retail apps. The retailer can focus on making the app as engaging as possible.
By partnering with an app commerce specialist with many retail clients, a retailer will be able to measure itself against the industry standard. A good app provider will report back with performance stats and suggestions for improvements.
Innovation
Agency-built apps hold so much custom-content on the user's device that it slows down the experience which causes frustration. It can be difficult and time-consuming to build onto the current app. With 'fat apps', when more functionality is added, other things start to break and more time is spent trying to maintain the app than improve and advance it.
On the Poq platform, new code is rolled out every week and major releases delivered every quarter to ensure apps are always at the forefront of innovation. Once the app has been launched, it's incredibly easy to add new functionality and even add bespoke code to make the app more engaging. We use a modular approach so you can gradually enable advanced features such as push notifications or product reviews.
Apps, following websites
Back when ecommerce websites were in their youth, retailers partnered with agencies to build their websites. As this developed, platforms such as Salesforce Commerce Cloud and Magento revolutionised the space by offering a platform that retailers could run their ecommerce websites on more efficiently in the long run.
The Poq platform is doing the same for retailers, to break free from their dependency on third-party providers for creating apps, and make it easier for them to design immersive shopping experiences in-house.
Download our Buy vs Build factsheet with a high-level analysis of the key differences between building an app in-house compared to building on a SaaS platform.
Reported by Natasha McGowan