The launch of our latest release marked the arrival of App Stories, a feature we're very excited about and can't wait to see our clients put to good use.
Where did Stories come from?
It's likely you're already familiar with the concept of Stories. The feature evolved out of social platform Snapchat into other mainstream social media channels Instagram and Facebook. With this widespread use, it became one of the most popular marketing channels for forward-looking brands. In parallel, Stories became used so heavily that other, non-social use cases emerged, mostly for publishing content in an easily digestible format – a good example of this being Medium.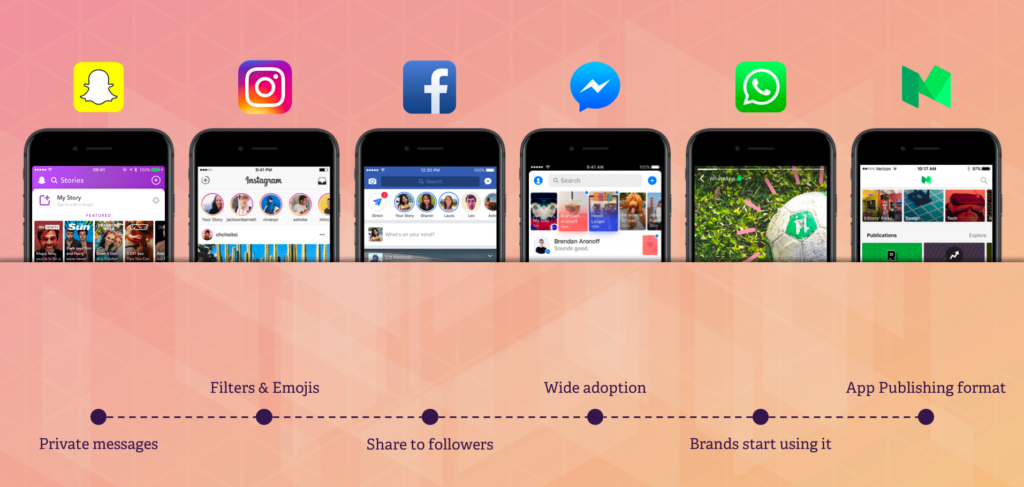 Why has it taken off?
Social media content and advertising content can often appear heavily orchestrated and not very genuine. A lot of time and effort goes into composing each and every social post in order to portray a particular image, which can leave some viewers disenchanted with the content they consume.
The temporary availability of Stories results in a lot more casual, honest content, that can come across as more sincere. For this reason, the Stories feature lends itself very well to brand advertising.
Stories also offer a better way to consume rich content than a forever scrolling website with old-fashioned interaction. Stories fill the mobile screen, can be operated with a single hand, and use swipe gestures and taps. This interaction model is user friendly and highly familiar, particularly if targeting a younger demographic. Users spend ample time in social apps, so Stories simply talks to them in a language they're used to.
App Stories on the Poq platform
App Stories is a new feature within our client's native retail apps. The feature is available in the latest release of our platform and is fully CMS driven. App owners can upload still or GIF images, add video and web content on swipe up, and can make their Story entirely shoppable with single or multiple product views. In a similar way to Stories on social channels, content managers can specify the length of their Story, set it to autoplay and choose a thumbnail for the homepage carousel. Users can pause on a card at any time, and swipe up to shop or learn more. This means that they can add items to their bag directly from within the Story, which offers a huge opportunity for increased metrics.
Complimentary channels
Of course, we acknowledge that you're likely to achieve more views of your Stories on Instagram, and we're not suggesting that App Stories should replace your social efforts. However, we do recommend that you use social channels to attract users to download and engage with your app. Treat your app as your own shop front, and social media as your digital billboard!
It's a great idea to use the same content for social Stories and App Stories for continuity. We advise creating shorter stories with fewer images for social media, and lengthier versions with, say, a full collection for use within your app, where the content is natively shoppable within a channel that your brand owns.
The addition of Stories is yet another reason why apps are better than mobile web. This type of interaction and engagement simply cannot be offered via a mobile website.
Discover all the features of our latest platform release