Apps save Black Friday
Apps' contribution to online and mobile revenue doubled this Black Friday
London, 29th November 2017. Mobile continues to break records this peak season. Last year saw mobile account for 64% of ecommerce purchases, however, this year clients on the Poq platform have seen mobile's contribution to ecommerce grow to 74%.
Poq, the UK's leading app commerce platform, analysed Black Friday data from the apps powered by the platform and saw the busiest day to date. On Black Friday over £1.9m app revenue went through the platform, at over £1300 per minute. Additionally, a total of 15 years 4 months was spent the platform up 180% from last year, and with a like-for-like growth of 150%.
Oyvind Henriksen, CEO and Co-founder of Poq, summarised: "Some retailers have experienced a fall in year-on-year revenue this Black Friday whilst seeing a rise in mobile website page views. This is what we call the 'Mobile Paradox', where mobile drives more page views but see fewer transactions and as mobile grows this gap widens. Apps have proven to be a solution to the problem this peak trading season." He continues: "Our platform saw an average of £900k app revenue per day and 52% greater revenue per user than mobile websites this Black Friday. Apps' contribution to online and mobile revenue doubled this year compared to last, filling the gap the mobile paradox has generated."
Like-for-like revenue grew by 36% this Black Friday and unlike last year, 7am commuter commerce was not the peak trading hour although, it remained high. Black Friday saw a similar pattern to 2015, with two broader peak periods throughout the day, one between 8am and 10am and a second from 5pm to 10pm, suggesting that shoppers are making the most of their spare time outside of work hours to get the best deals and more of them are doing so with the convenience of a mobile app. Most clients on the Poq platform sent multiple push notifications on Black Friday, the majority of which were followed by hours which saw the highest revenue that day, demonstrating the importance of having a presence on shoppers' phones and the value this direct form of communication brings.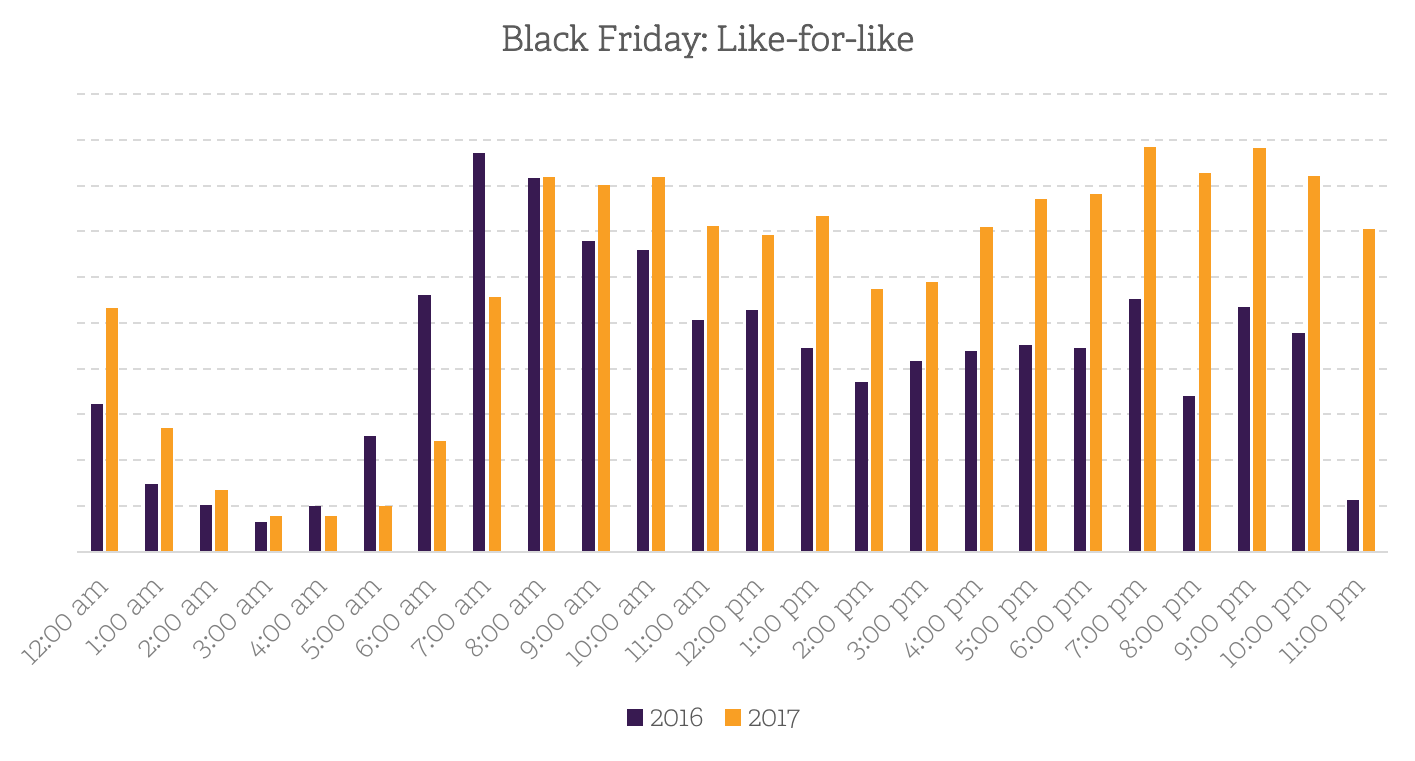 Compared to an average day in October, Black Friday saw 4.4x more transactions and 4.7x more revenue. However, Black Friday isn't the only frenzied shopping day. Retailers have started their sales up to 8 days early this year, and one-day flash sales on the run up to Black Friday significantly impacted app revenues before Black Friday.

Compared to the average shopping day in October, all days in this period took on average 2x more revenue and saw twice as many transactions. Unsurprisingly, Friday showed the highest metrics in revenue, conversion, revenue per user, sessions AOV and transactions through the app. Interestingly, amongst apps in the UK, Black Friday was the strongest performing day, however, across some US-based apps metrics on Cyber Monday outperformed or at least matched performance on Black Friday. The competition for sales has been fierce this year and Black Friday looks to be evolving into Cyber Fortnight.