This quarter has flown by and the apps on our platform are flying high too. With ecommerce taking shopping by storm and mobile becoming essential for today's shoppers, we take a look at app performance in Q3 2017.
Downloads
Downloads are always a good indicator of popularity and because downloads demand more commitment and effort from consumers than just browsing a website, they're a valuable metric when measuring app success.
As our clients' apps continue to develop and improve, it's not surprising we've seen their popularity grow as well. Total downloads for Q3 are up by 12% compared to Q2 and are predicted to continue to grow on the approach to peak trading.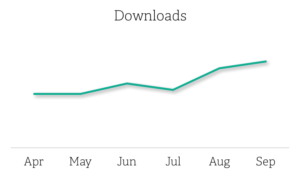 Revenue per user
Shoppers are downloading our clients' apps, but are they engaging and making purchases? One of the useful ways we measure this is by looking at revenue per user. Although influenced by seasonality, this is a great indicator of whether users continue to engage with apps as a sales channel. Our clients' apps have seen 3x the revenue per user of mobile web and 2x that of desktop. Over the last six months, we can see that app has continued to widen the gap with mobile web and desktop.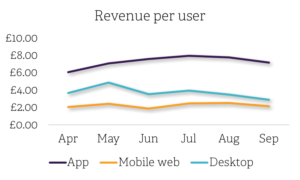 Sessions per user
Sessions per user not only provide some insight into retention but are a fantastic measure of how loyal customers are. Apps on our platform saw an average of 10% increase in sessions per user in Q3 compared to Q2 2017, meanwhile, mobile web and desktop remained stable either increasing by 2% (mobile web) or not at all (desktop). Additionally, apps saw 2.5x sessions per user of mobile web and 3x that of desktop.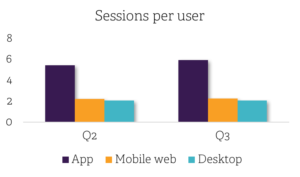 Returning users
The percentage of returning users is a valuable metric to look at when considering the loyalty of your users, driving downloads is essential, but you want to make sure users continue to return to the app and if they do, you can deduce that your app is providing a good shopping experience. The percentage of returning users on the Poq platform has remained high in Q3 at 65%, 2.5x that of both mobile web and desktop.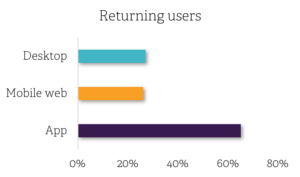 We've seen our clients' apps grow and flourish over the past year, which has been reflected in the continuation of high volumes of downloads and the great measures of engagement we have seen. When averaged out, there has been a 19% year-on-year increase in revenue per retailer when comparing Q3 2016 to Q3 2017. We predict that our clients' apps will continue to excel as their apps improve, develop further and gain popularity.
You can check out more platform performance reports on the Poq news page.
Reported by Samantha Rigg