Smartphones are quickly outgrowing desktop use and mobile apps are at the forefront of this movement. The ease and convenience mobile affords means that apps are being used instore to inform consumers and enhance the shopping experience. Now more than ever, apps are crucial to the overall shopping and brand experience and app performance has a real impact on revenue and app retention.
Neumob have recently conducted a consumer survey into the effect of apps on the instore shopping experience, and the consequences of poor app performance. Jay Hinman, VP of Marketing at Neumob, provides us with some insight into what they found and the implications for retailers.
---
Why brick-and-mortar shoppers don't enter stores without a smartphone
During the majority of the years I've worked in the mobile industry, a tenure which stretches back to the days of the Motorola StarTAC, people have often pontificated about what mass adoption of "m-commerce", or mobile commerce, might ultimately look like. Would it be location-based coupons from Starbucks pinging you every couple of blocks? That particular example/scare story was so ubiquitous for so many years that it was used as a kind of shorthand for why we didn't want to buy things on our phones – for fear that the creeping combination of personalisation, location and advanced targeting would keep us away from engaging with any sort of actual shopping on the smartphone.
It's now 2017, and it didn't happen. The true realities of what mobile commerce might become have now arrived, and they're different than we thought they'd be, even as they continue to evolve. More consumers are clearly making purchases using their mobile devices than ever before. It turns out that smartphones are now being used for most digital commerce purchases; in a recent survey from Fluent, over half (54%) of respondents said they used their smartphones most often to make their online purchases – and not their desktops (23%) nor their tablets (14%).
Over half of respondents said they made 1-5 purchases from their phones this past year, with 24% admitting to making 6-10 purchases during the year. Here's what's interesting, too: most of that shopping is being done within mobile apps as opposed to within browsers. In fact, 86-90% of our smartphone activity (depending on which survey you believe, A or B) takes place within apps. Mobile sales from apps increased from $35.48 billion in 2014 to $59.86 billion in 2015 — a staggering 68.7% advance. 2016 hit nearly $78 billion, up 30% from the year before.
Keep your wallet close and your smartphone closer
With that in mind, some very interesting behaviour has emerged in this new app-defined world of mobile commerce. At my company, Neumob, we recently surveyed consumers extensively in the US to find out more about the increasing intersection of offline and mobile app behaviours.
One question that the survey asked respondents was, "How many of these mobile commerce app behaviours have you engaged in during the last 12 months?", then proceeded to list a number of activities related to apps and offline shopping.
Nearly half of all shoppers confirmed the widely-held observation and assumption that mobile apps can often displace — or enhance — the shopping experience within the store. 48% of respondents said "I've opened an app on my smartphone when in a physical retail store to try and find a better price or better selection". 26% of them saw something they liked in a store, yet then ordered it in a different (not the store's) mobile app — even while they were still physically present inside of the store.
But wait — there's still good news for retailers! 38% of shoppers went on to say that they'd seen something they liked in a store over the past year, then went on to order the item from that same store's mobile app either right there on the spot, or soon afterward. 26% took photos in the store of something they liked, then bought the product later in a mobile app. Another 22% even said they'd ordered products to be shipped to them from overseas from within a mobile app.
These responses point to savvy and engaged consumers who frequently wield their smartphones as mobile swords of commerce, often from within the confines of a retail store. It confirms the importance of having a highly complementary mobile app to match any offline presence, and in ensuring that prices, descriptions and even discounts are well-synched between a store's mobile app and its physical locations.
When it comes to great shopping apps, speed & performance rules all
Consumers were also asked in Neumob's 2017 survey to rank five statements for "What makes for a great shopping/ mobile commerce app?" in order of preference.
It turns out that a mobile app's load time, speed and responsiveness is more important than anything else.
Over 26% picked this as their #1 need in a mobile shopping app, with 73% listing it among their top 3 choices — for an aggregate score of 3.41, higher than any other response. Only 9% said this was the least important characteristic of the five offered, pointing to the fact that a highly volatile and slow mobile shopping app is also one that's likely to be unused or even quickly deleted.
A poor shopping app directly translates into lost revenues as well, it turns out. The connection between the frustration that comes from a poor-performing shopping app and a complete loss of the sale (and their associated revenues) is specific, and as we found, quite measurable.
Our research found that over 47% of respondents, when faced with a product image that doesn't load (just one simple image!), will either exit the app and buy the item from a different seller (20%) or exit the app, and try to buy the item from the retailer's website or in their store (27%).
Let's assume that a healthy three-quarters of the latter category do end up buying their item(s) from the original retailer. That's still a net loss of 29% of customers, all because a lone product image didn't load due to the app not being optimised for highly variable and congested mobile network conditions. Another 13% said that they'd scroll over to something else in the app instead, while only a mere 2% said "I'll proceed with the purchase anyway — I don't necessarily need to see what it looks like". That's as it should be in 2017 – we can do better.
The cost for a poor-performing app will be paid in revenues and retention
Clearly, mobile app speed and performance will count for a great deal in ensuring that the massive customer gains seen by shopping & other mobile commerce apps will continue throughout 2017. Congested networks and increased smartphone usage on those networks pose a challenge that brands will need to overcome, as seen in some of the statistics we uncovered in our survey. Consumers are making their overwhelming preference for fast, responsive and easy-to-navigate mobile apps known by deleting the ones that don't perform, while flocking in droves to the ones that do.
The penalty to brands for having a clunky, non-performing app is already paid in lost revenues, poor customer retention, lower shopping cart values, 1-star reviews in the App Stores and in a general erosion of brand preference. With mobile app commerce exploding, the difference between a fast & smooth app and a poor or mediocre one could easily be the difference between overall profit or loss for a brand in any given quarter or year.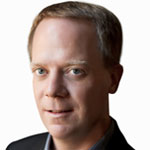 Jay Hinman is VP of Marketing at Neumob. Neumob is a startup devoted to accelerating the performance of the world's mobile apps.
---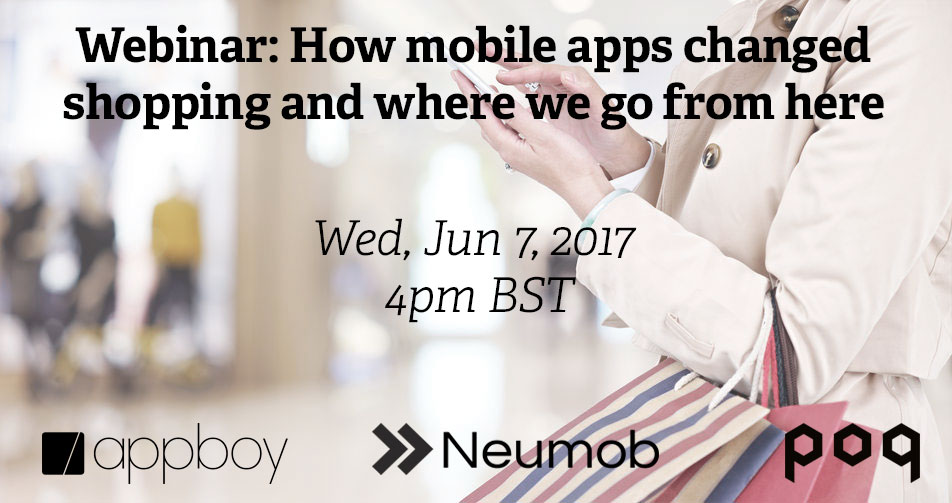 We at Poq have certainly seen the positive effect of high performing, successful apps for both the app shoppers experience and the retailers brand image and revenues. We expect the power of apps will continue to grow and become more vital to the way we shop with every new innovation.
To find out more about Neumob's latest consumer survey results, the current landscape of mobile app shopping and how it is dominating shopping experiences both online and instore, watch our webinar in partnership with Neumob and Appboy here.