When launching a retail app, it's important to involve your internal marketing team as early in the process as possible, to gain immediate traction without relying on organic growth alone.
In addition to promoting your app on your usual channels, you can take advantage of the growing number of options on offer for paid promotion.
Download our comprehensive App Marketing Guide with client examples or read below for our tried and tested app promotional activities.
Search and display advertising
Search and display advertising is standard protocol in the world of digital marketing and it's an excellent option to explore for marketing your app.
Google AdWords is by far the biggest player here and they support 3 types of mobile app install campaigns: search network, display network, and TrueView.
Showing ads in response to search engine queries means that the person who sees them is likely to be looking for an app like yours. Due to AdWords' targeting capabilities, app install ads only show on mobile devices and are focused on potential users. You can target keywords on exact or broad match and a direct link to open the relevant page of the app store is included in search results.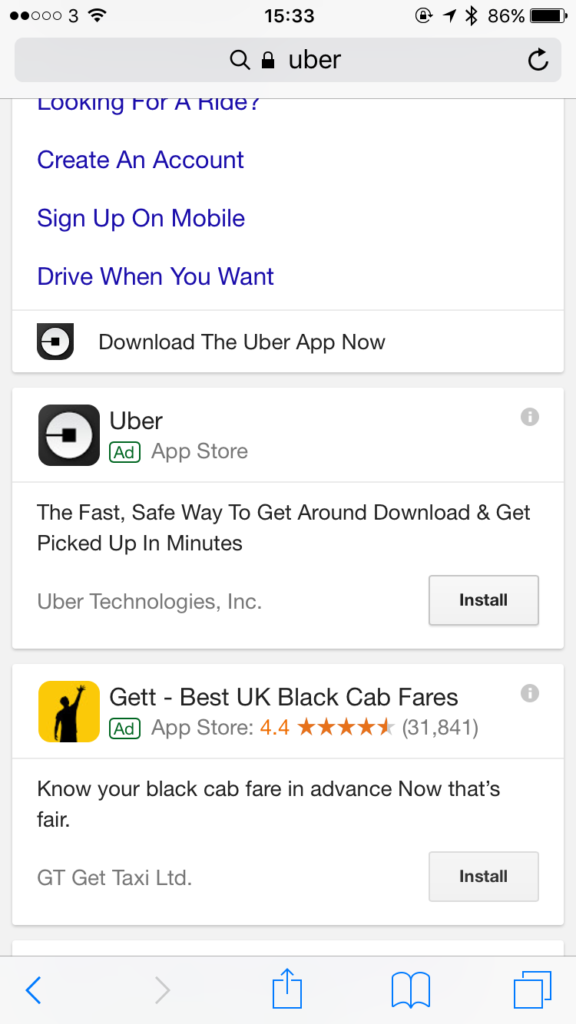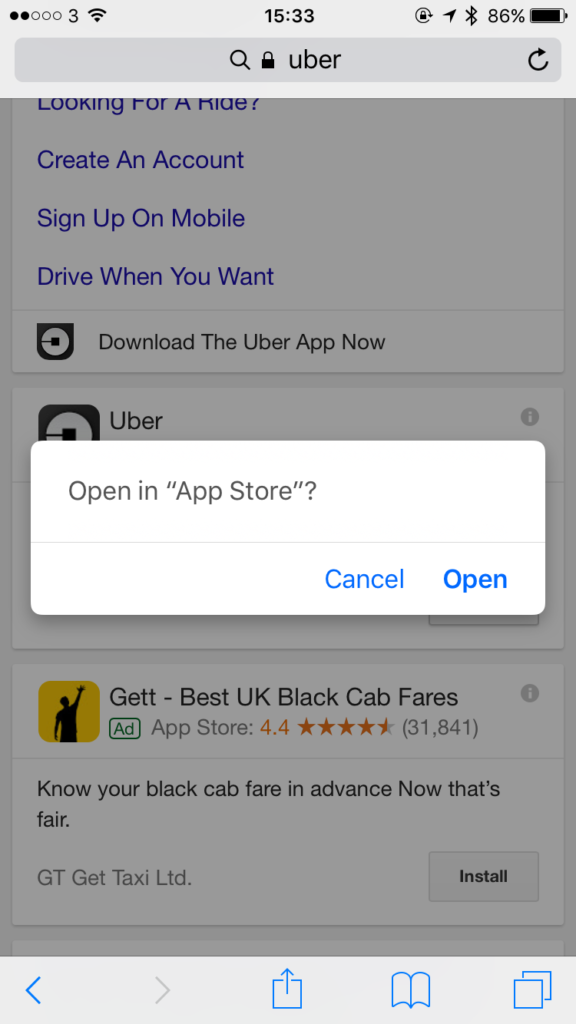 Your bidding strategy for iOS will be based on clicks, however, Google can automatically track app installs on Android, so a CPA (Cost Per Acquisition) bidding model is also available by default. For iOS devices, Google also offers to track the first session of the app use after an ad related installation, but this will require some changes to your app as explained here.
On the Display Network, businesses place visual (image or video) display ads on a huge network of sites across the internet and within third party apps. Perhaps a more traditional, passive advertising model, display ads can be a very cost effective way of raising awareness of your app due to a high volume of impressions.
Bidding works in a very similar way to the Search Network, however, you are able to target on a very granular level.
Targeting options include:
Mobile app categories – What type of third party apps do you want your ad to appear in?
Installed app categories – What type of other apps are installed on the target audience's devices?
New mobile devices – Have any of your target users recently activated their phone?
Demographics – What age and gender group should your ads be served to?
Likely app spenders – How likely is the target audience to spend money within apps?
Active app users – What relevant category apps has your target audience been using?
Usefully, the Apple App Store tells Google when a user has a specific app installed so your existing users will not be included in the target audience and you will not be charged for marketing to people who are already using your app!
TrueViews allows you to show video ads to reach people who are interested in content related to your app, at the start of YouTube videos viewed on mobile and tablet devices. These work similarly to display ads by driving users to the native App Store on the device. You can choose either a CPA (cost-per-acquisition), or CPV (cost-per-view) bidding model.
Universal app install campaigns
Manage all three of the above ad types in addition to Google Play store advertising in one place with universal app campaigns. With automatic bid, targeting and ad creative optimisation, this is a good starting point to understand your audience and what types of advertising they respond to. All you need to do is provide Google with some text, a starting bid and budget (target cost-per-install), and the languages and locations for your ads. The system will then do the hard work, testing different combinations and showing ads that are performing the best more often. This is a great option if you're strapped for time or resource!
Social media advertising
Social media is now a major digital advertising channel in its own right. Networks like Facebook and Instagram can drive huge traffic to your app, and they have a full app ads offering to help you take advantage of this.
Facebook app advertising
Advertise your app directly in your target audience's Facebook feed as a 'Suggested app'. You can set up image carousel, single image, video or slideshow type of campaigns, with a range of CTA (call to action) buttons to encourage action.
The real benefit of using social media is the level of granularity it gives you in terms of defining your target audience, due to the rich data available from people's profiles.
You can target users by basic demographics (age, gender, languages, location) and there's a whole host of tools to refine your audience further, using more detailed demographic filters, personal interests and behaviours.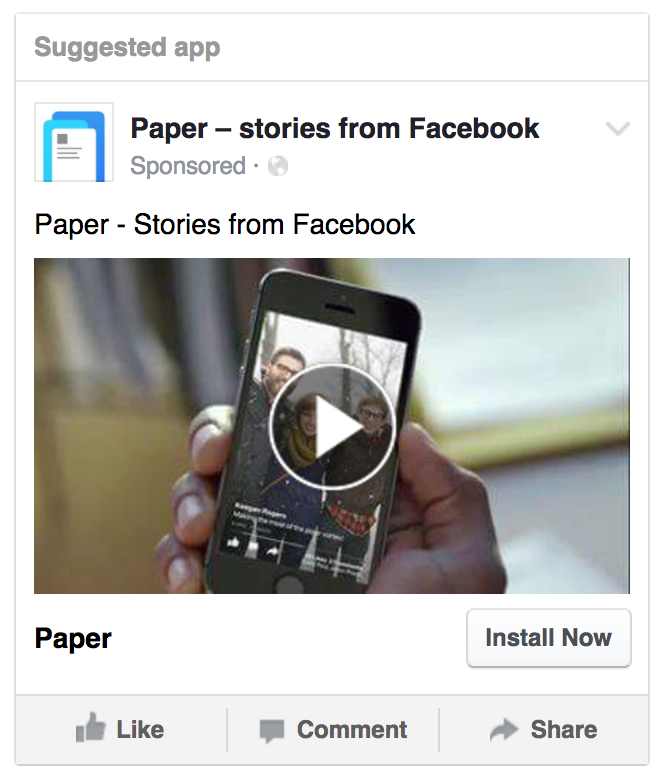 Instagram app advertising
As Instagram is owned by Facebook, these ads can now be managed in the same place as app install adverts. The easiest way to run adverts is by promoting posts that you've shared on Instagram, whether that's a single image, image carousel or video. You can set a CTA to download your app which links directly to the app within the App Store.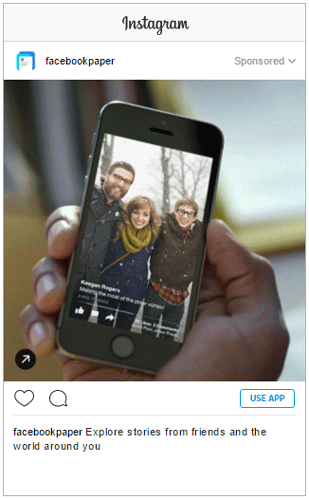 Twitter and Snapchat app advertising
Twitter and Snapchat are also well geared towards app promotion. Twitter offers advertisers the opportunity to set up App Cards that drive users to preview an image, view app ratings, and install or open an app directly from their timelines. Snapchat enables advertisers to drive downloads in a seamless, unobtrusive way. One swipe opens an embedded App Store or Google Play Store page, and one tap later, the app installs in the background.
Tip: Don't forget to use your own social media posts, whether they are on the feed or in stories to drive traffic to your app. The audience might be somewhat restricted to people who like or follow you, but it's free!
Apple search ads
Fresh to the UK scene, Apple has launched a new way of promoting apps directly in the app store. Apple search ads allow you to pay to be highlighted and listed at the top of app store search results. This means that users searching for other apps similar to yours are highly likely to discover and download your app. It supports CPT (cost-per-tap) and CPA (cost-per-acquisition) types of bidding models and as with all other tools, you can also set a daily cap for maximum spend and target using granular criteria such as gender, age and geography.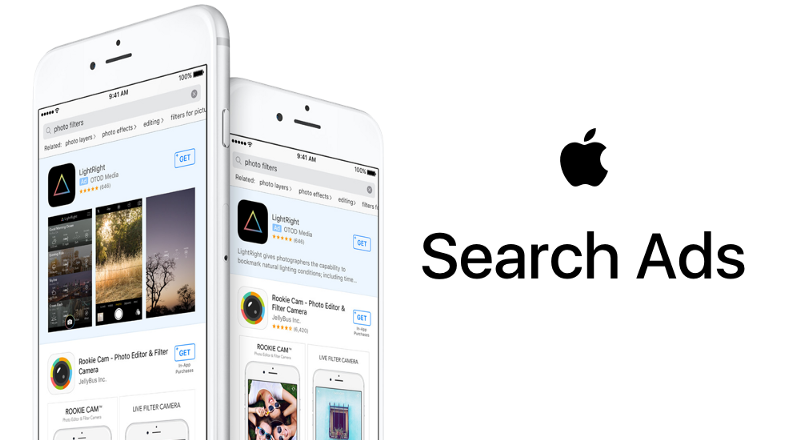 Don't forget the basics
Advice from all advertising networks is to make sure your meta data is well crafted, with accurate app titles, descriptions and highly appropriate keywords to maximise your relevance to your target audience.

For more tips and examples, download our full guide to app marketing.
Our next post will explain how you can track and measure your app marketing efforts. Subscribe to our newsletter in the footer so you don't miss out!