As consumers, our behaviour and demands have dramatically evolved over recent years, mostly due to the proliferation of our closest companion, the smartphone. The way that we interact with brands and buy products has completely changed from what it used to be.
As we all know, the laptop we used to habitually pick up to browse, learn & purchase has been replaced by the, always present, always on; smartphone. In addition to the device change, we now browse, learn and purchase on our smartphones at a much higher frequency, due to the accessibility and convenience of the device.
What impact does our consumer behaviour have on retail?
#1 Mobile traffic vs desktop traffic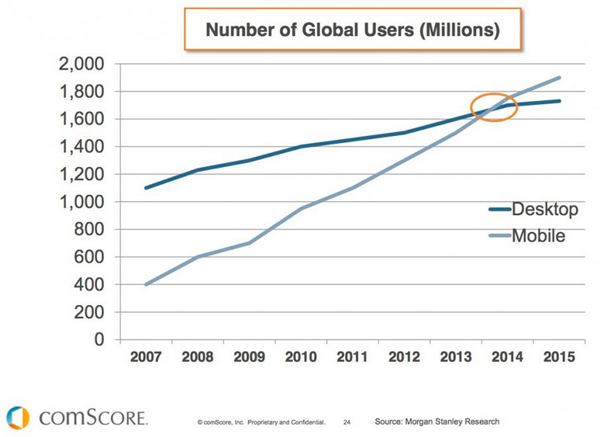 It's no secret that mobile traffic has been steaming ahead for some time. The chart above clearly pinpoints the point in time, in mid 2013, when mobile overtook desktop for the first time. We are now in 2017, and the statistics are showing no sign of slowing down. From a retail perspective, this particular movement has a tremendous impact:
Evolve or dissolve
Retailers will either evolve in line with the change in consumer behaviour, or dissolve due to inaction, closely followed by poor results and loss of market share.
Why will inaction lead to bad results, and why must retailers act now?
#2 Mobile web vs desktop conversion rate
Unfortunately, for most retailers, the increase in mobile traffic and mobile channel cannibalising desktop has proven to be harmful to revenue numbers.
Mobile websites have evolved since 2007, however they are (in essence) still a desktop site "optimised" for mobile, and due to technology restrictions, mobile sites do not utilise the native functionality of smartphones. By default, this means that mobile conversion rates are lower across the board compared with desktop.
Conversion rates of online shoppers by device and platform
Q4 2016

Research from Monetate Q4 2016 Report
So as we dig further into the the impact on retailers, we now come across a big issue…
#3 The mobile paradox
With the volume of traffic switching from desktop to mobile combined with the poor performing conversion rates of mobile web; herein lies the Mobile Paradox.
The more a retailers' traffic is cannibalised by mobile, the less revenue the retailer makes. Unfortunately, this only gets worse as time goes on.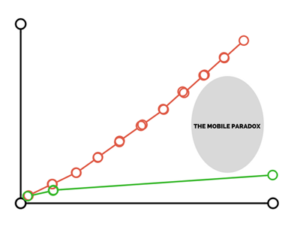 In the chart to the left, you can see that the line in orange represents mobile traffic (which is rapidly increasing for most retailers) and the green line represents mobile web conversion rates (which from the charts above have remained fairly consistent).
This leaves us with the Mobile Paradox, the area of revenue that will only continue to widen, unless a retailer is willing to act fast in order to close the gap.
#4 Mobile: the fastest growing and most important channel
Top performing retailers are those that are heavily innovating around mobile. ASOS reported that half of their sales are made via its mobile app (October 2016). Mobile also accounts for 69% of all of its overall traffic.
With mobile, the fastest growing channel having poor conversion rates, and desktop, the highest converting channel having consistently decreasing traffic, there needs to be a bridge to accommodate the consumer mobile appetite, without risking poor conversion as seen across mobile web.
This bridge, is apps…
#5 App commerce
The statistics and business case for developing an app tell a story that is hard to ignore. At Poq, we are obsessed with mobile and app trends and have a number of statistics and client case studies that provide confidence to those retailers that understand the importance of mobile and need to educate internal stakeholders.
As it stands, mobile apps are ticking all the right boxes:
Browsing duration that rivals desktop
Higher interaction than both desktop and mobile web
Conversion rates two times higher than mobile web
Highest AOV compared to desktop and mobile web
Although it is a term we are all still familiarising ourselves with, app commerce is an industry that will continue to grow and evolve.
So, these are the 5 ways that I believe mobile usage is impacting retail, how do you plan to evolve with these changes?
Reported by Christian Spencer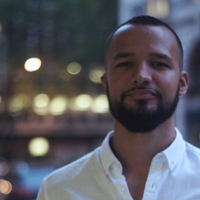 Christian has worked in the digital marketing technology space for over 10 years both as a consultant and as a Director.
Having worked with many brands over the years, Christian is an advocate of placing the customer at the centre of any digital marketing strategy.
As times have evolved, Christian has been drawn to Mobile as this is where consumers begin and end their day – Christian believes that digital strategies should always be data driven, and with app commerce consistently over achieving it is channel that should not be ignored.